Trailers
Dopuszczalna masa całkowita:
FLATBED CAR TRAILERS
A safe and reliable way to transport the car is provided by specially designed trailers-car carriers. They work well for personal use by automotive enthusiasts as well as transport companies or car workshops.
CONVENIENT transport of your CAR
Our trailers have a solid construction. The frame and the drawbar are made of hollow sections, which has a direct impact on the strength and stability of the structure.
The offer includes trailers in the standard version, i.e. with separate overrun gangways, standard with sideboards and integrated with overrun gangways in the platform structure.
Loading the car is facilitated by the tilting gangway, working on the basis of hydraulic cylinders, allowing to create a low inclination angle of gangways. This simplifies the entry and exit of the vehicle from the car carrier. The wide gangway allows to enter and transport cars even with large dimensions. Among our models you will find solutions with GVW up to 3500 kg, measuring 4.5 to 5.5 meters in length and about 2.1 meters wide.
As a standard, trailers-car carriers are equipped with a support wheel, wedges allowing to securely lock its wheels, a full-size spare wheel and a manual winch. They can also be fitted with an aluminium or plywood floor filling, shock absorbers on the axle, electric winch, hydraulic pump and housing.
Car carriers, an INTEGRATED solution
The integrated trailer-car carrier has the same equipment as the standard model. It differs only in gangways, which in its case are an inseparable part of the ramp. Thanks to this, we have greater convenience in using them, because they do not require separate extension and fixing gangways. In addition, the integrated model is equipped with the LIGHT SIDE system, which is responsible for tilting the rear lamps, which protects them from possible damage when entering or going down the car.
Car carriers with sideboards – PLB series
The standard car carrier is equipped with aluminium sideboards and a full floor made of anti-slip plywood. This option allows further extension of the trailer's functionality with a hard body. This creates an ideal vehicle for closed transport, e.g. sport's or collector's vehicles. In addition, it is also possible to equip the car carrier with a tarpaulin on the frame.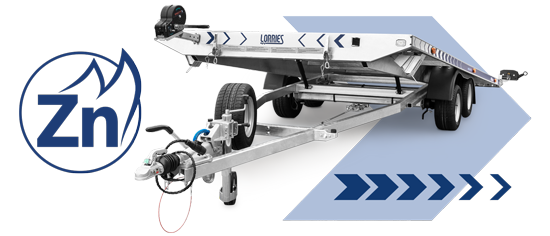 Reliability and durability
The frame and drawbar of trailers undergo a hot galvanizing process, with which the steel receives a protective coat that strengthens it against mechanical damage and corrosion.
Some facts about the galvanized surface:

It should be washed, especially after contact with road salt or chemicals.
Galvanized elements should be regularly maintained.
The galvanized coating slightly changes its color and becomes dull over time. However, this does not affect the corrosion protection of the vehicle in any way.