Trailers
Dopuszczalna masa całkowita:
CAR TRANSPORTERS
Platform-trailers are a safe and reliable way to transport a car. What's important, the trailers available in this category, being also a platform-trailers, will prove themselves both in personal use and in transport companies or car repair shops. They allow convenient and comfortable transport of the car, due to the solid construction of our platform-trailers. The frame and the draw-bar are made of closed profiles, which has a direct impact on the stability and durability of the entire construction. We offer our customers trailers in the standard version, characterized by separate drive-up ramps, and trailers integrated with the drive-up ramps.
Advanced construction of the platform-trailers
How work our platform-trailers? Each of them is equipped with a drive-up ramp that works on the basis of hydraulic actuators. They allow to create a low angle of inclination of the trailer. Such a construction significantly facilitates both the entry and exit of the vehicle from the trailer. Thanks to the wide drive-up ramp, it is possible to load and transport large-size cars. For this purpose the perfect are models available in this category with a GVM up to 3500 kg, dimensions from 4.5 to 5.5 meters in length and up to 2.1 meters wide. As standard, our platform-trailers are equipped with a support wheel, wedges that allow the wheel to be safely blocked, a full-size spare wheel, and a manual winch. It is also possible to equip the trailer with a floor filling made of aluminum or plywood, shock absorbers mounted on the axle, an electric winch and a hydraulic pump.
Car transporters with integrated overruns - even more convenience
In addition to Standard platform-trailers, we also offer integrated models. How do they differ from the basic models? The only difference is in drive-ups, which in the integrated models are an integral part of the ramp. Thanks to this solution, they offer even greater convenience in handling the platform-trailer, because separate extension and mounting of the ramp is not required. The integrated model is also equipped with the LIGHT SIDE system, which is responsible for tilting the rear lamps, which protects against possible damages while loading or unloading the car. Apart from these elements, the integrated platform-trailer has the same equipment as the standard model.
Trailer models in our range
This category includes platform-trailers with different parameters, which will allow them to be adapted to individual needs. One of the models is the PL27 - 4521 platform-trailer with a GVM of up to 2700 kg. It is equipped with two braked axles, and the drive-up plates are made of 4 mm thick aluminum. The tilted ramp and the draw-bar are made of closed profiles, which affects the rigidity and stability of the trailer. Optionally, it is possible to equip the platform-trailer with one-way or two-way hydraulic pump.
Model PL35 - 4521 platform-trailer has a GVM of 3500 kg. As standard, it is equipped with a support wheel, spare wheel, manual winch up to 1135 kg, wedges for blocking trailer wheels and overrun brake. As in the case of the previously described, this model can also be additionally equipped with e.g. a floor filling (plywood/aluminum).
Standard platform-trailers can also be equipped with side boards. Thanks to this, they fulfill an additional function for transporting also other types of cargo.
High quality and durable trailers
One of the distinguishing features of our platform-trailers is their high quality. The frames and draw-bars are hot-dip galvanized, thanks to which the steel receives a protective layer. It provides strength against mechanical damages and corrosion. However, the galvanized surface should be washed in order to keep the trailer in good condition. This is especially important after contact with road salt and various chemicals. Galvanized elements should be regularly maintained. It is quite natural that the galvanized coating slightly changes its color and also becomes dull over time. However, this does not affect its anti-corrosion properties.
The quality policy that we follow in our daily work allows us to create reliable and safe products that are fully compliant with legal requirements and the expectations of our customers. Moreover, we keep improving our quality management system. We have introduced production control at all stages of the production process.
What kind of trailers can you find in our range?
In our range you will find standard car transporting trailers, trailers with integrated overruns, as well as trailers with sides enabling the transportation of various equipment.
What to look for when choosing a car transporter trailer?
When choosing a car transporter trailer, it is worth paying attention to its gross vehicle weight rating, as well as the weight of the trailer itself.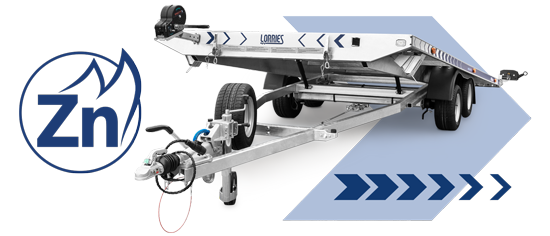 Reliability and durability
The frame and drawbar of trailers undergo a hot galvanizing process, with which the steel receives a protective coat that strengthens it against mechanical damage and corrosion.
Some facts about the galvanized surface:

It should be washed, especially after contact with road salt or chemicals.
Galvanized elements should be regularly maintained.
The galvanized coating slightly changes its color and becomes dull over time. However, this does not affect the corrosion protection of the vehicle in any way.