Which trailer for transporting mini excavator will be the best?
A mini excavator is an extremely useful equipment that is widely used on various private construction sites and for larger investments. You may need it for construction, renovation, installation and paving works. These are extremely functional machines with low maintenance and operating costs. They allow you to reach places where large-size construction vehicles have no chance. Today we will try to find an answer to the question of what will be the best mini excavator trailer that will help you safely transport it to its destination.
Legal basis for choosing a trailer for a mini excavator
Construction machinery, such as mini excavators, cannot be autonomously driven in road traffic. Due to their small size, however, they are very easy to transport. All issues related to the way of transporting mini excavators are determined by the provisions of the Highway Code. According to the law, you should use a properly selected construction trailer. It should be adjusted to:
vehicle gross vehicle weight (GVM),
excavator weight,
possessed permissions,
and the permissible gross vehicle weight (GVM) of the trailer.
What to look for when choosing trailer for a mini excavator?
If you want to invest in a construction trailer, you should first of all consider what type, size and weight of loads you will transport on it. This will show you what dimensions and GVM of the construction trailer you should choose.
As your trailer will undoubtedly face demanding challenges, it should have a stable ramp, strong structure and solid supports. At Lorries, we take care of every detail from the design stage to assembly and professional finishing. We focus on quality, reliability and functionality. For professionals, we have created a wide range, which also includes high-class trailers for mini excavators. Among our solutions, you will find two lines of construction trailers: TM for smaller construction equipment (here the GVM ranges from 1000 to 1800 kg) and TPM, whose GVM ranges from 2000 to 3500 kg. For the purposes of this article, we have selected two popular models that we will compare: TM18 and TPM35.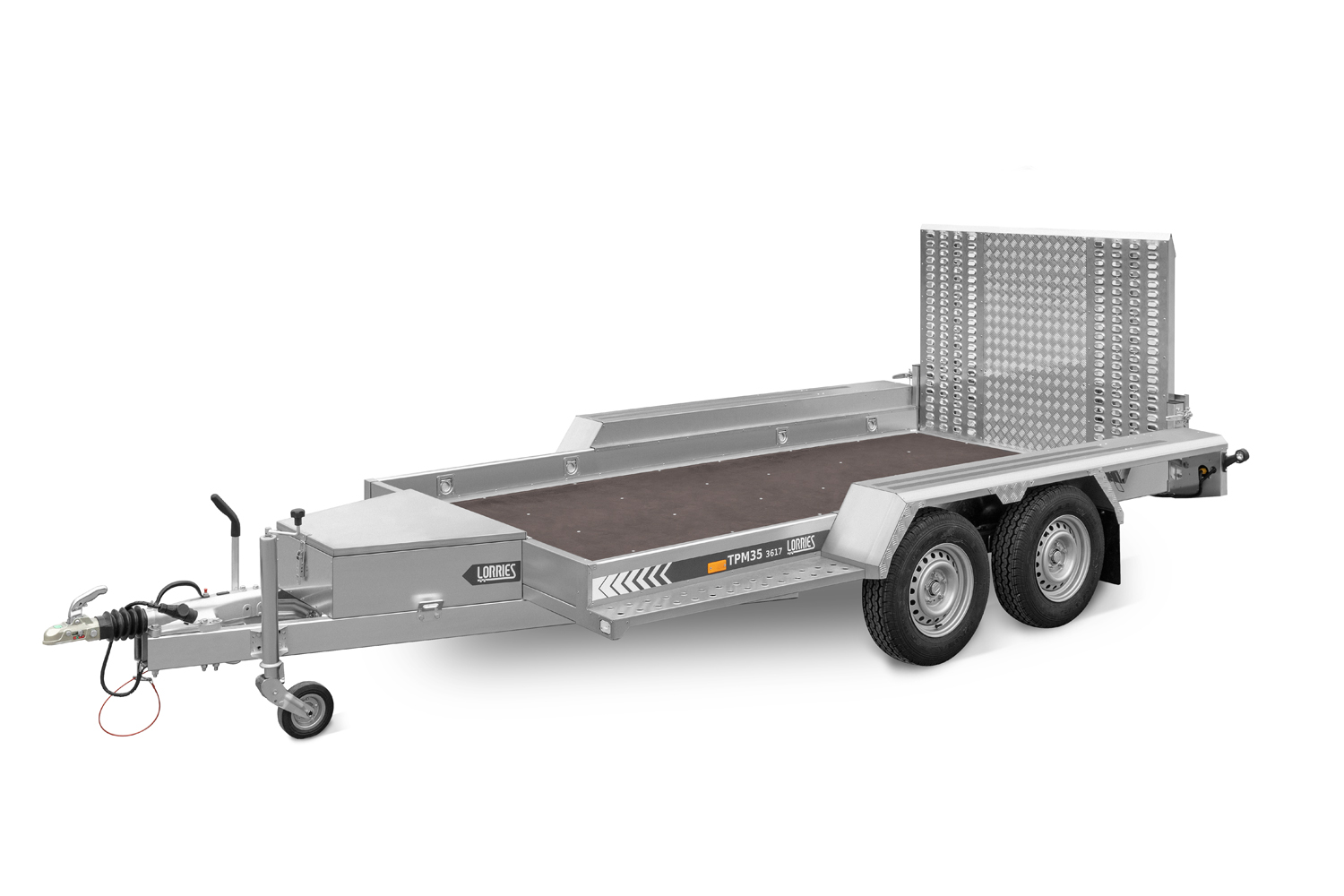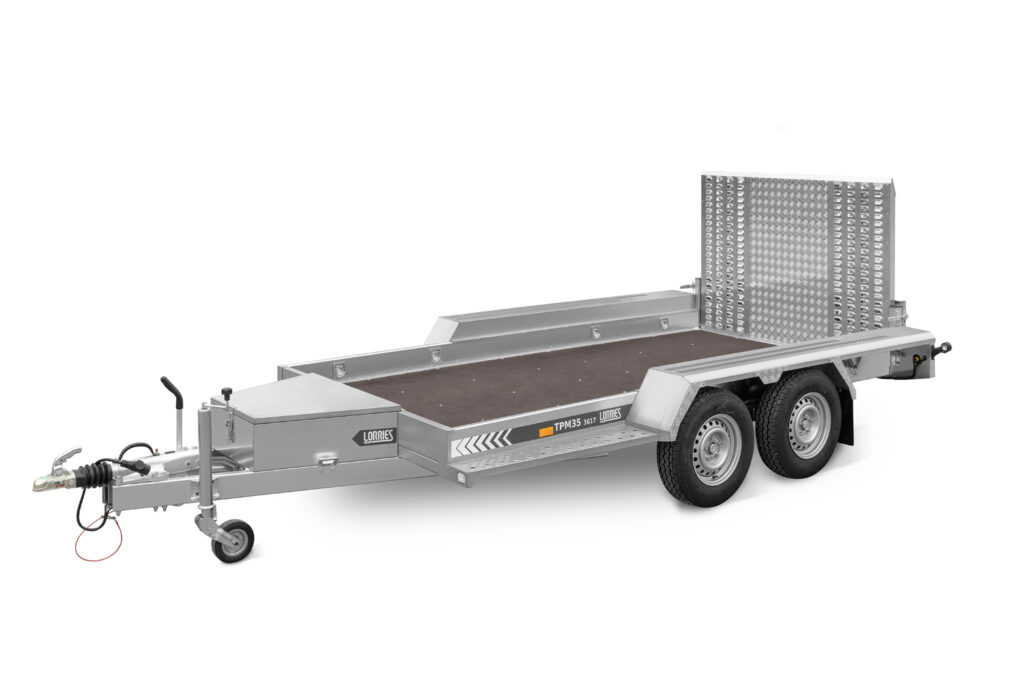 Choose which trailer for transporting mini excavator will be the best for you. Comparison of models.
There are a number of parameters to consider when choosing the right mini excavator trailer. If you need to transport a standard mini excavator weighing up to 1.4 tons, the TM18 trailer will be a good choice. The single-axle model with external dimensions of 1880x4163x2003 mm, load capacity of 1446 kg and GVW of 1800 kg will be suitable for transporting equipment with a maximum length of 2530 mm and a width of 1404 mm. On the other hand, for more massive equipment, when a larger loading area is needed, the TPM35-3617 construction trailer will be a better choice. This is the largest two-axle trailer in our range. It has a load capacity of 2694 kg, a GVM of 3500 kg, and dimensions of 2434x5664x1780 mm. It can transport much larger machines such as tractors, mini-excavators and compactors.
Both models have solid parking and overrun brakes and support wheels. Reinforced ramps with low-angle blockers, 19° for TM 18 and 20° for TPM35-3617, respectively, ensure safe and efficient loading and unloading. The waterproof, non-slip floor with 8 permanently attached handles to immobilize the equipment guarantee that the load will not change its position on the trailer, even during long transport on an uneven road.
The large TPM35-3617 construction trailer is equipped as standard with LED rear lights, a wheel chock, steps and a toolbox. The extended version also includes a drum rinsing system and an anti-burglary lock. If you prefer the smaller one - TM18, you can also buy additional elements and increase the comfort of using the mini-excavator trailer.
Comparison of the most important parameters of TM18 and TPM35:
| | | |
| --- | --- | --- |
| Technische Daten | Model TM18 | Model TPM35 |
| GVM (kg) | 1800 | 3500 |
| Leergewicht [kg] | 354 | 806 |
| Nutzlast [kg] | 1446 | 2694 |
| Maximale Länge der Ladefläche [mm] | 2527 | 3619 |
| Maximale Breite der Ladefläche [mm] | 1404 | 1756 |
| Anzahl der Achsen | 1 | 2 |
| Typ der Achse | Hamowana | Hamowana |
| Approach angle | 19o | 20o |
Regardless of the size of your needs, at Lorries you will find the right equipment to implement your plans. Check the technical specifications of each trailer and choose the optimal solution in terms of usability and cost. All Lorries trailers for mini excavator, regardless of the model, meet the highest standards and are the best investment for years.