How fast can you go with a car trailer in Poland? Check and avoid the ticket!
Riding with a rigidly attached company is a challenge for a true champion of the road, and even dirt roads. We have to take into conciderations larger dimensions, difficult maneuvering and an extended braking distance. It is also worth knowing how fast you can go with a car trailer - Polish law in this matter is quite restrictive and the fines are high.
Read our article and find out how fast you can drive with a trailer attached to your car to keep it safe and legal.

What determines how fast you can go with a trailer?
It is worth to look for an answer to this question before going on tour. It is a matter of safety - for all road users and ... our finances! The fines are quite high and such a penalty will severely affect our wallet. Speeding is the most common cause of punishing drivers in our country ... If you want to avoid unpleasantness - take your foot off the gas and drive with your head. Especially if you have an "attachment" with you.
The details determine how fast you can go with a trailer. The limit may depend on the number of lanes, hour, area or road specificity. It is important that in the case of passenger cars with a trailer, signs increasing the speed limit in built-up areas above 60 km/h are not applicable.
What does this mean in practice? However, a truck or a passenger car with a trailer must not exceed this speed, even after crossing the mark with a limit increased to 70 or 80 km/h. With the "company on the towbar" behind us, we continue the journey at a speed of 50 km/h (or maximum only from 23:00 to 5:00).
EDIT: From June 1, 2021, in Poland new road regulations came into force regarding, e.g., permitted speed on the road in built-up areas at night. Now the speed has been leveled and it is - regardless of the hour - 50 km/h.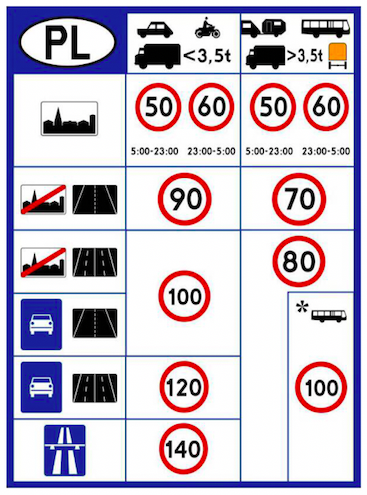 How fast can you go with a trailer on the highway?
We already know that we must be careful when driving with a trailer - not only when maneuvering! Driving with an additional load significantly extends the braking distance, and at higher speeds, even a stronger gust of wind can be dangerous for us.
For this reason, limits also apply to us on expressways. How fast can you go with a trailer on the highway? Both for passenger cars with such additional load and for cars with larger dimensions (trucks and buses) the limit is 80 km/h.
How long can you travel with a trailer on the "expressway"?
For those who are curious, how much can a trailer be driven on an expressway in Poland, we answer quickly - also 80 km/h. We can move at the same speed in the case of dual carriageways. Of course, as long as our skills, sense of security and real conditions on the route allow it.
Passenger car with trailer - good advice at the end!
We hope you already know how fast you can go with a trailer. Remember, however, that regardless of the limitations, you should realistically assess the situation and our ability to drive a car with an "attachment".
If we are just starting our adventure with such a "bonus towbar", it is always worth practicing the basic maneuvers first in a large parking - away from other cars. There, too, we can safely "sense" how much more time we need to brake.