Transport of boats and yachts - legal regulations
Owning a boat or a yacht very often requires transporting them. This does not only apply to the beginning or end of the season when it is necessary to transport a boat or yacht, but also to many other issues, such as repair by a mechanic. It is worth knowing that the transport of motor boats and yachts is not only a necessity of good organization and safety, but also compliance with applicable legal regulations. Not knowing them or not applying them in practice may result in a fine and poses a threat to other road users or the transported equipment. What should yachts and boats look like? Find out in our article.
Transport of yachts and boats - what are the legal regulations?
Large dimensions and weight of boats or yachts necessitate proper transport on a platform or a tow truck. It is worth knowing that boats and yachts are often impossible to transport within the permissible limits for people holding a category B driving license. The act clearly states that people who have a category B driving license may drive a vehicle with a maximum permissible weight not exceeding 3500 kg and pull the so-called light trailer (DCM up to 750 kg). Unfortunately, these provisions pose a number of problems for the holders of this type of driving license. Code 96 gives wider possibilities, thanks to which it is possible to tow a trailer with a car up to a weight of 4250 kg.
It is also possible to pass a driving license in category B + E, which gives the possibility to tow a trailer with a total weight of up to 3500 kg. Unfortunately, the total weight of the trailer cannot exceed the weight of the towing vehicle, so it may be required to have a car with exactly the same permissible total weight. Additionally, it is important to have both a parking brake and an overrun brake.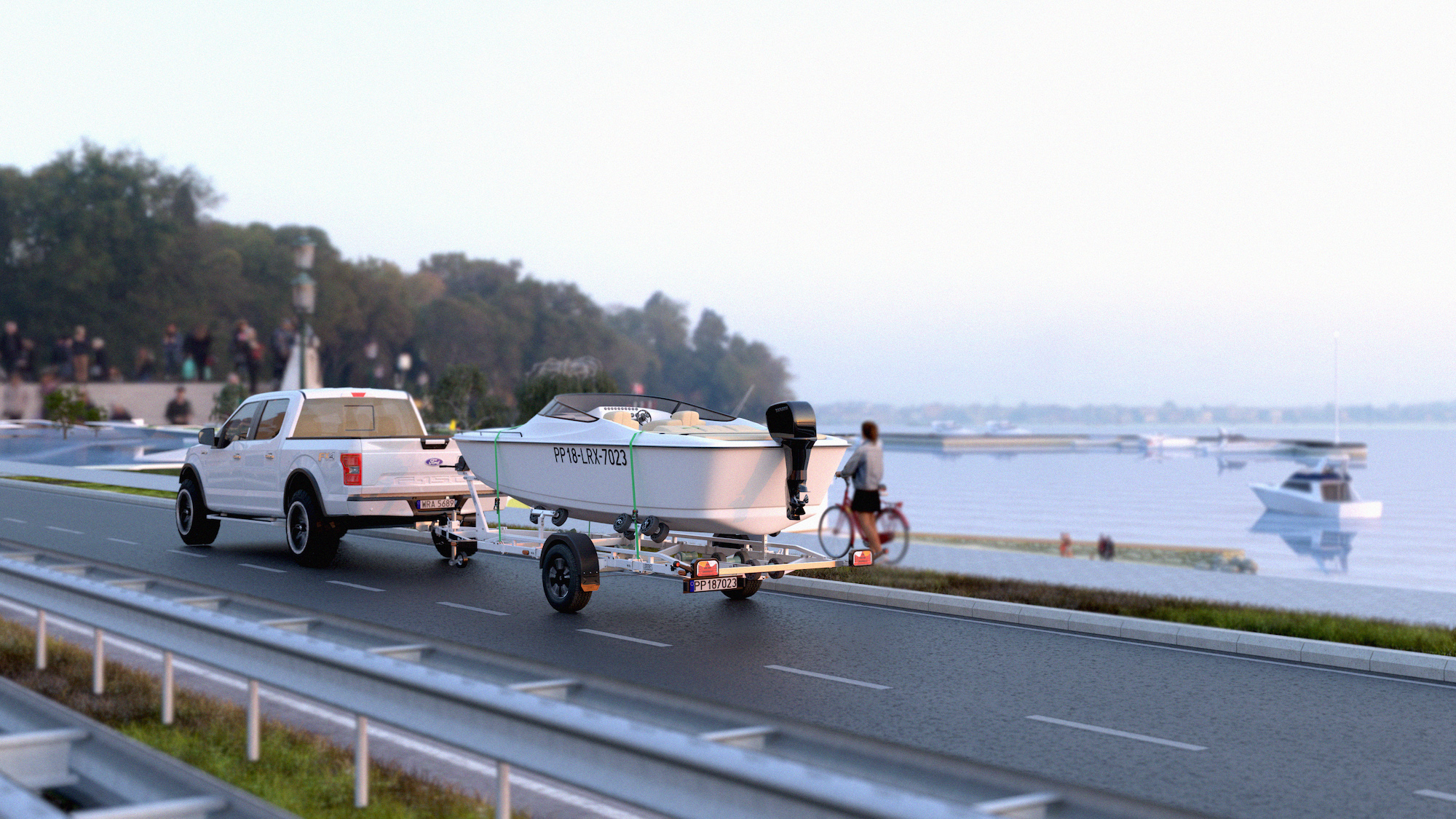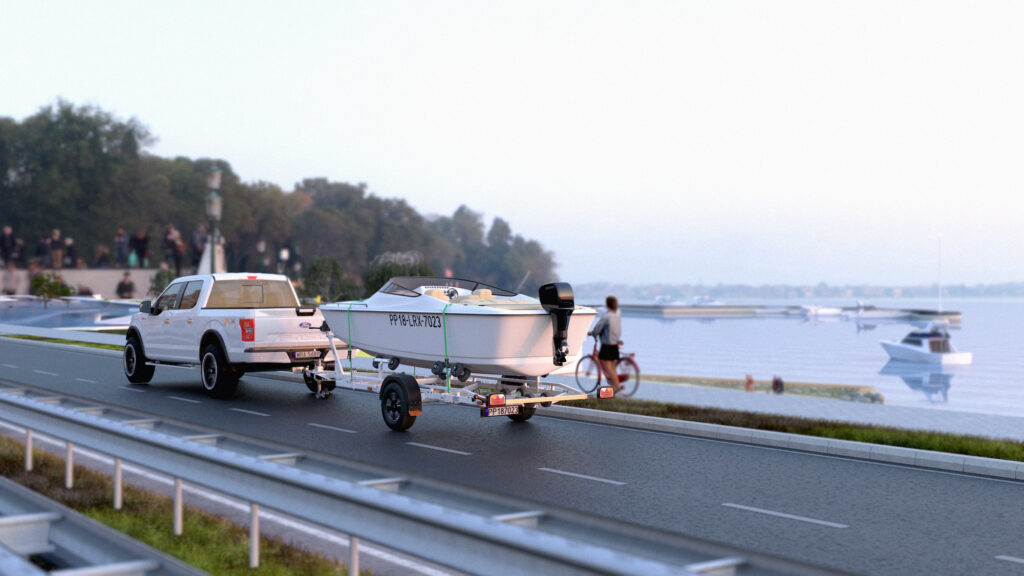 What should the transport of large yachts look like?
Transporting large yachts is also quite a problematic situation. This is due to the stringent regulations that exist in Polish law, as well as the dimensions of the cargo or the need to ensure their safety. Both the weight and dimensions of the loads are important here. The regulations clearly indicate that the total width of a laden car may be a maximum of 255 cm, and a height of 400 cm. When the car itself is 255 cm, the load on the trailer can be only 3 meters wide. Its length must not extend beyond the trailer by more than 2 meters. Of course, the protruding part must be properly marked with white and red stripes or a flag.
White and red stripes are required when towing the trailer in a car other than a passenger car. However, a flag with dimensions of at least 50×50 cm is necessary when towing passenger cars. Lighting is also important, e.g. a red lamp and reflections in poor visibility, especially during fog, snowstorm, rainfall or during the night, just after sunset. When transporting a yacht or boat, it is worth remembering about the permissible speed at which the vehicle can move. On a motorway, dual carriageway or expressway, you can move at a speed of 80 km/h, while outside built-up areas up to 70 km/h.

What about transporting motor boats?
The transport of a boat, yacht or motor boat should be carried out in accordance with the regulations in force in our country. Drivers more and more often pay attention to the valid tariff of fines. Constant tightening of regulations means that their amount is constantly growing. Transporting a boat on its own without a suitable trailer is also a concern for the safety of the transported equipment, the value of which is often quite high. That is why it is worth taking care of appropriate, stable and solid equipment that will help us transport the boat or yacht on our own.
In our offer you will find trailers adapted to transport both small boats and larger boats or yachts. The largest trailer can carry a load of up to 8.8 meters in length and a GVM of 3500 kg. They are fully professional and made of the highest quality materials, taking into account all norms and standards.
Off-road vehicles for transporting yachts and boats
People who are happy owners of off-road cars or SUVs have much wider possibilities of towing a boat trailer than owners of ordinary passenger cars. Off-road vehicles allow towing trailers with a weight that exceeds their own weight by 50%. However, it must be an off-road car on a frame that has a 4 × 4 drive. The trailer can have a GVM up to 3500 kg, and the vehicle's own weight cannot be less than 2334 kg. It is also necessary to control the brakes of the towed trailer from inside the car. Unfortunately, this is only possible with large SUVs and off-road vehicles. Of course, in any case, it is important to have a good trailer that will allow you to safely and efficiently transport a yacht or motor boats.

The above article is valid in Poland.