What to consider when choosing a trailer for transporting motorcycles?
It is best to cover each, even the longest way, on two wheels. However, this is not always possible. A fault during a road or the need to transport equipment that you have just bought - these are just some of the situations in which the motorcycle will require transport. If you have a truck, you can use it for this purpose. However, this is not the best solution for many reasons.
You will do much better by buying a dedicated trailer. In this way, you will well protect your motorcycle from damage while driving and safely transport it to the desired location.


How to choose a motorcycle trailer? Watch out for the weight!
At first, let check the weight. This, of course, should be as low as possible, because each additional "ballast" means, among other things, increased fuel consumption, not to mention the loss of energy when maneuvering a trailer. Therefore, it is worth choosing models made of proven materials with low weight, and at the same time durable enough not to be damaged under the weight of the motorcycle.
In this aspect, the aluminum sheet used as a floor performs very well - it is light, non-slip, durable. Steel pipes fit in as well with this principle, as the frame made of them is characterized by high strength.


Motorcycle trailer - fasteners
What is most important in case of safetyness of the motorcycle, yours and other road users is definitely the fastening for transport. One of the rules says to transport a two-wheeler in an upright position, thus avoiding the leakage of operating fluids.
A good trailer should provide the best protection for the motorcycle. The greater the number of places where you can attach it, the more stable and reliable you will transport it. Additionally, both the front and rear wheels of your motocycle should be properly stiffened. Therefore, make sure that the trailer you choose will have guides in which the wheels of the vehicle can be placed.


What else to look for when choosing a motorcycle trailer?
Remember that the most convenient way is to drive in the vehicle on a fully tilting trailer or by using additional ramps. If it is equipped with a "tilting" floor, the easier and more comfortable you will be to place your two-wheeler on it. In addition, make sure what lighting it has. In the case of LED lamps, you are guaranteed their quality and durability, compared to traditional lamps.
Most motorcyclists would like to have a trailer dedicated to their two-wheeler, but the problem is the place to store it. Even if they have a garage, the space it takes is too large. And here comes a solution that only a few models have - the possibility of folding it (the so-called HALF-FOLD system). A simple and very practical solution. After folding the trailer in half and placing it vertically, it takes up relatively little space, comparable to a wardrobe or a bookcase with shelves.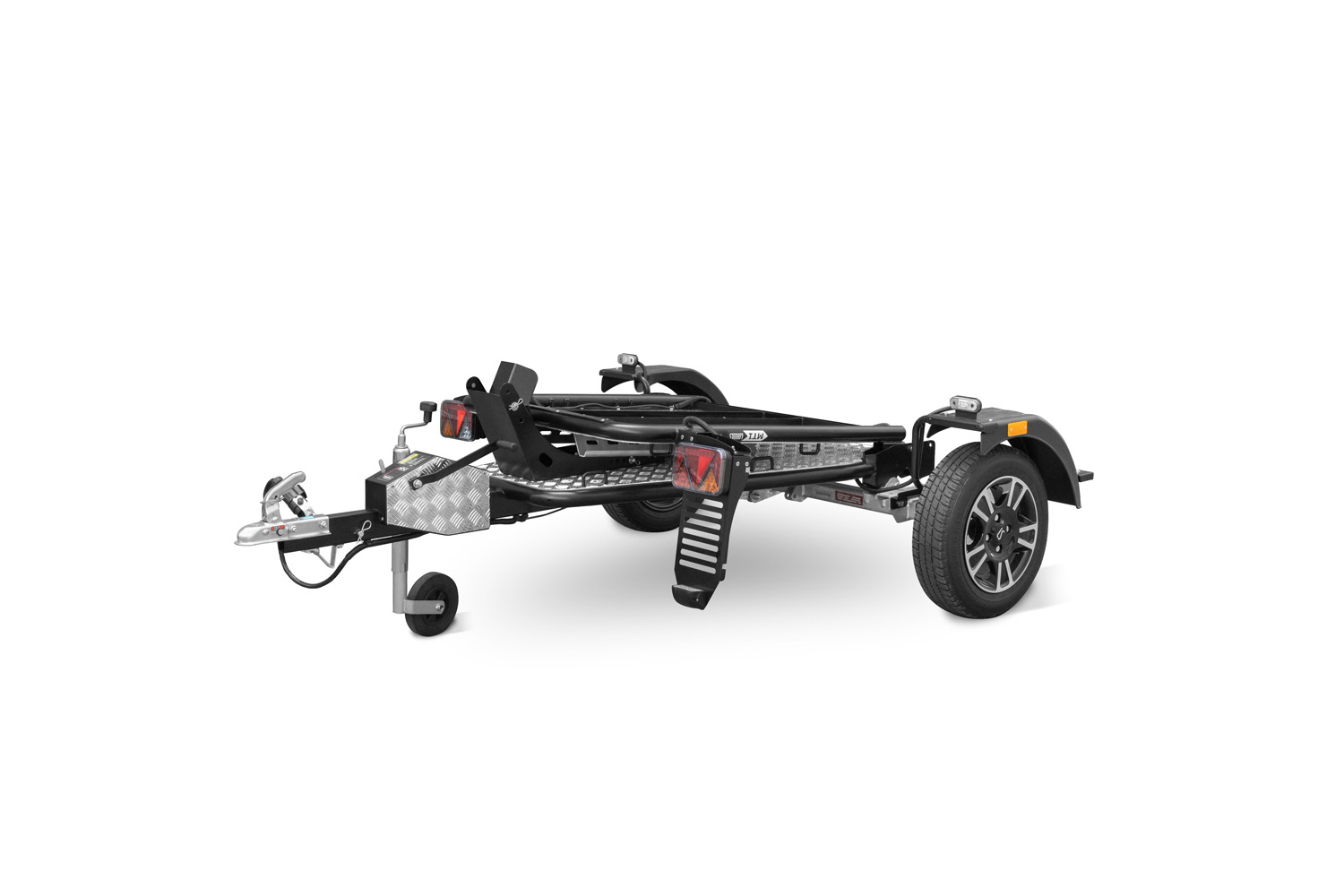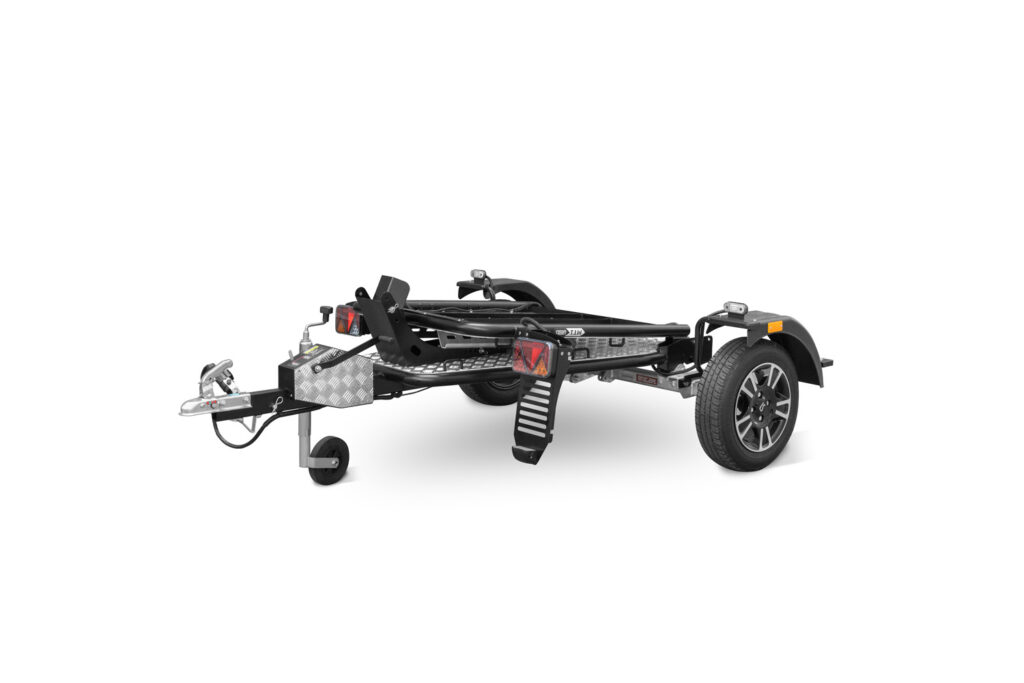 See how the HALF FOLD system works!
Functionality is not everything!
Let's not forget about the appearance of the trailer. If we invest our money in a trailer on which an expensive motorcycle will be transported, it should also be distinguished by its design. A modern shape, interesting color finish, e.g. in black (or any other color of your choice) and the possibility of equipping it with aluminum rims are visual elements that will please and attract the eye of every motorbike fan.