A boat trailer - what to look for before buying?
Buying a boat is an investment that often involves a lot of money. However, simply acquiring a yacht, sailboat or motorboat is only the beginning of the adventure. In order to transport your boat safely from one place to another, regardless of the destination lake or sea, it is necessary to equip yourself with a special boat trailer. This is what will provide complete mobility and freedom, allowing you to decide for yourself where you will spend your holiday and when your boat will be ready for launching.
A boat trailer is an indispensable item for any boating or water adventure enthusiast. Its purpose is not only to transport your boat safely, but also to provide convenience of use and protect your valuable equipment during the journey. Before purchasing a boat trailer, there are a few key factors to consider. In this article, we will provide you with essential information on choosing the right boat trailer. You will learn how to determine your needs, what parameters are important when choosing one and what to look out for to ensure your equipment is properly protected.
What are boat trailers and what are their used for?
Boat trailers are a very useful piece of equipment for those with boats, motorboats, dinghies, yachts or sailboats. They are specially designed structures that allow safe transport and storage during land travel. They enable sailing or fishing enthusiasts to enjoy their water adventures, regardless of their location. In addition, they give boat owners complete freedom to plan and organise their water journeys.
There is another important opportunity provided by boat trailers they also act as storage for the boat when it is not in use. They provide a safe and suitable place to keep the boat when it is not in the water. This protects our equipment from the weather, mechanical damage or theft. Boat trailers allow us to keep our boat in good condition all year round, regardless of the boating season.

Boat trailers vary depending on the type of boat they are designed to transport. They are available in a variety of sizes, capacities and designs to meet the diverse needs of boaters. Whether you have a small recreational boat, a pontoon for fishing, a jet-ski or a larger watercraft, there is a boat trailer to suit your equipment.
What parameters are important when choosing a boat trailer?
Choosing the right boat trailer requires taking into account various important parameters that depend on your individual needs and the characteristics of your boat. Depending on whether you own a jet ski, pontoon, small boat, sailboat or other watercraft you will be interested in different solutions. However, there are a few key factors you should pay attention to. Here are the most important ones:
1. GVW, or gross vehicle weight rating, and with it the load capacity.
A boat trailer should have a load capacity that is capable of supporting the weight of your boat. Check the maximum load capacity of your trailer and compare it with the weight of your boat to make sure it is strong and stable enough. Keep in mind to estimate the weight not only of the boat itself, but add to it the weight of the fuel, the equipment that will go on it or in the case of, for example, pontoons the weight of the engine.
2. Trailer length.
Make sure the length of the trailer is suitable for the length of your boat. The boat trailer should be long enough to accommodate the entire boat, including the hull, engine and any additional components.
3. Adjust the position of the supports and bow.
Check if the boat trailer has the possibility of adjusting the supports. This includes adjusting their height as well as their position itself. This feature gives flexibility and allows the trailer to be adapted to different boat sizes.
4. Material of construction.
Check the materials of the boat trailer you are planning to buy. Pay attention to durability, quality and surface protection. Boat trailers are often exposed to the elements, such as moisture and corrosion, so it is important that the structure is galvanised.
5. Brake system.
Jeśli planujesz przewozić większe łodzie, musisz zainwestować w przyczepę o DMC powyżej 1000 kg, która posiada zarówno hamulec najazdowy, jak i postojowy. Zapewni to lepszą kontrolę i bezpieczeństwo podczas hamowania oraz postoju.
6. Securing the boat.
Sprawdź, jakie i ile punktów mocowania znajduje się na przyczepie podłodziowej i czy ewentualnie można "dołożyć" kolejne. Upewnij się, że są one solidne, bezpieczne i odpowiednio dopasowane do Twojej łodzi.
7. Manoeuvrability.
A boat trailer should be easy to manoeuvre and drive. Make sure it has a support wheel as standard.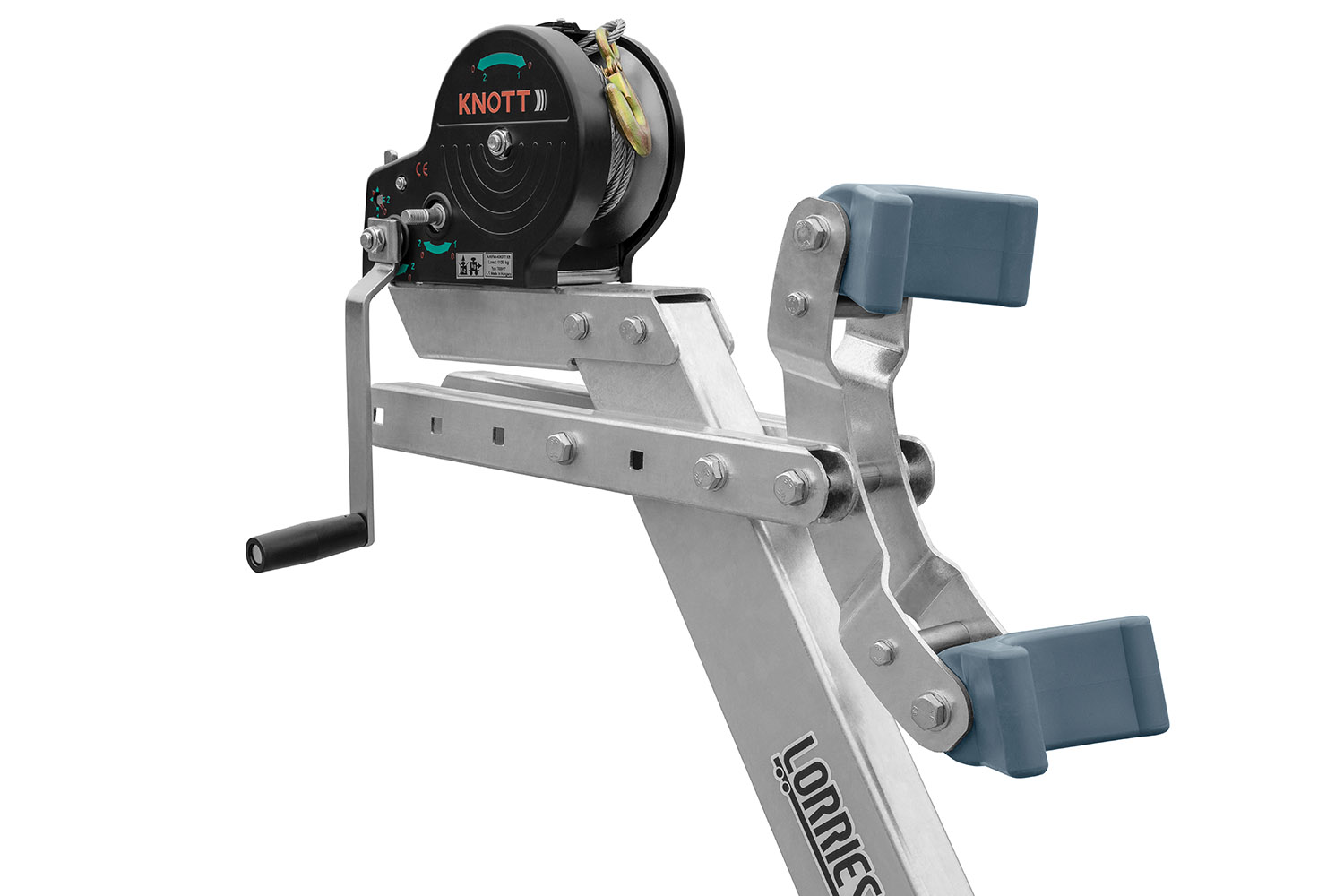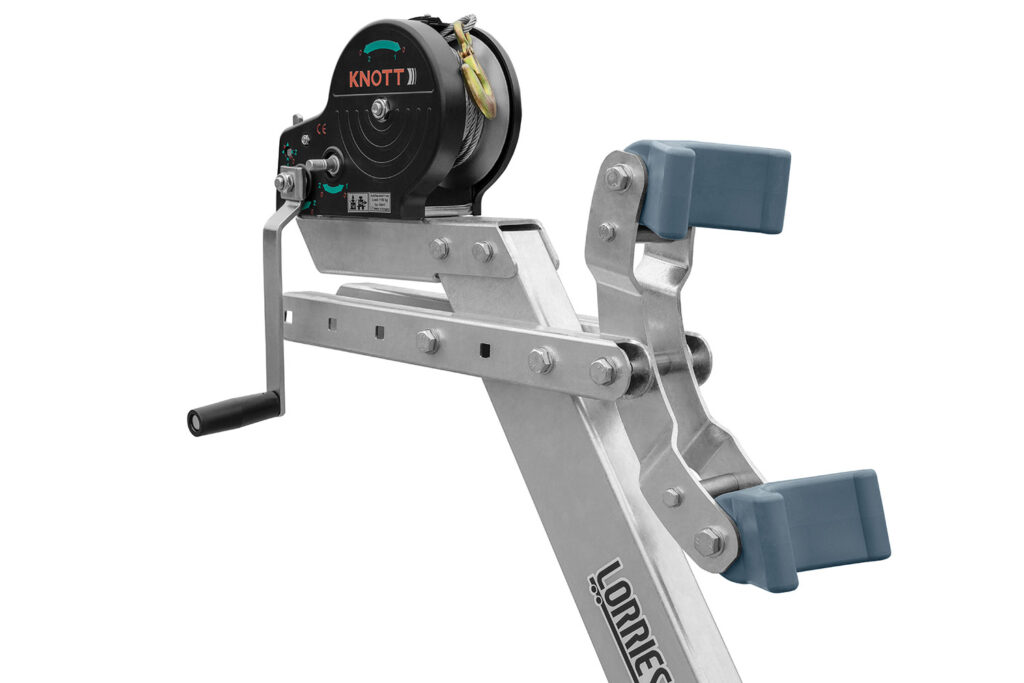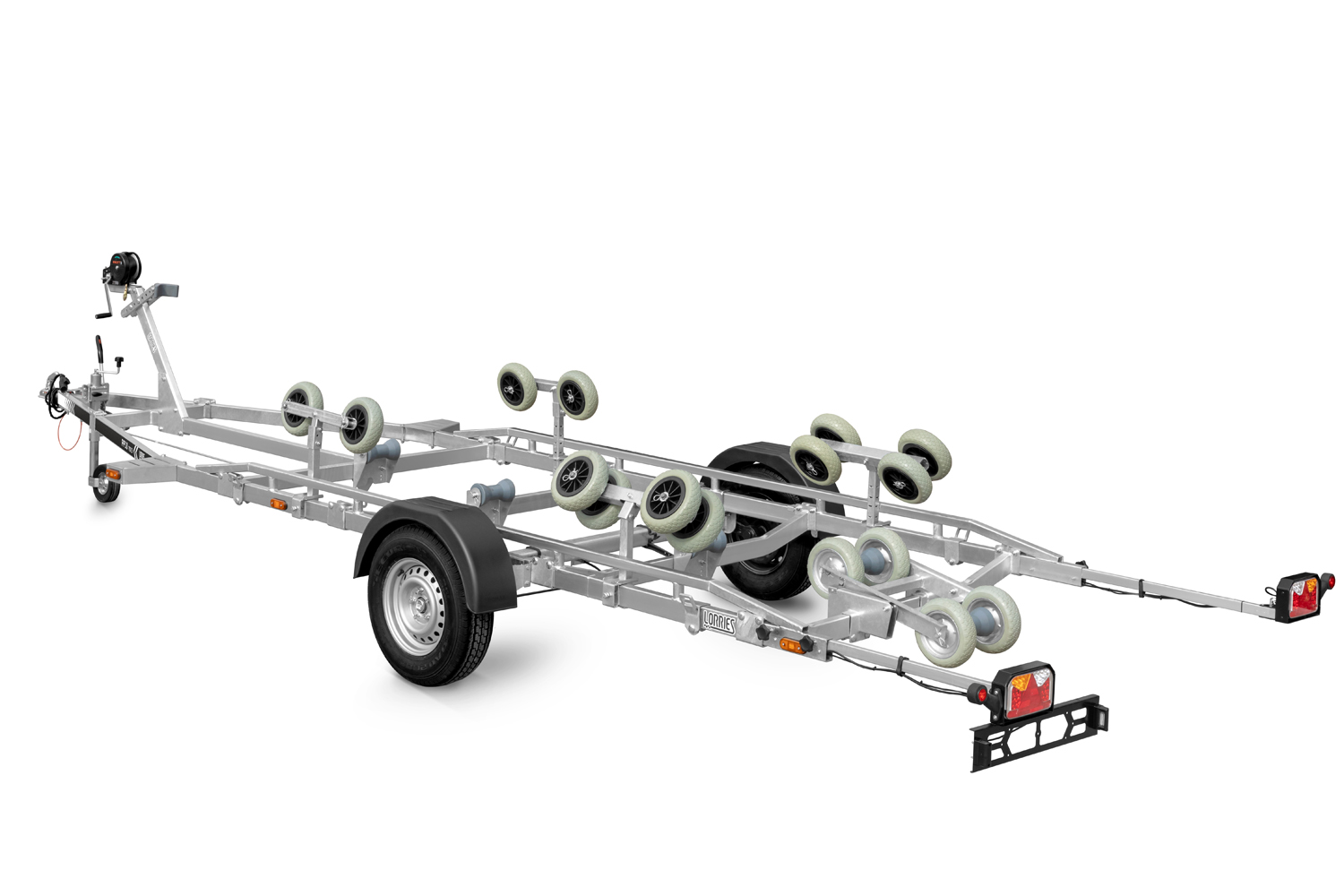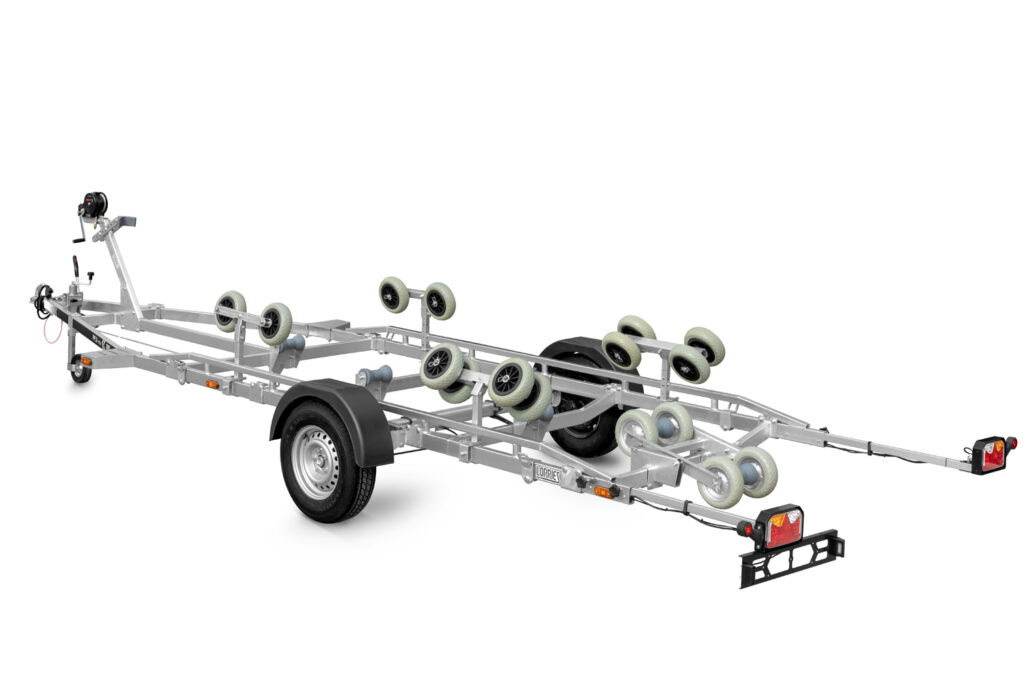 Boat trailers - with which licence you can drive them
There are boat trailers on the market that can transport boats of impressive lengths, up to 8.8 metres. However, before purchasing a trailer, it is important to understand the legal requirements associated with driving it and having the appropriate qualifications. If you are planning to buy a boat trailer and transport it by car, it is important that you know what qualifications are required. In Poland, for trailers and boats of relatively low weight, such as for the transport of a jet-ski (where the gross weight of the trailer + boat is less than 750 kg and the gross weight of the vehicle combination is less than 3.5 tonnes), a category B driving licence is sufficient. This means that with a normal category B licence, you will be entitled to drive a vehicle with a trailer and a boat. However, if the combined weight of the towing vehicle, trailer and load exceeds 3.5 tonnes, you will need a category B+E licence. In this case, you will need to obtain an additional licence that will allow you to drive heavier vehicle combinations.
It is worth keeping in mind that the regulations regarding the required authorisations vary from country to country and from local road regulations. Therefore, it is always advisable to check the applicable driving regulations in your country before purchasing a boat trailer.
Keep in mind that a boat trailer is an integral part of your transport equipment. It is therefore important to be aware of the legal aspects associated with its use. Taking care to comply with road regulations is not only a legal requirement, but above all a guarantee of safety on the road.