How to secure a car on a trailer?
Do you want to find out how to properly place your car on a trailer? Then you've come to the right place. Having the appropriate knowledge in this area, we decided to share it with you. Thanks to our tips, you will not make mistakes in the future, which can ultimately be very costly. So check what you should always remember before transporting your car on the trailer.
Start by driving slowly on the tow truck
Let's start with the fact that each car on a trailer is much easier to place when this activity is carried out by more than one person. So if you have the opportunity to take advantage of someone else's help, we strongly recommend that you ask for it. Thanks to this, you will not only be able to carry out the entire process safely, but also in a shorter time. Its course should begin, of course, with driving the car onto a tow truck. Do this slowly and carefully. That is why it is worth using an assistant that will help in the correct centering of the car while making the climb.

The car should be placed on the tow truck in such a way that its front part is loaded as much as possible. In order for this to happen, you need to drive over the axle over which the car engine is located (the vast majority of it will, of course, be the front axle). It should also be mentioned that you should use a winch when driving the car. This is recommended even if the car is roadworthy. Driving a car onto a tow truck is always associated with a certain risk, i.e. detaching the ramp and damaging the car. An important activity is also the proper fastening of the car that we transport.
Use the correct number of fastening straps and fasten their buckles securely
Na co jeszcze trzeba zwrócić uwagę? Na pasy transportowe. Ilu należy ich użyć? Co najmniej trzy, zakładając po jednym na koło, lecz optymalnym rozwiązaniem będzie wykorzystanie czterech pasów. Bardzo ważne jest upewnienie się, że ich klamry uległy odpowiedniemu zamknięciu. Jeśli do tego nie dojdzie, wzrasta ryzyko, że samochód na lawecie ulegnie nagłemu przesunięciu, spadając z niej w czasie jazdy. To z kolei mogłoby doprowadzić do groźnej sytuacji na drodze nie tylko dla Ciebie, ale i innych uczestników ruchu.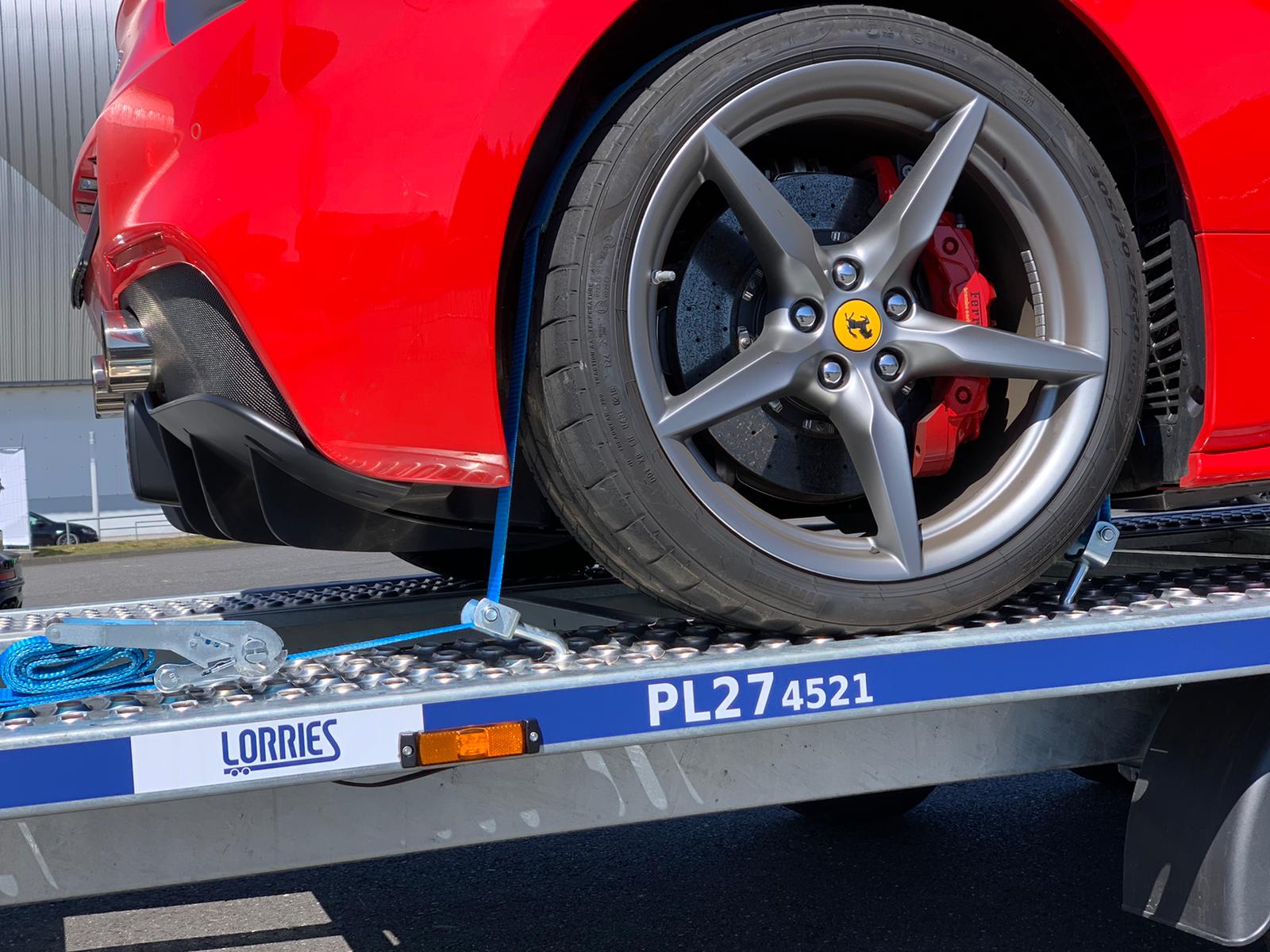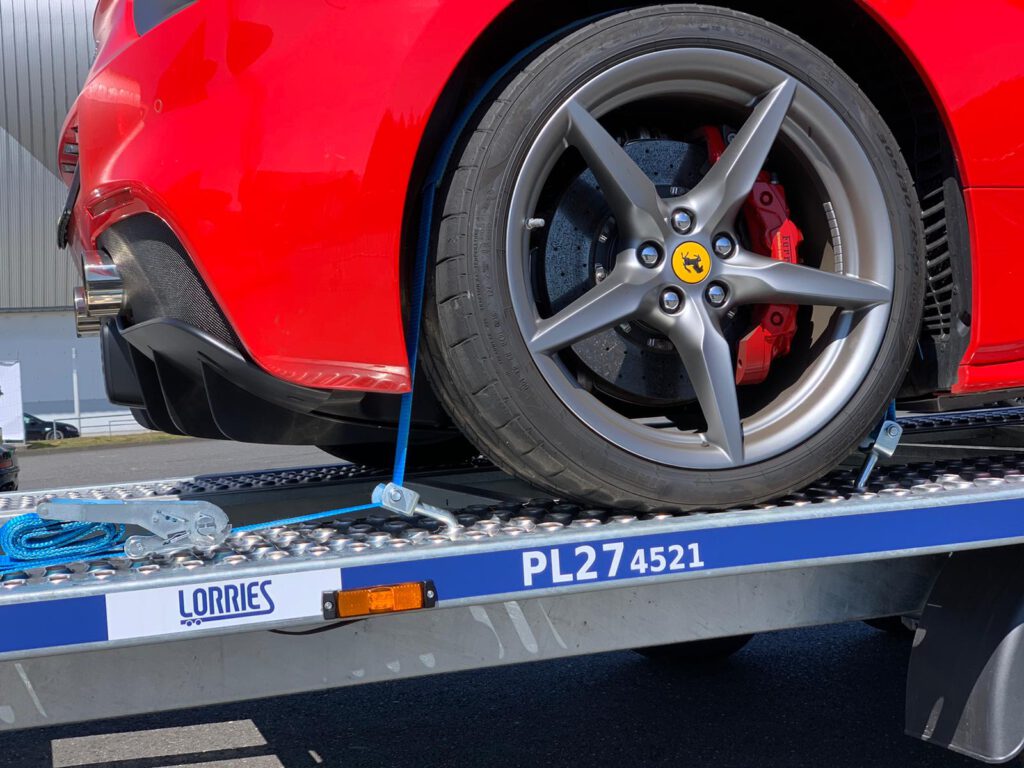 Oprócz pasów niektórzy kierowcy stosują też kliny/blokady do kół, które montowane są na platformie. Zadaniem takich blokad jest skuteczne zablokowanie przesuwania się samochodu w trakcie jazdy lawety.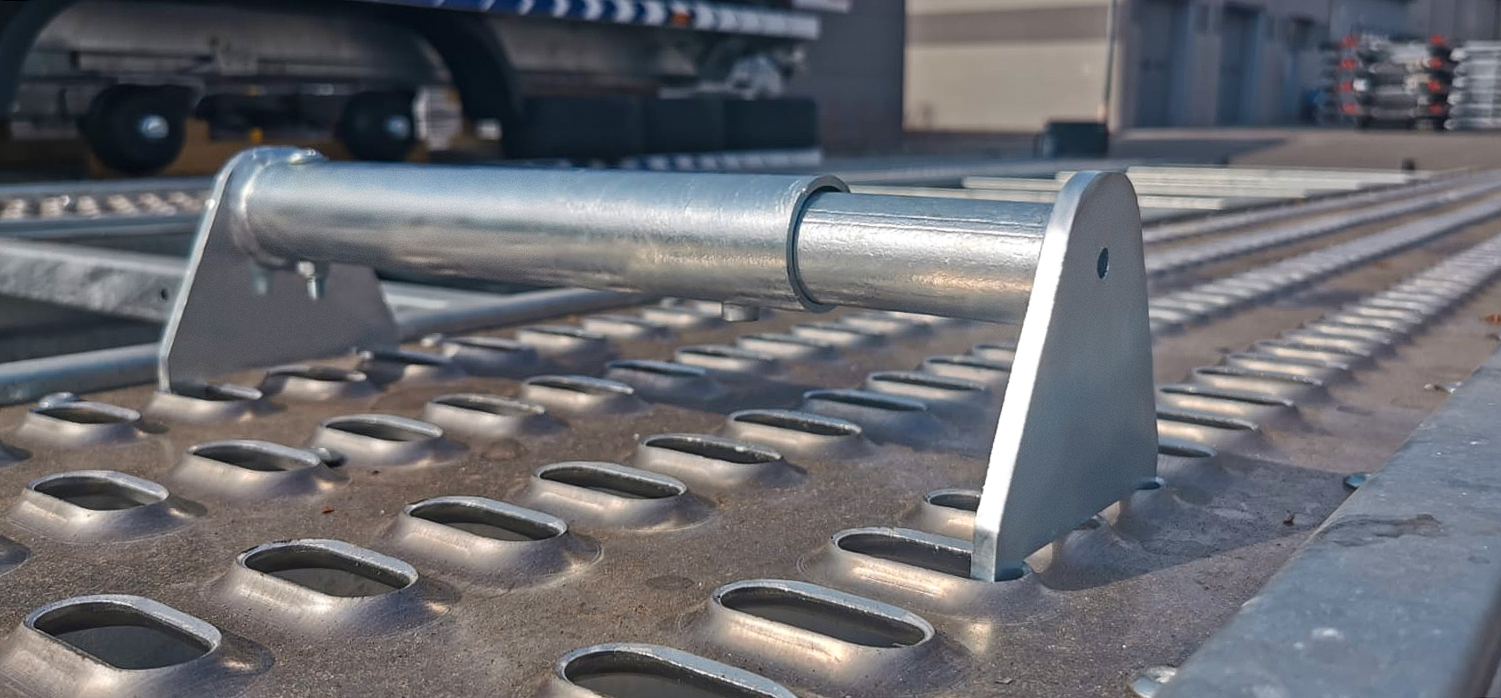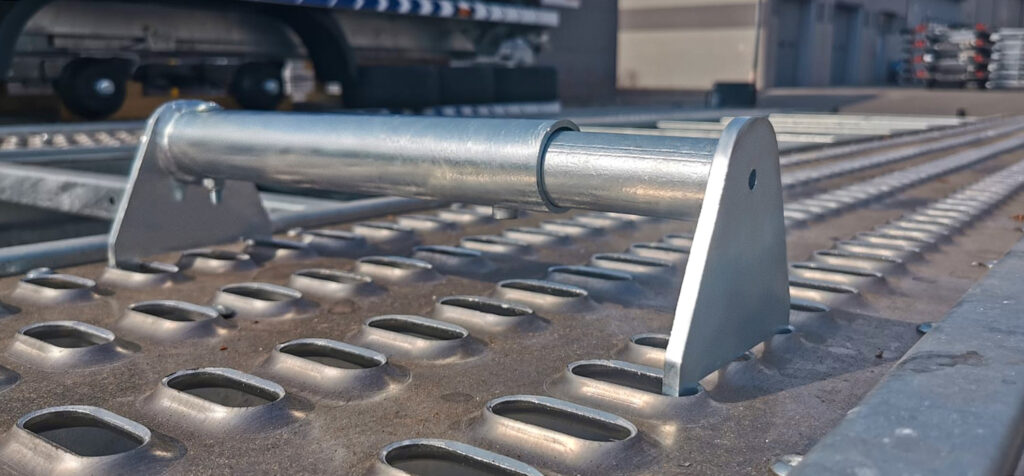 What else is worth remembering if you want to transport your car on a tow truck?
As can be seen from the above description, placing the vehicle on a tow truck is not particularly complicated. However, it should be remembered that, according to experts in the subject, the actual weight of the trailer should never exceed the weight of the vehicle used to transport it. It is always worth checking in advance if the overrun brake is fully functional and taking care of the proper lighting of the trailer - especially if you intend to use it during a cloudy day or late hours. Pay attention that the fastening straps are not badly worn. If there have been visible signs of abrasion on them, we recommend reaching for new ones. What's more, we should also remember to keep the tires of our tow truck, lighting and the overrun brake in good condition. The police may also pay attention to these elements during the inspection. Therefore, the condition of the fastening belts is important, as they cannot be worn, should be approved and properly tightened.
As for the speed at which you can move with a loaded tow truck on single and dual carriageways, it should not exceed 70 and 80 km / h respectively. But who can sit behind the wheel of a car with a tow truck attached to it? If the weight of the whole set, consisting of a car, trailer and its load, is not more than 3.5 tons, then the driver can be any holder of a category B driving license. Otherwise, it must be someone who has a "license" B + E.