Trailers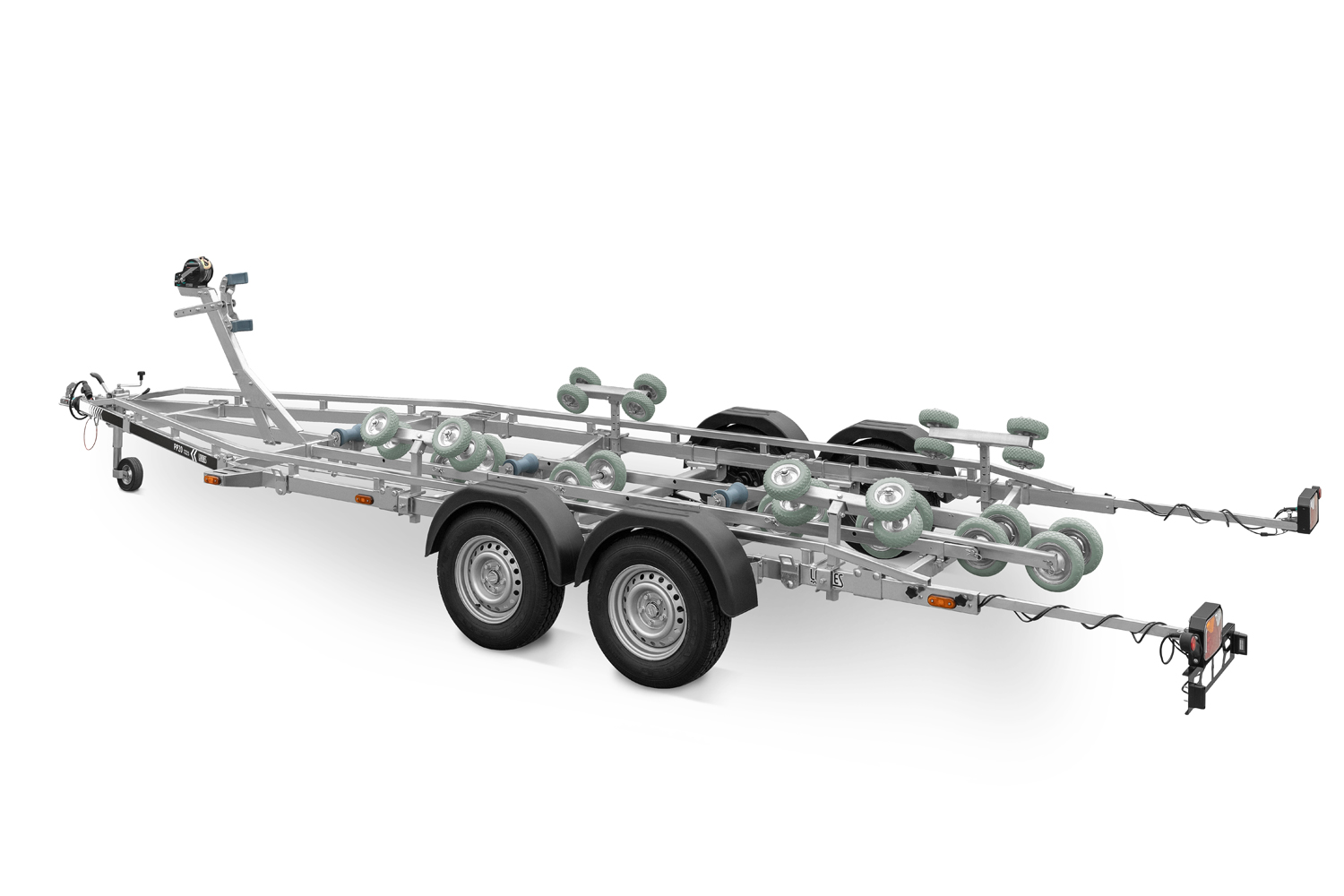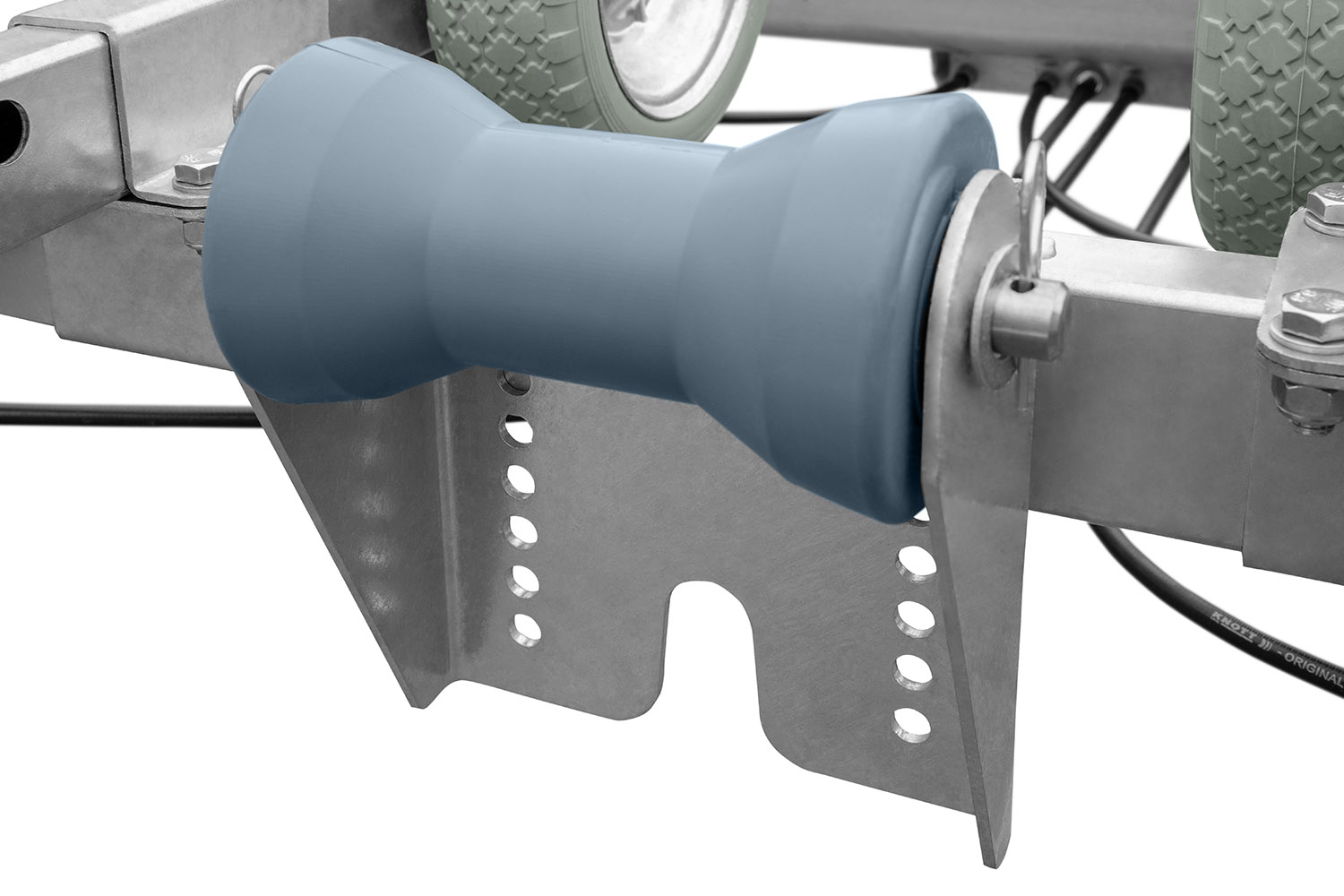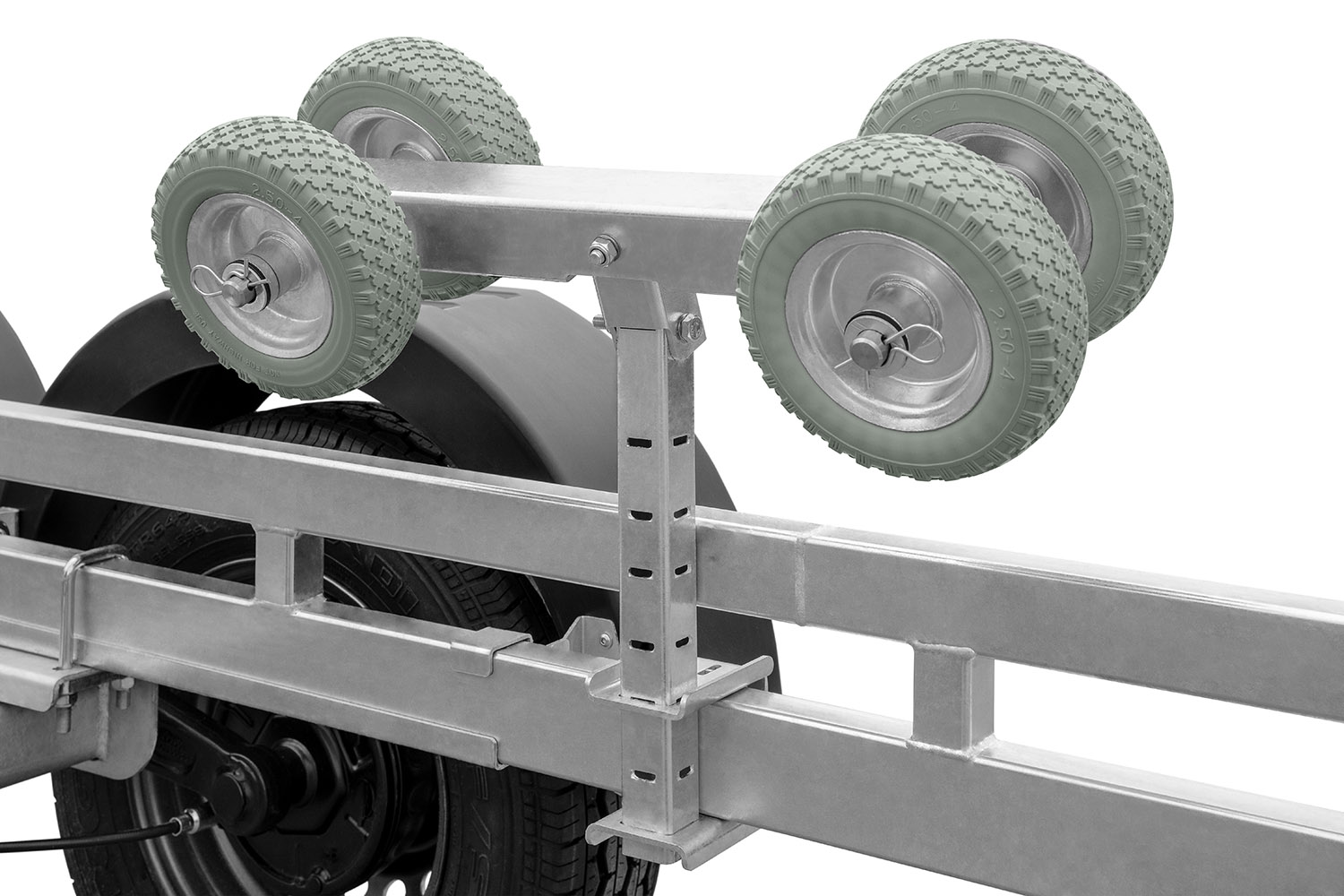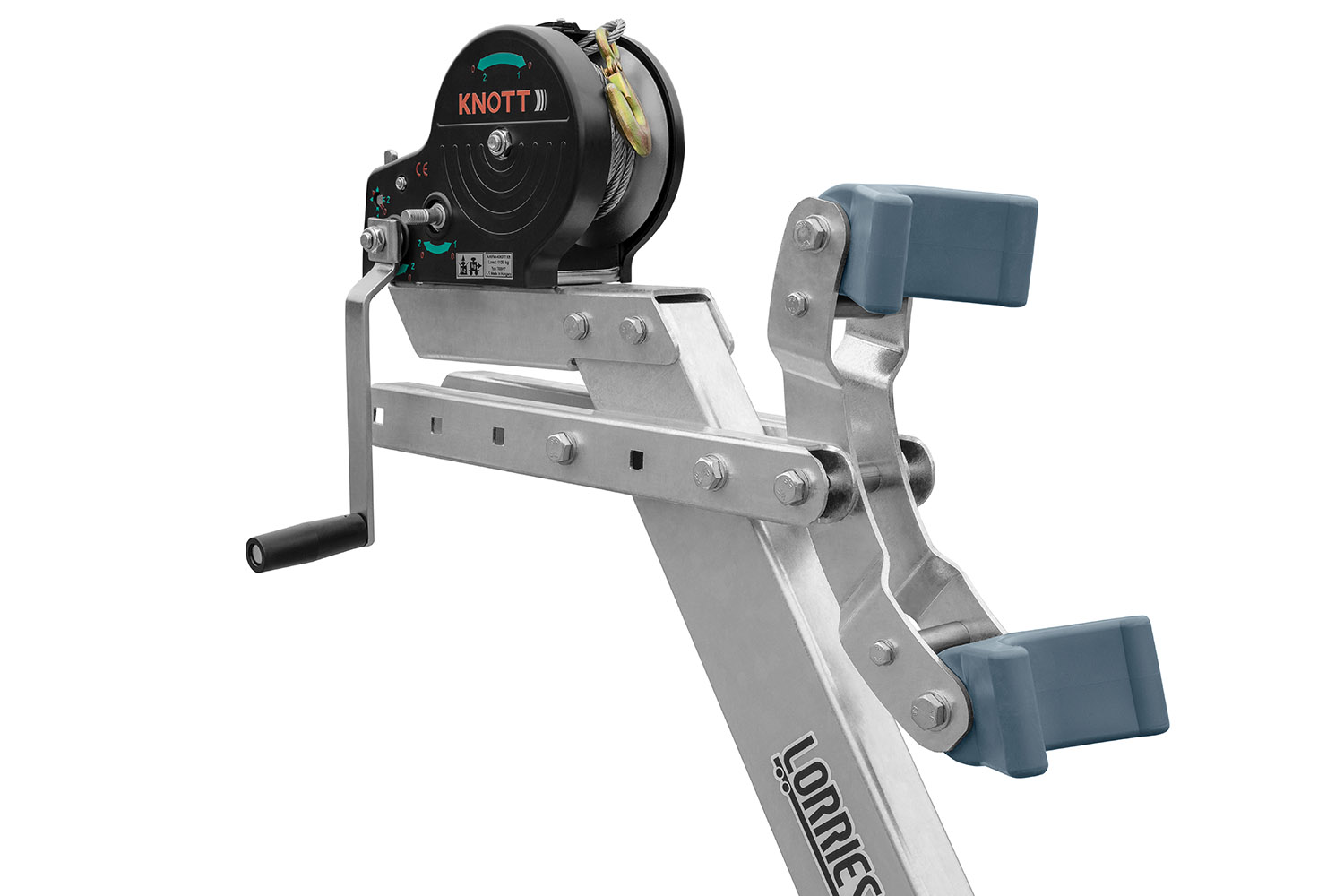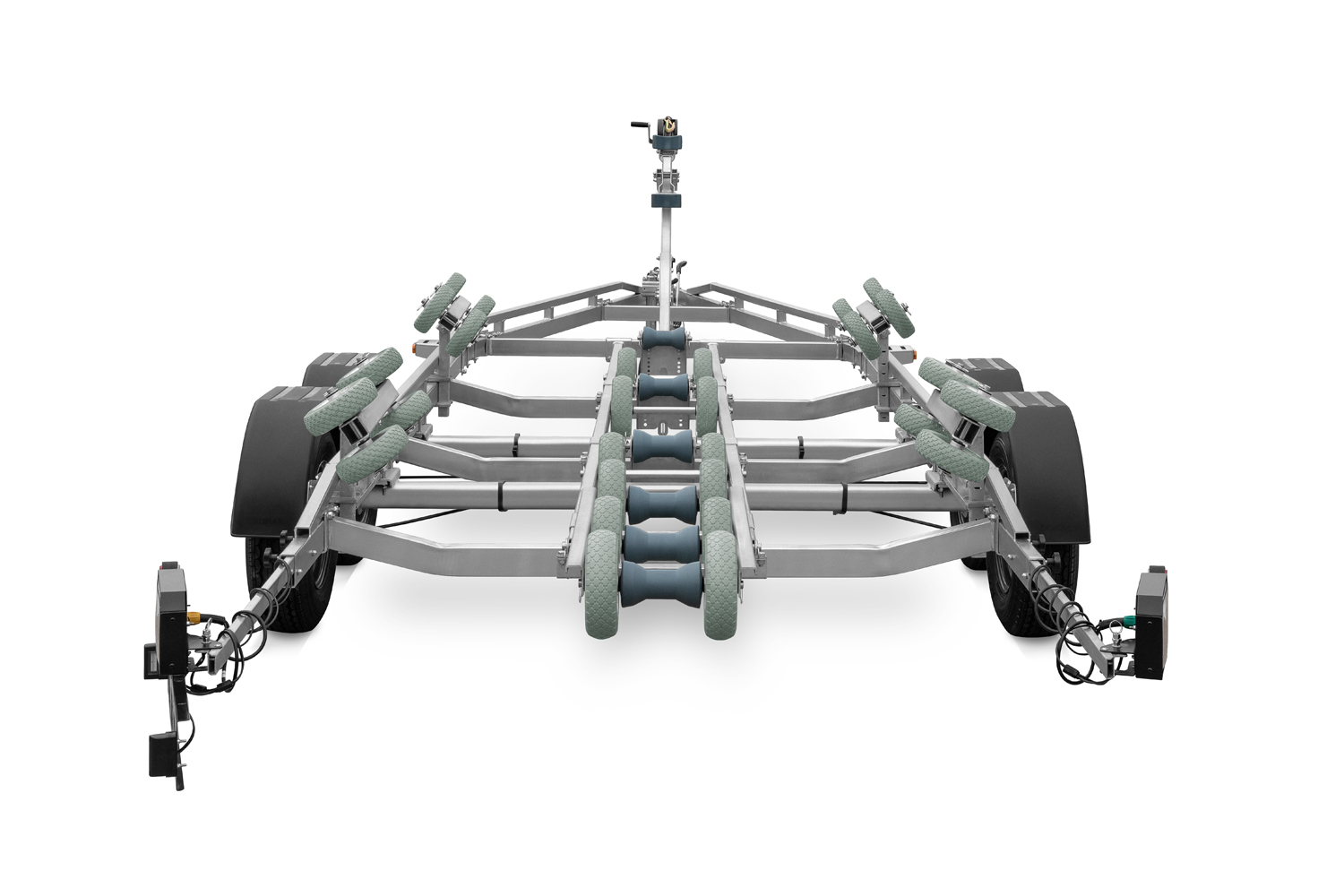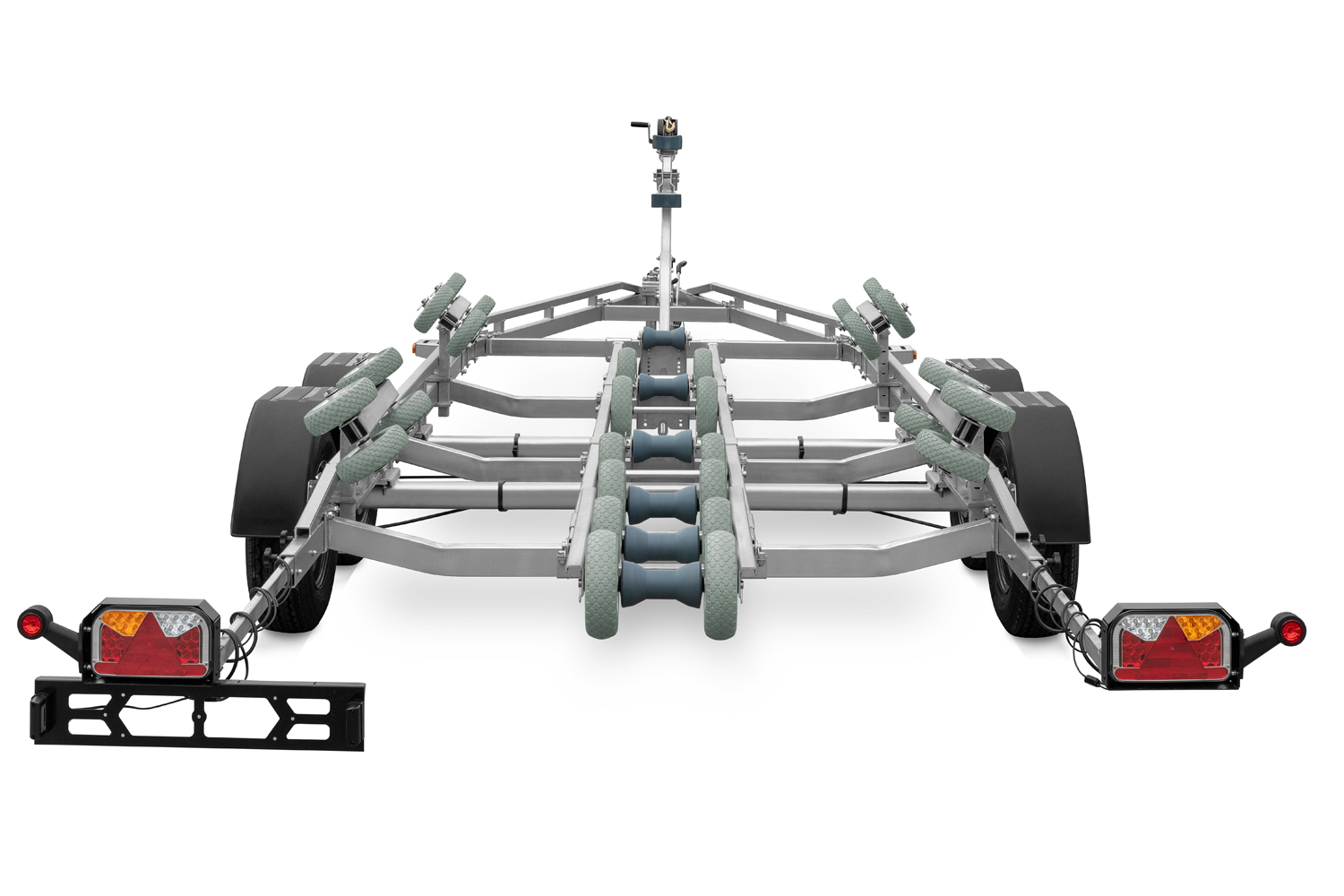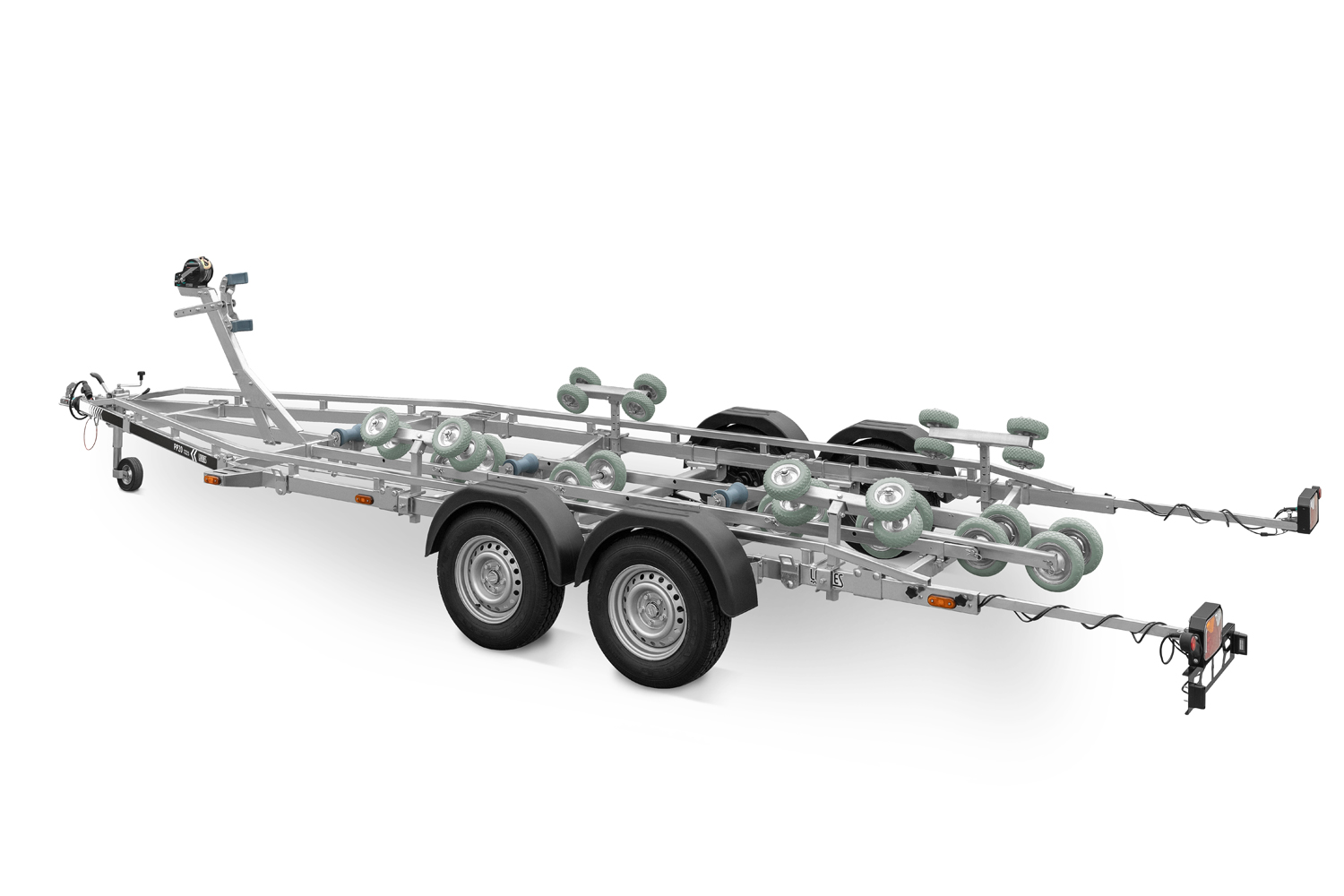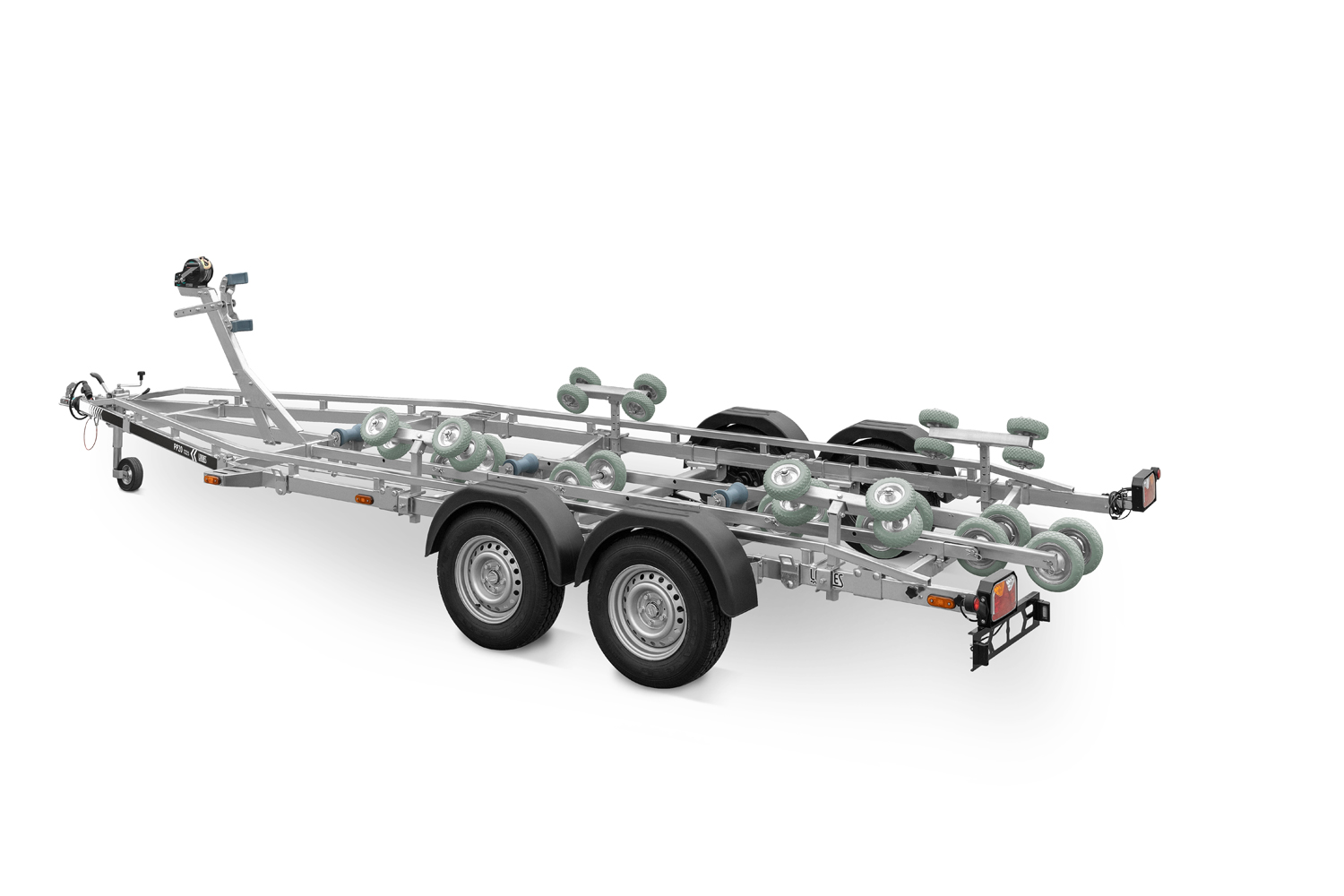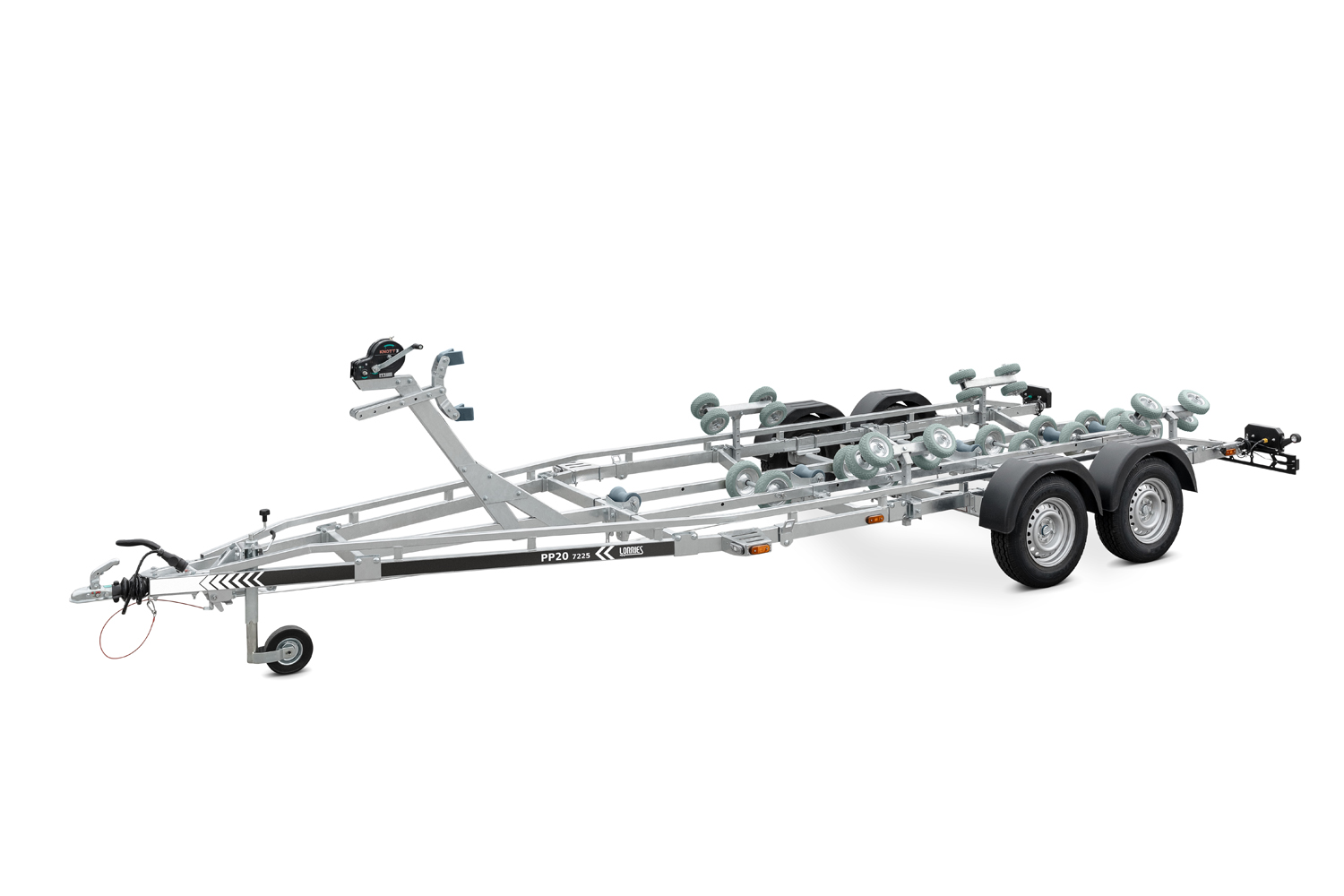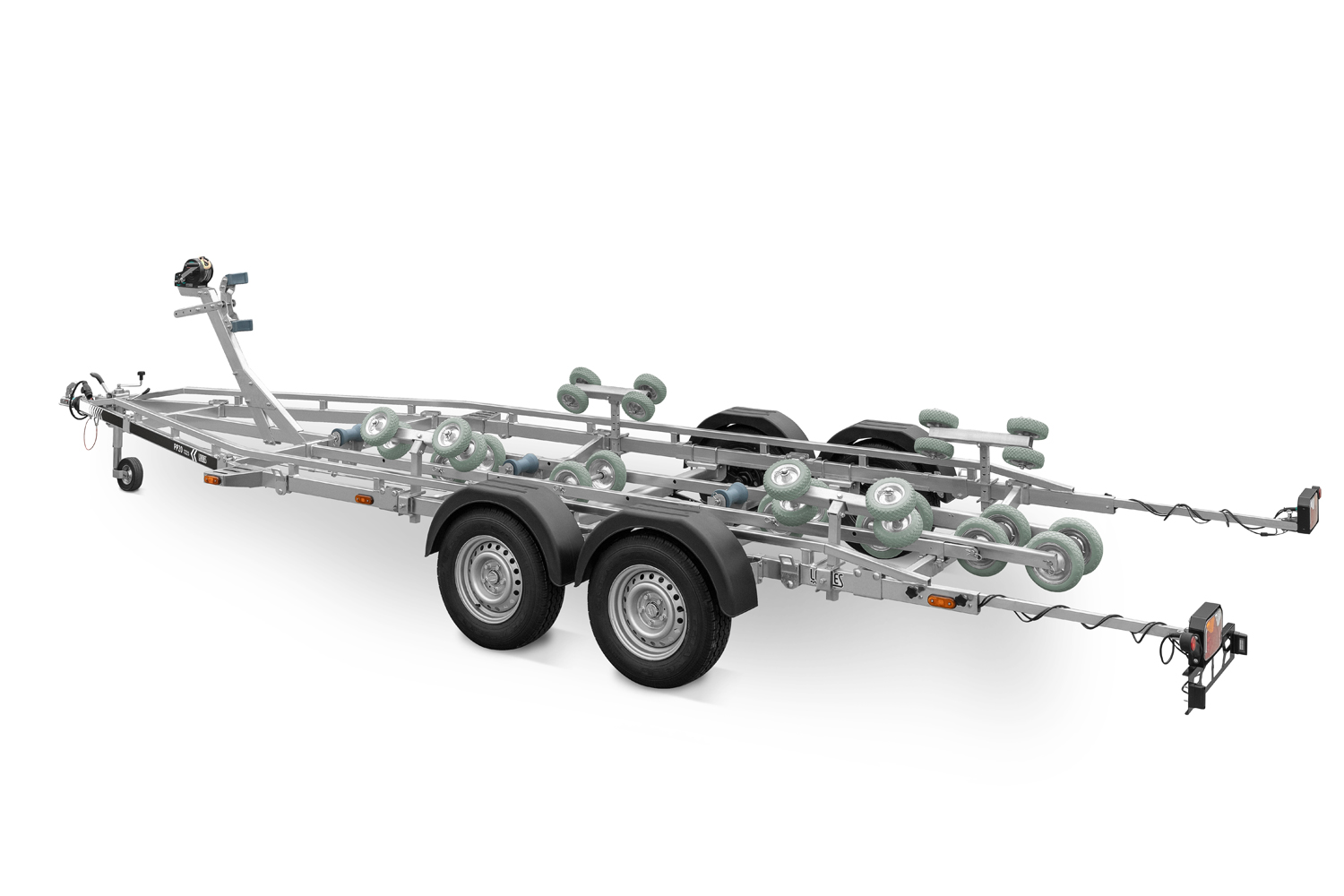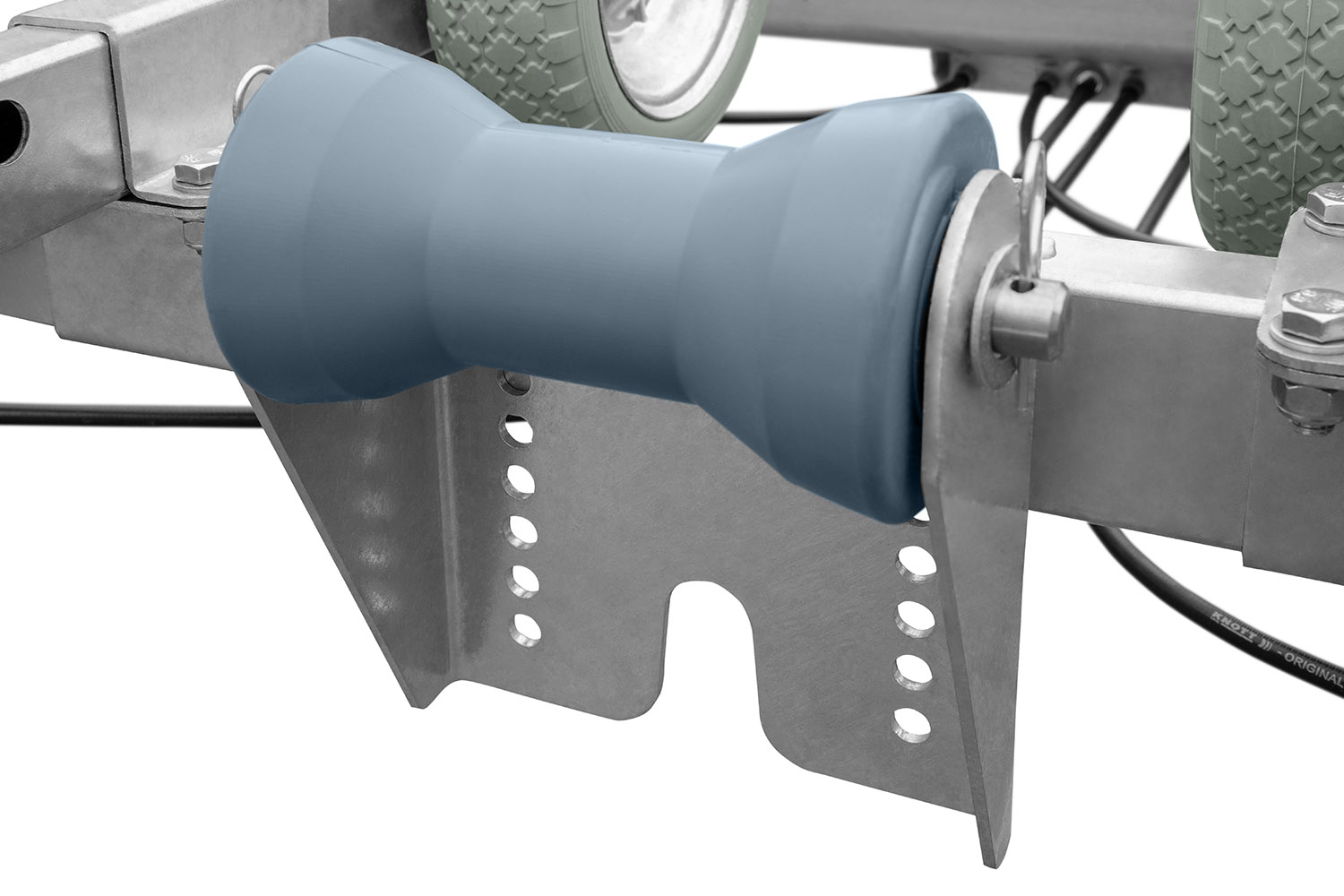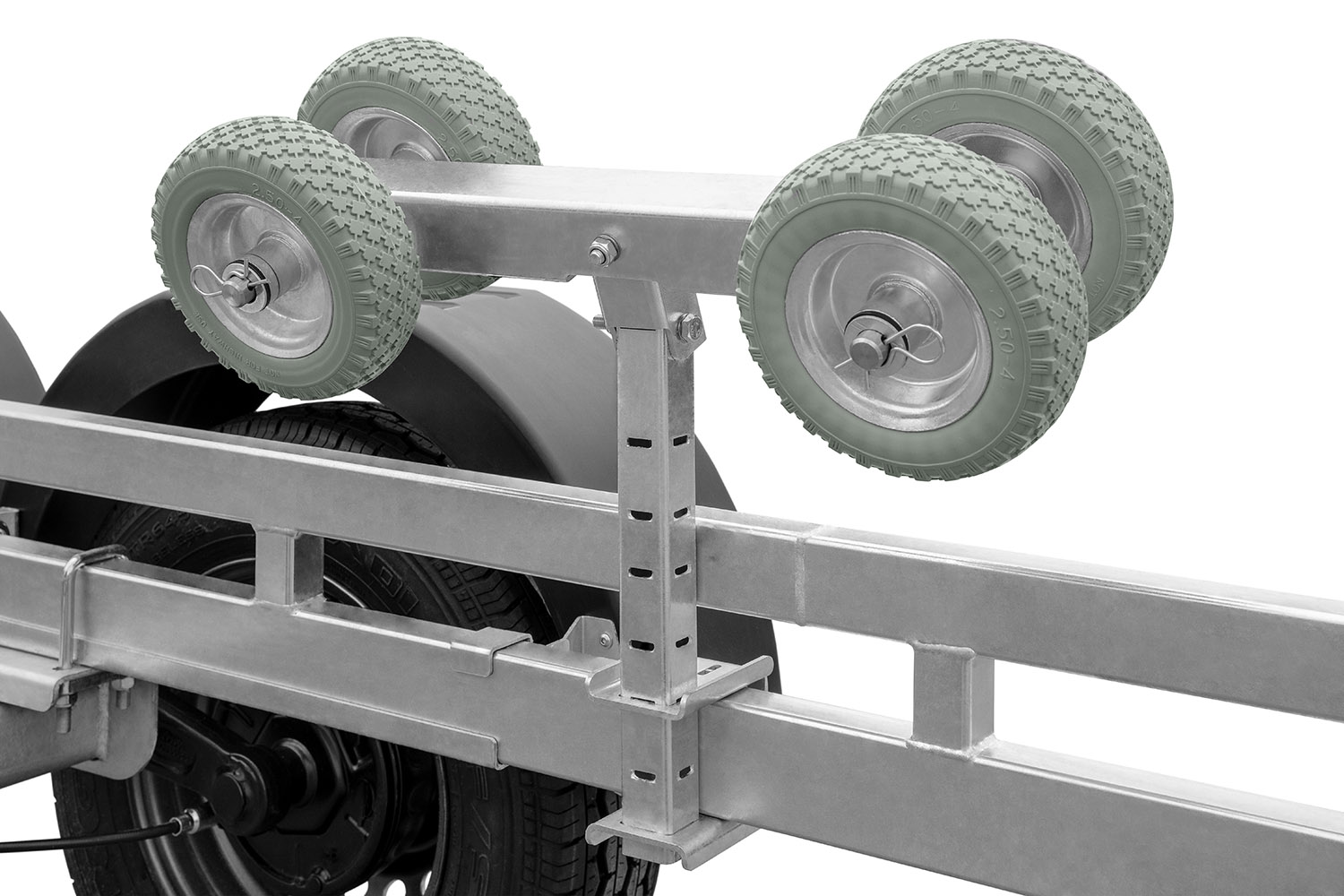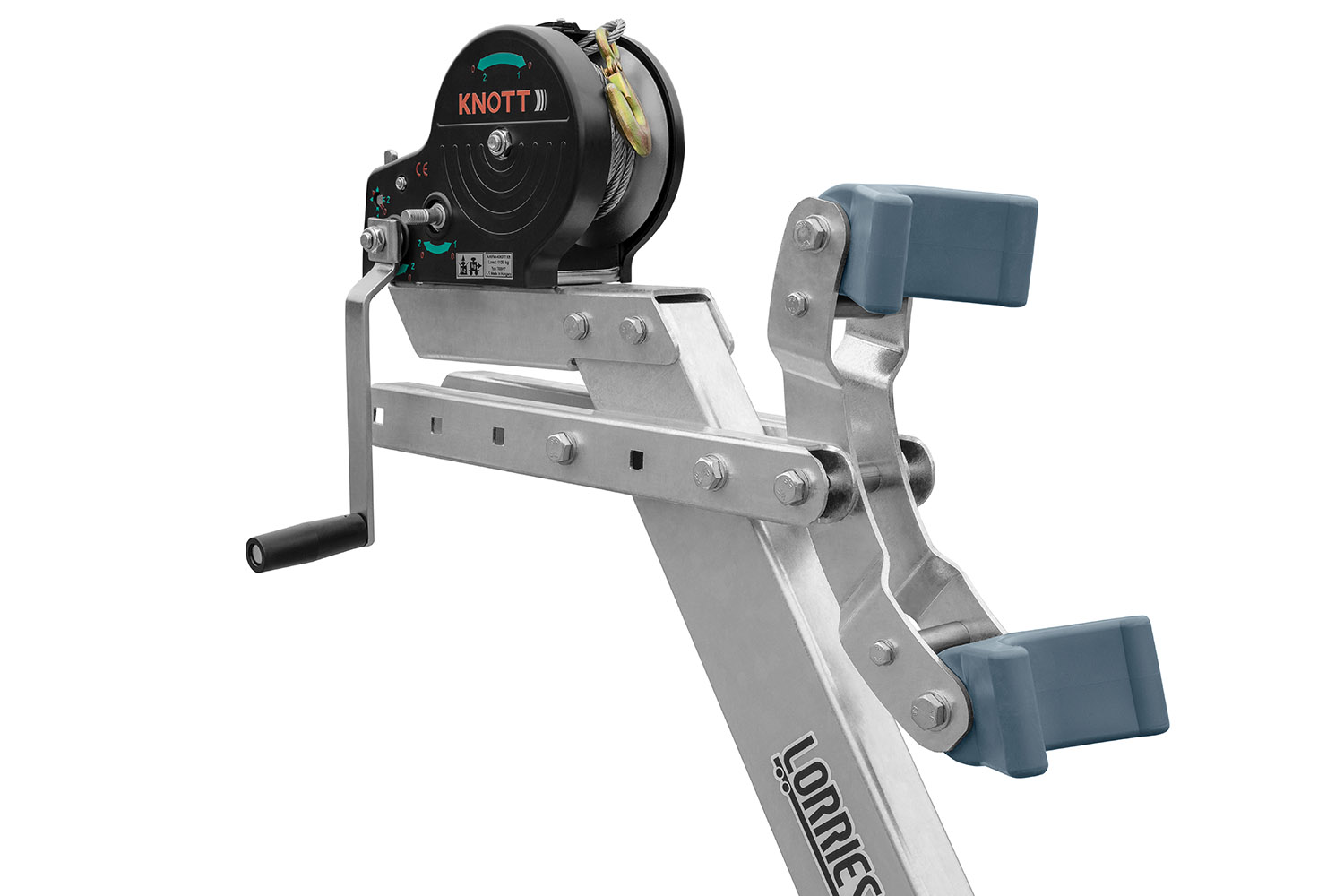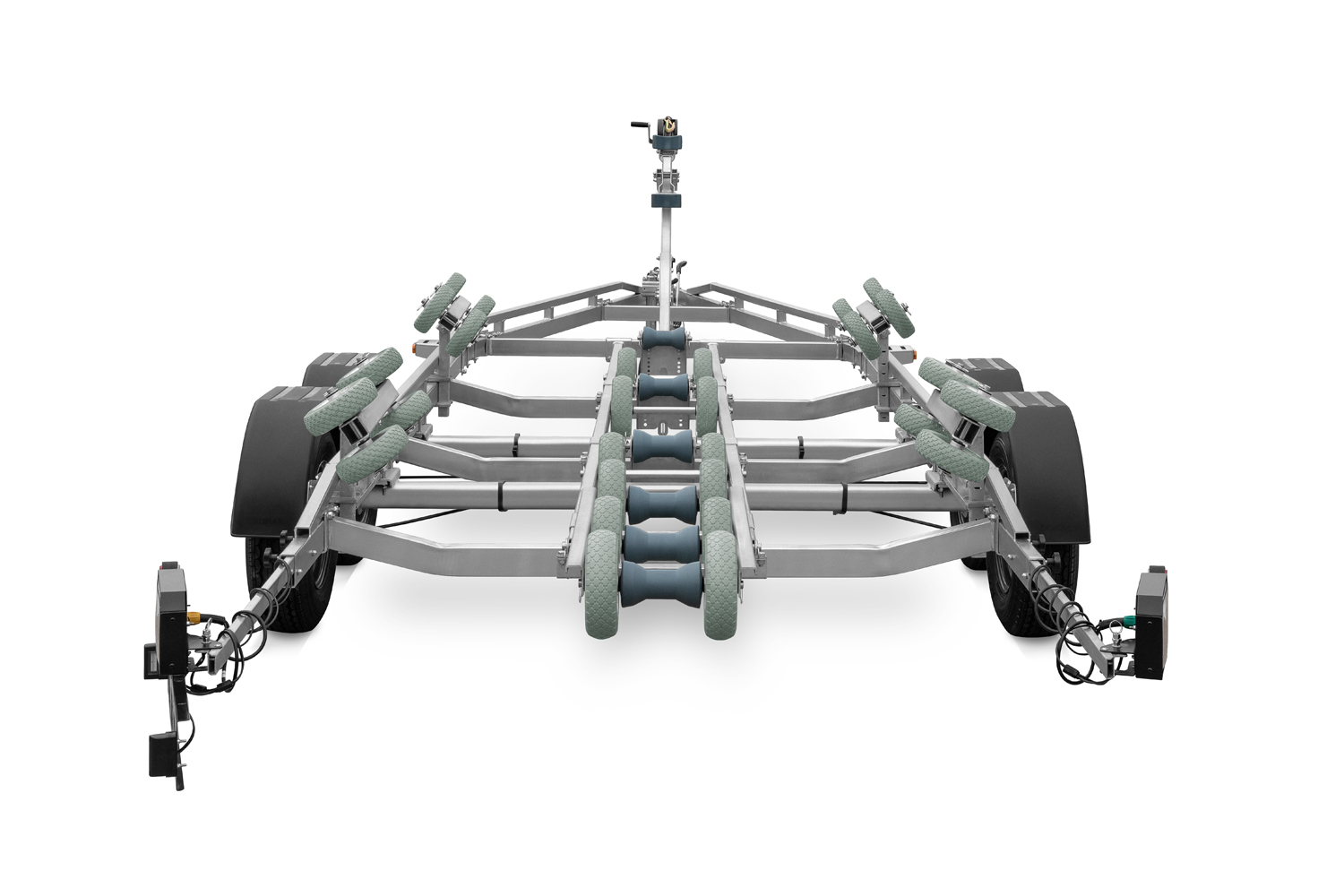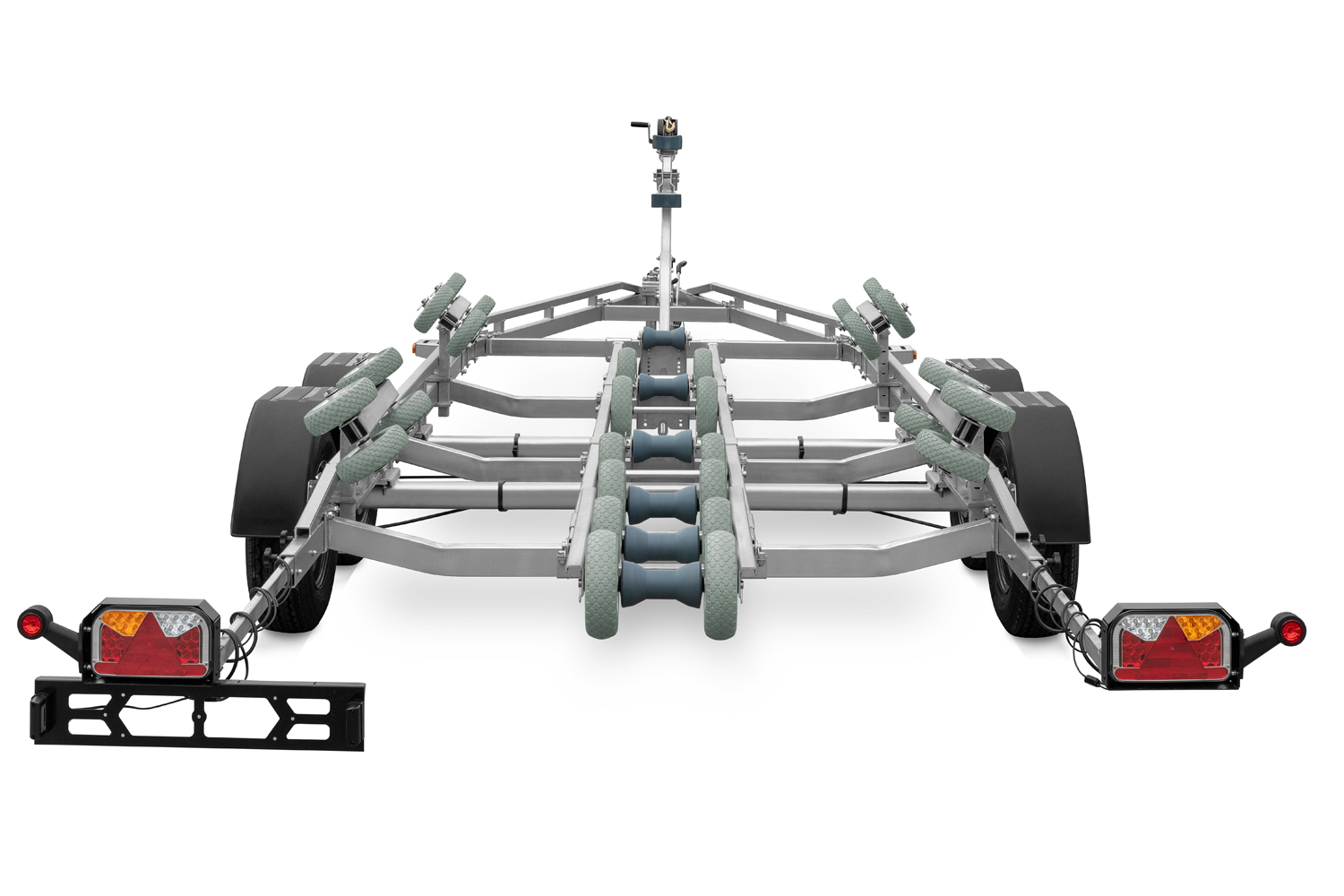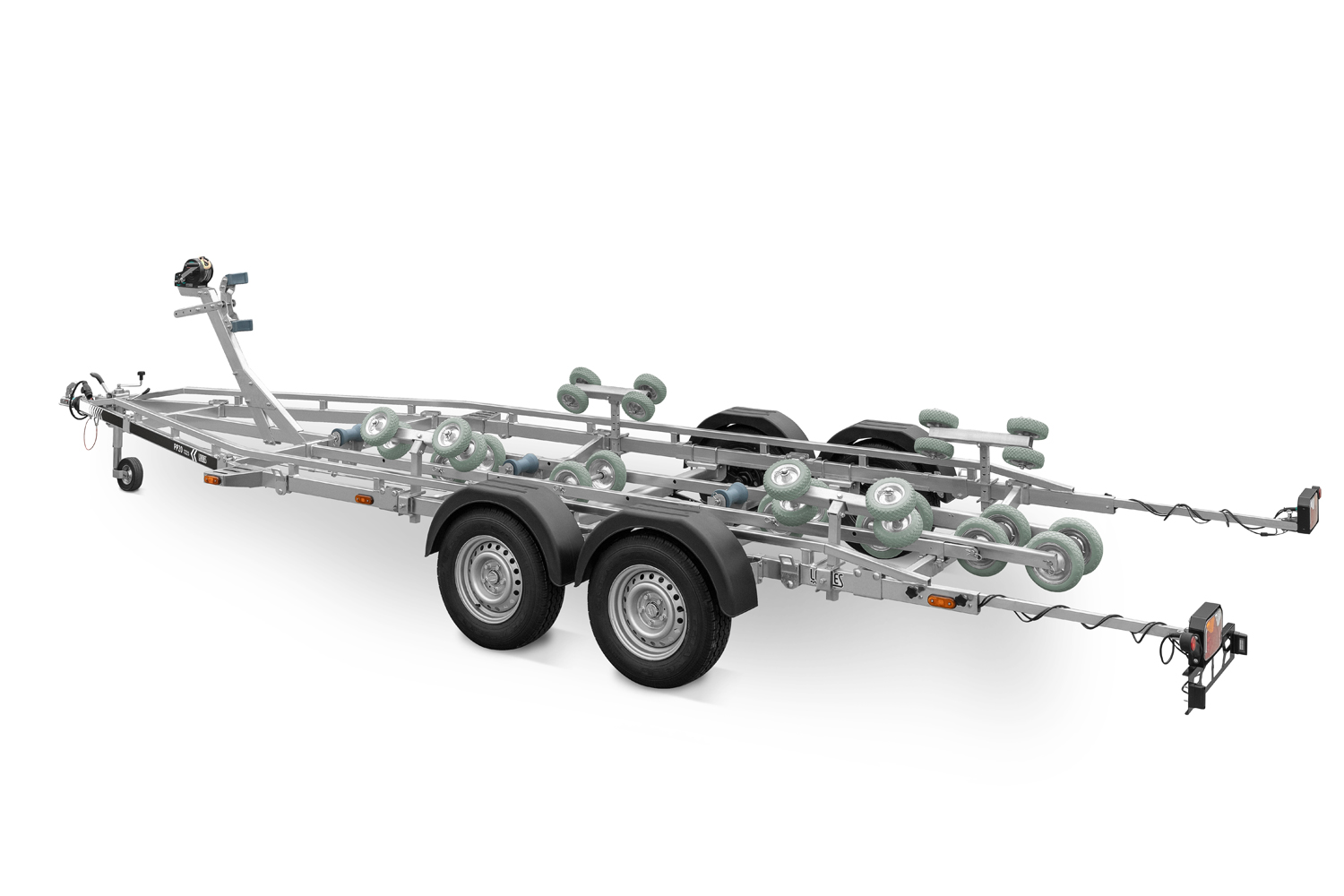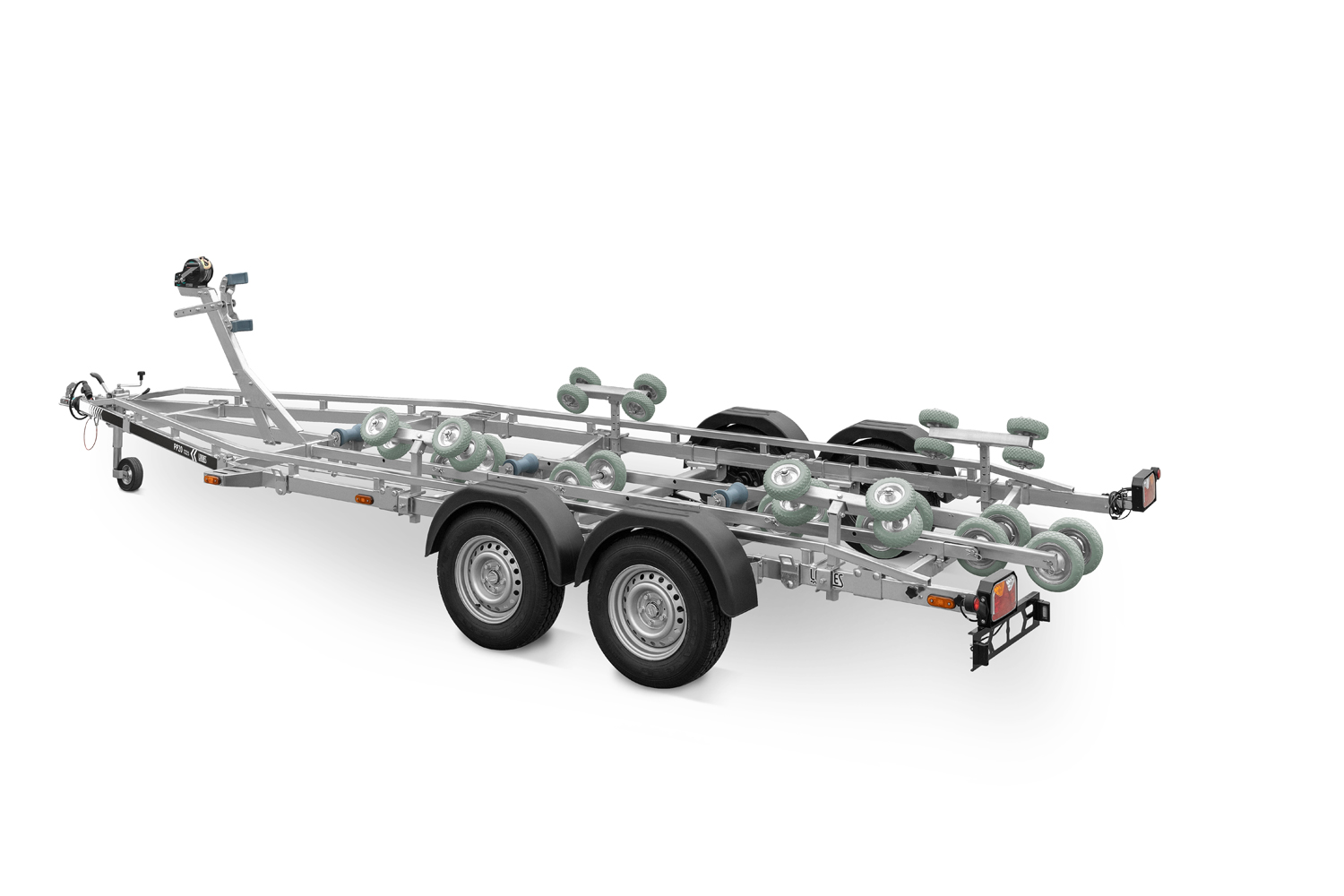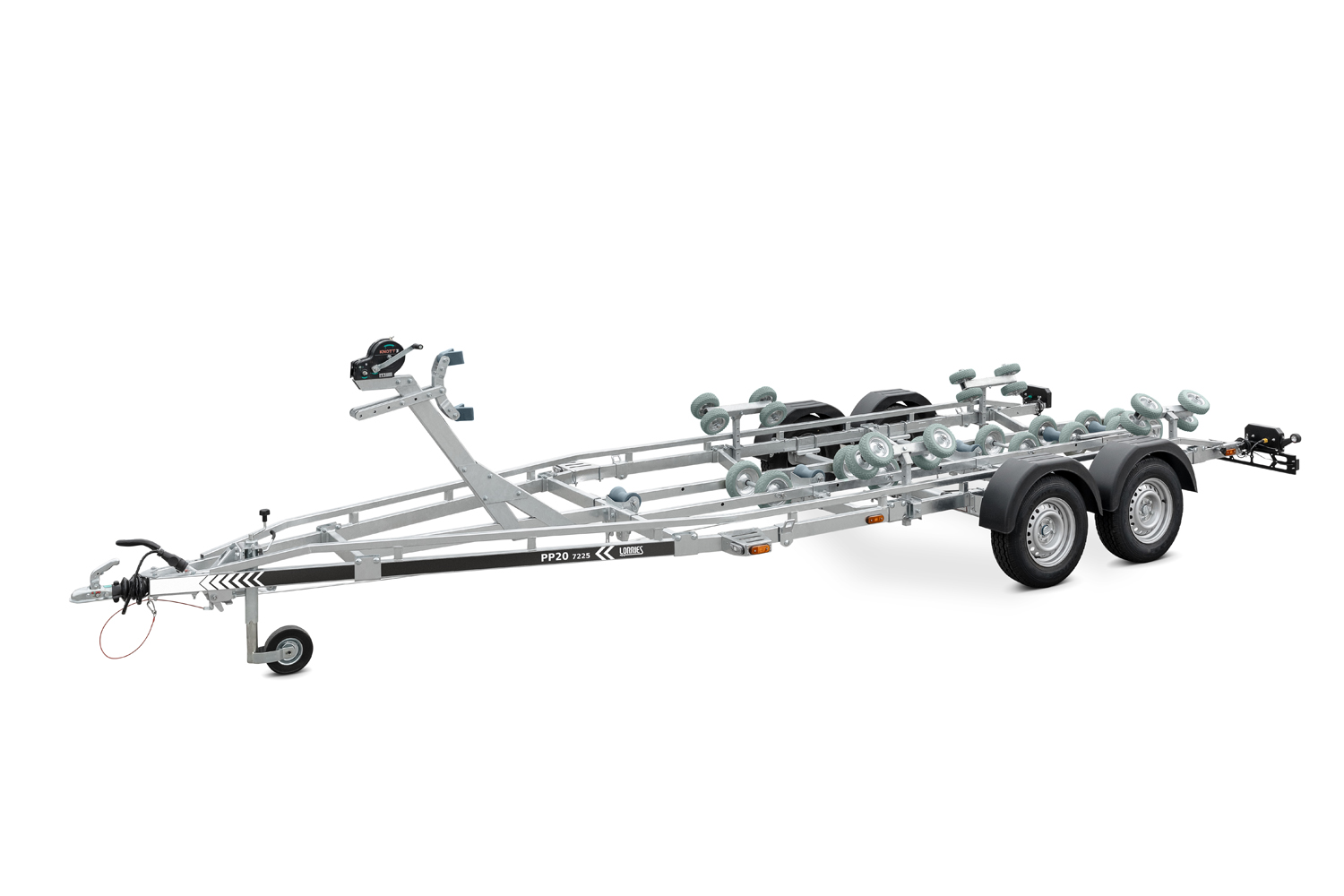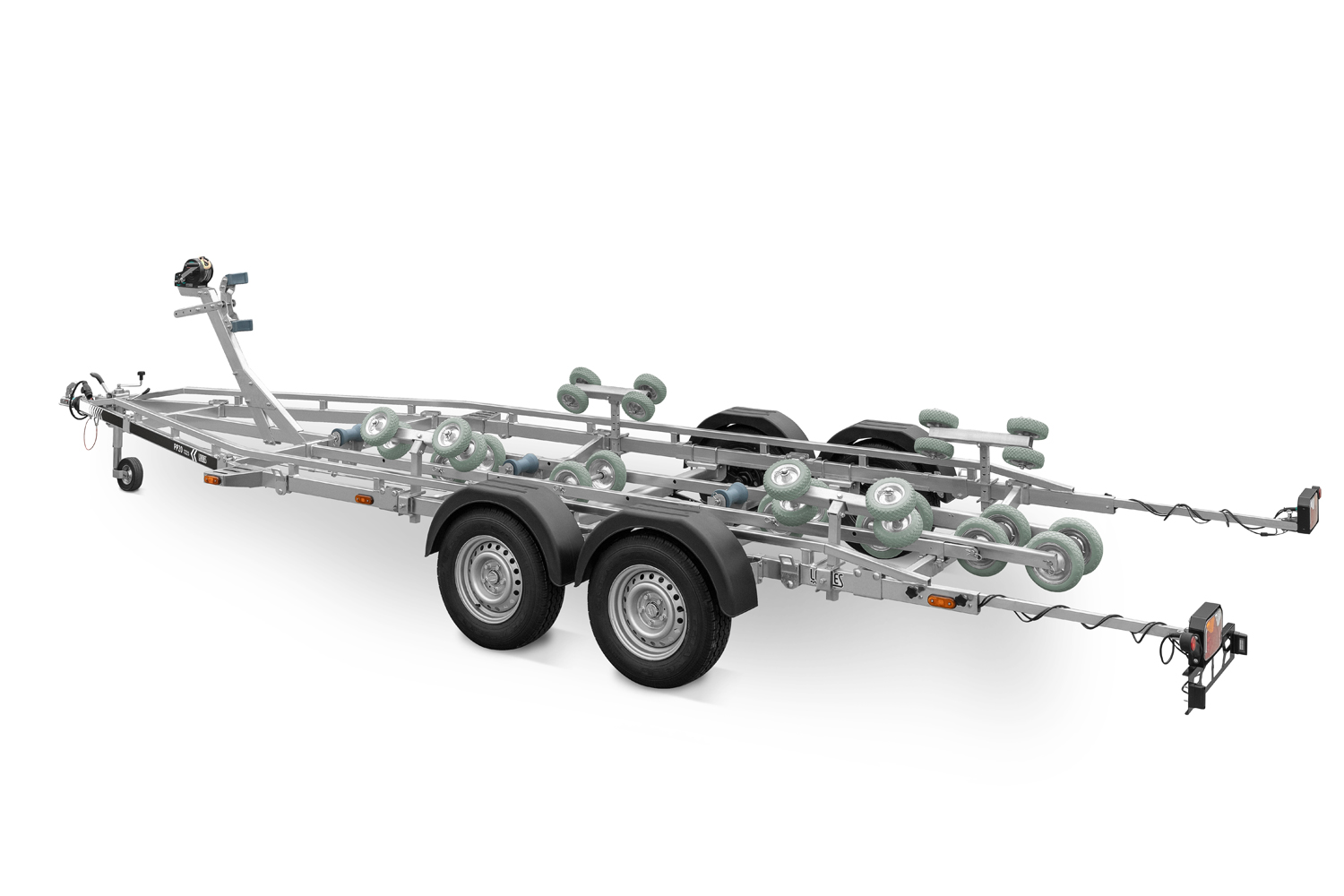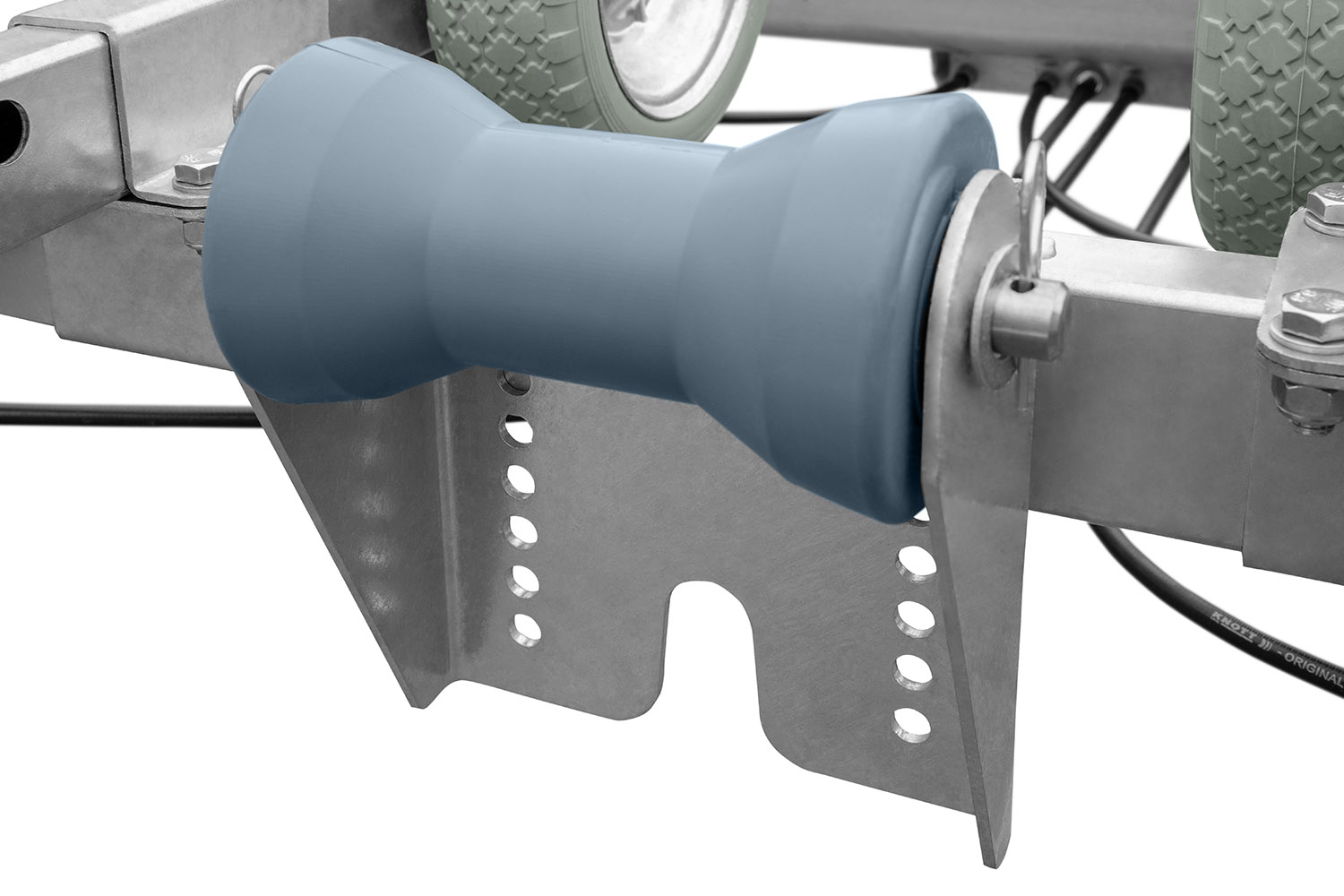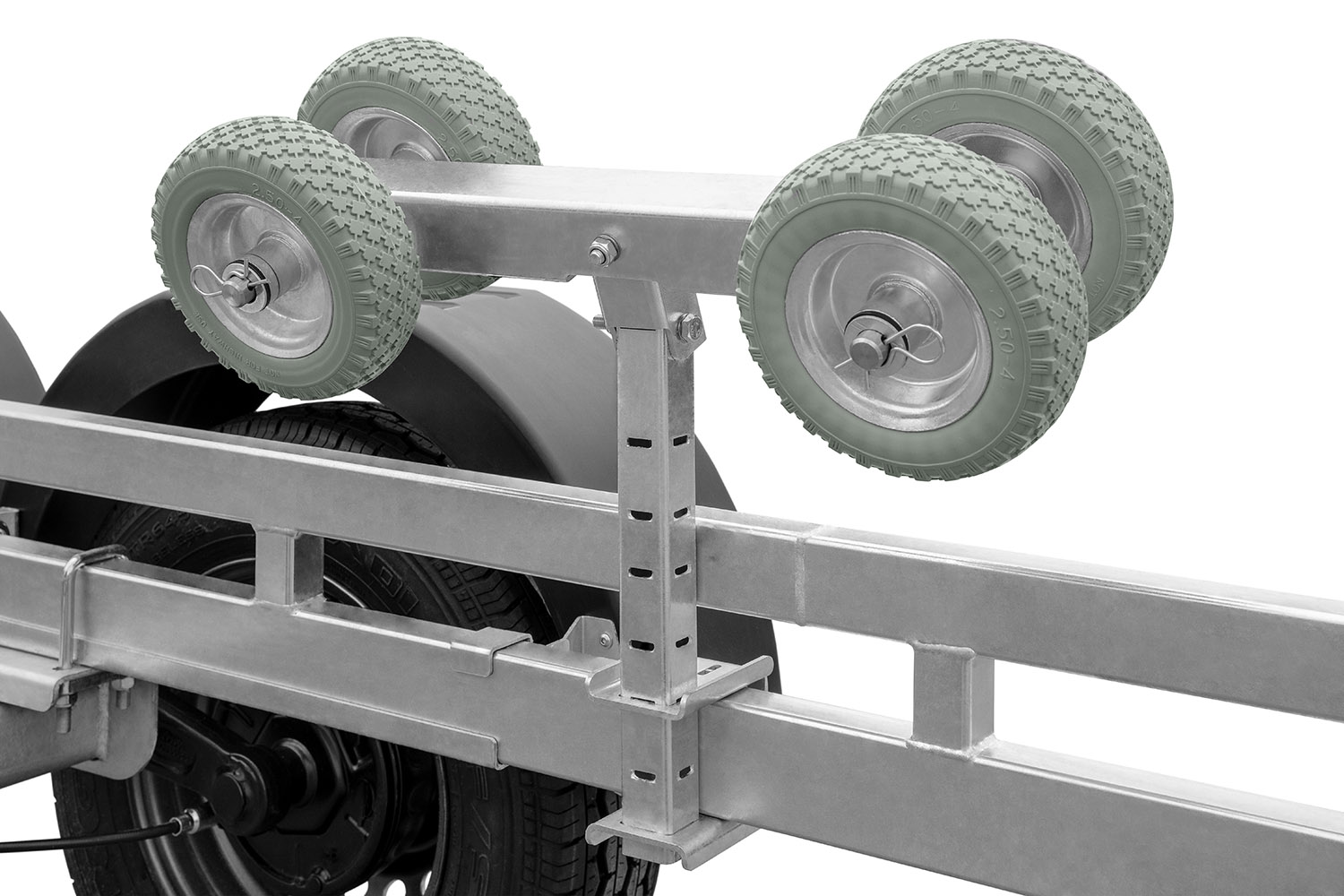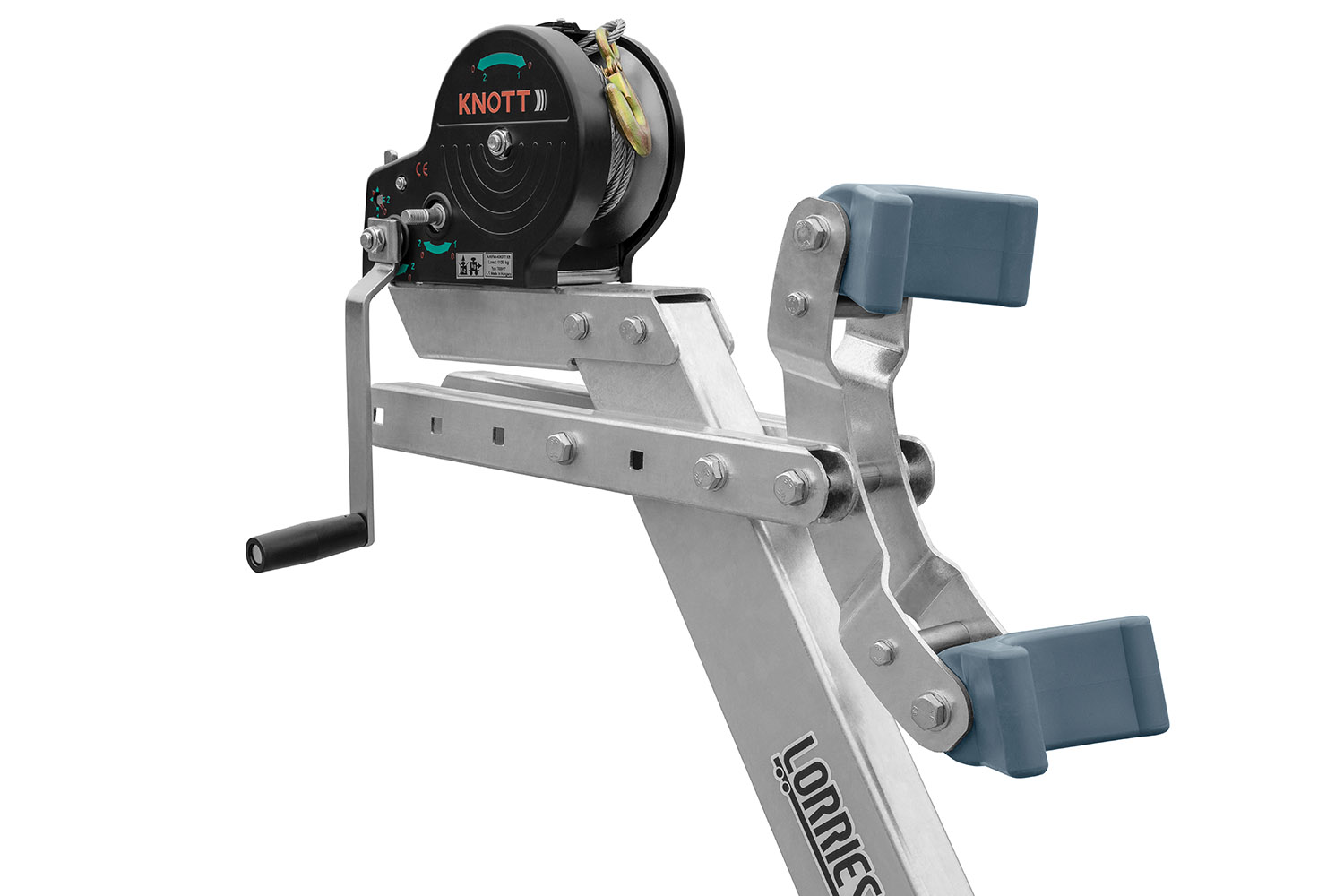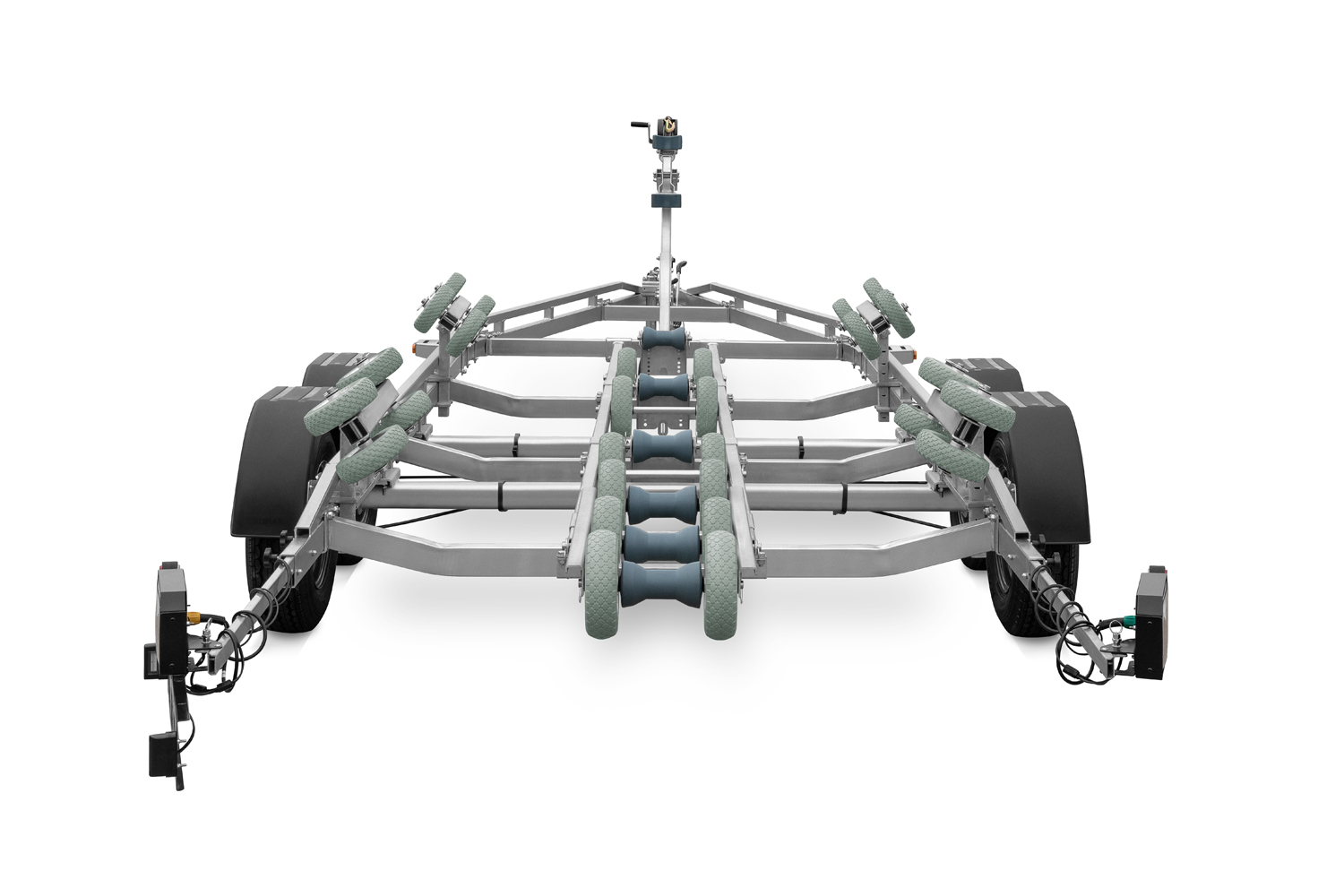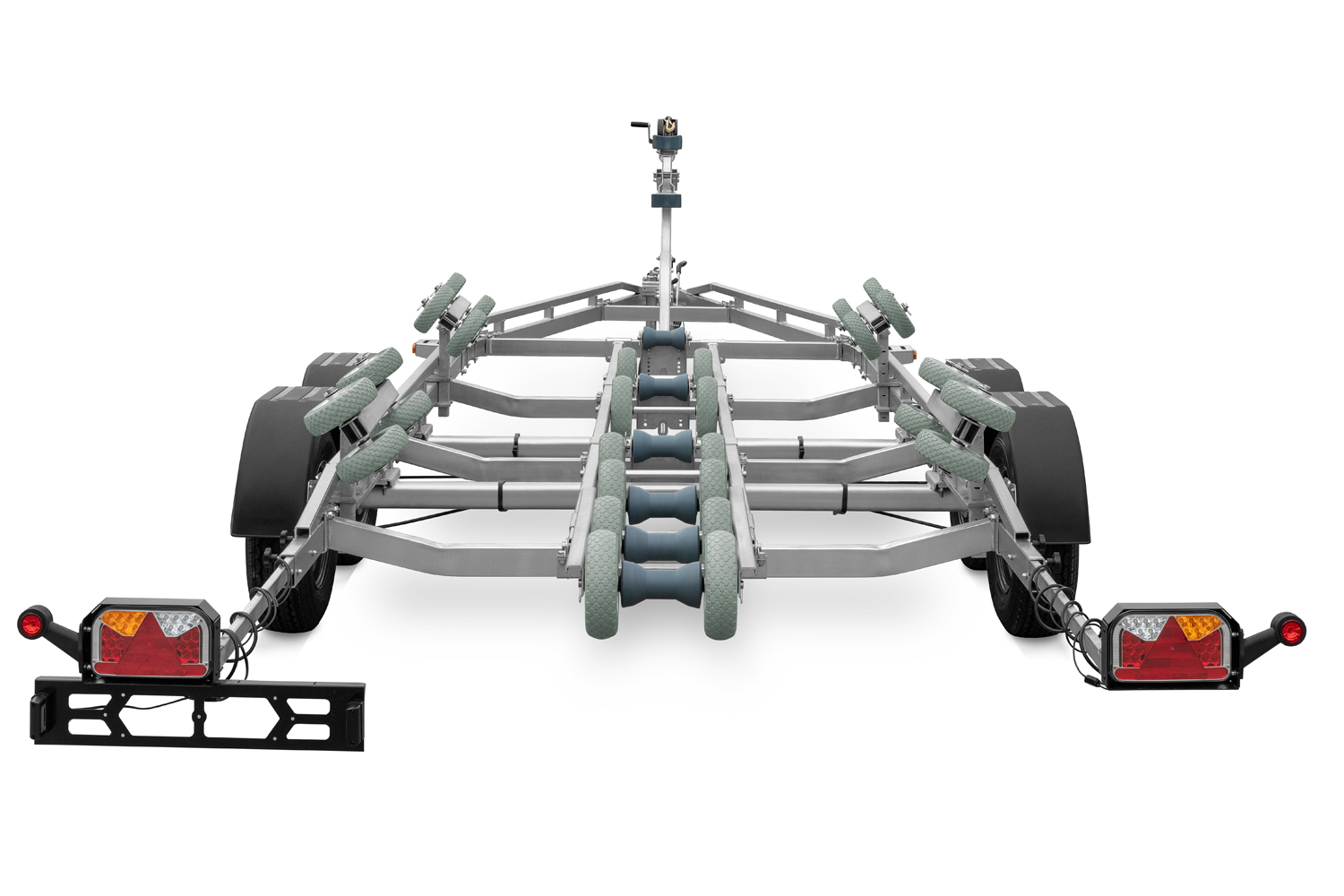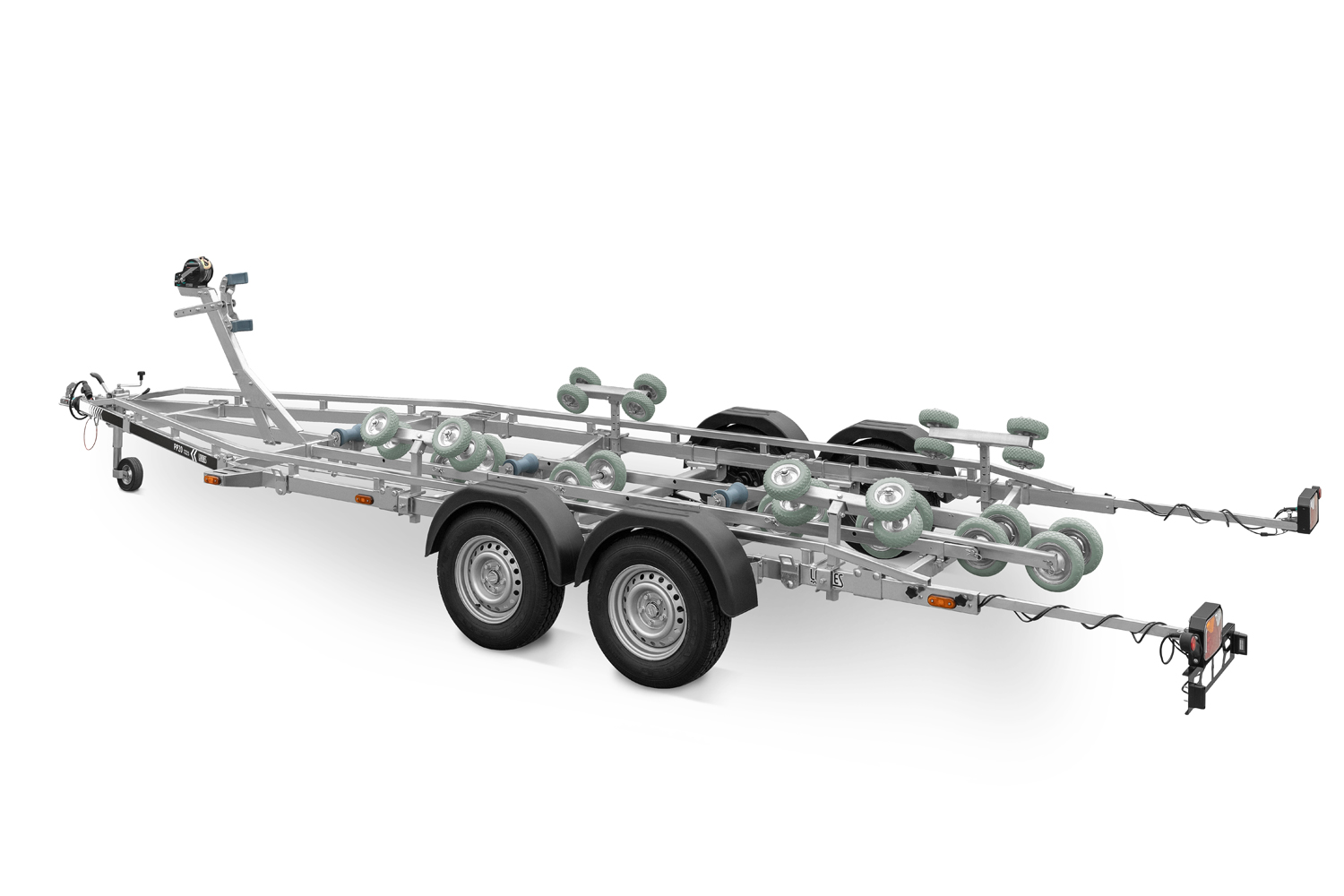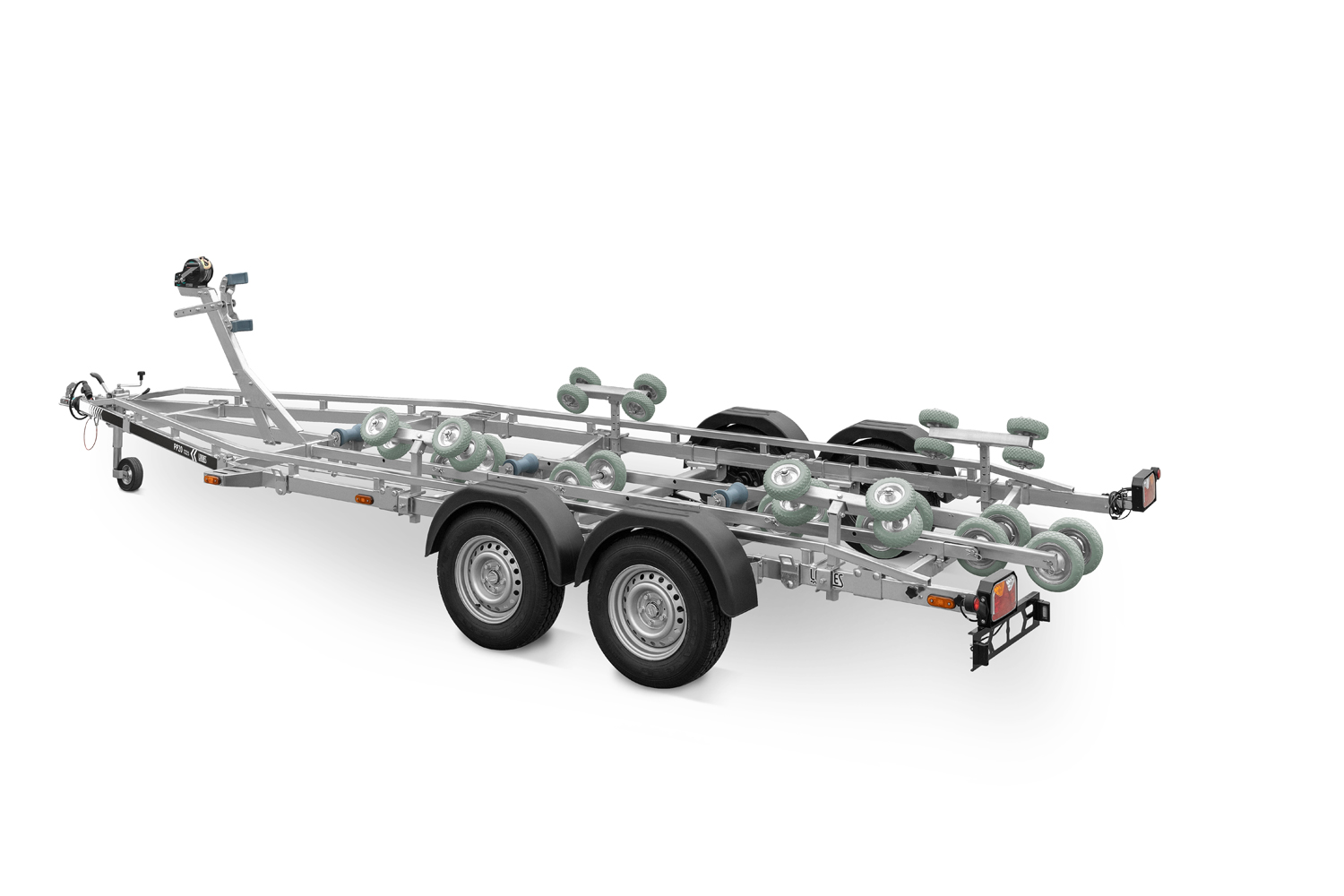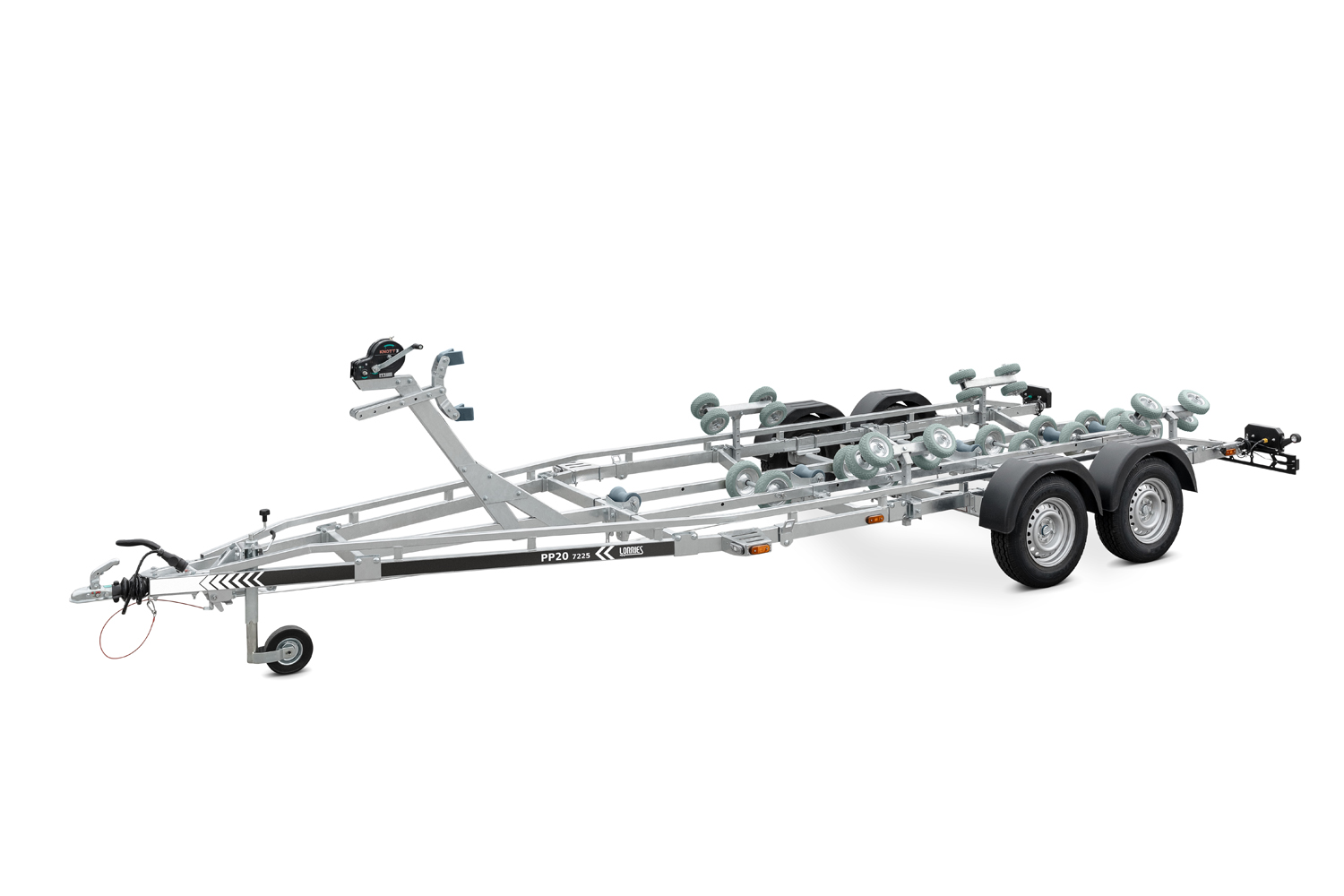 The smallest of our two-axle trailers for transporting yachts and boats. It is a braked trailer with GVM up to 2000 kg.
SOLID CONSTRUCTION AND THOUGHT SOLUTIONS
---
The braked trailer for transporting boats has a stable construction based on a strong frame made of a closed profile, stiffened guide and three transverse supports. Along the guide, there are three sets of bottom supports in the form of polyurethane wheels with a diameter of 260 mm with metal rims and bottom rollers. At the end of the guide, there is the so-called cradle – movable set of keel rollers and wheels. Its operation is limited to tilting when loading or unloading the boat from the trailer. Thanks to the winch and the side support system, placing the load is very convenient and does not require a lot of force.
The trailer is constructed in such a way that it can be easily adapted to different types of boats. We can regulate both the location of the bottom supports, bottom rollers and side supports. Individual adjustment of these elements is important, in particular in case of the trailer rentals and companies transporting boats, yachts and similar equipment.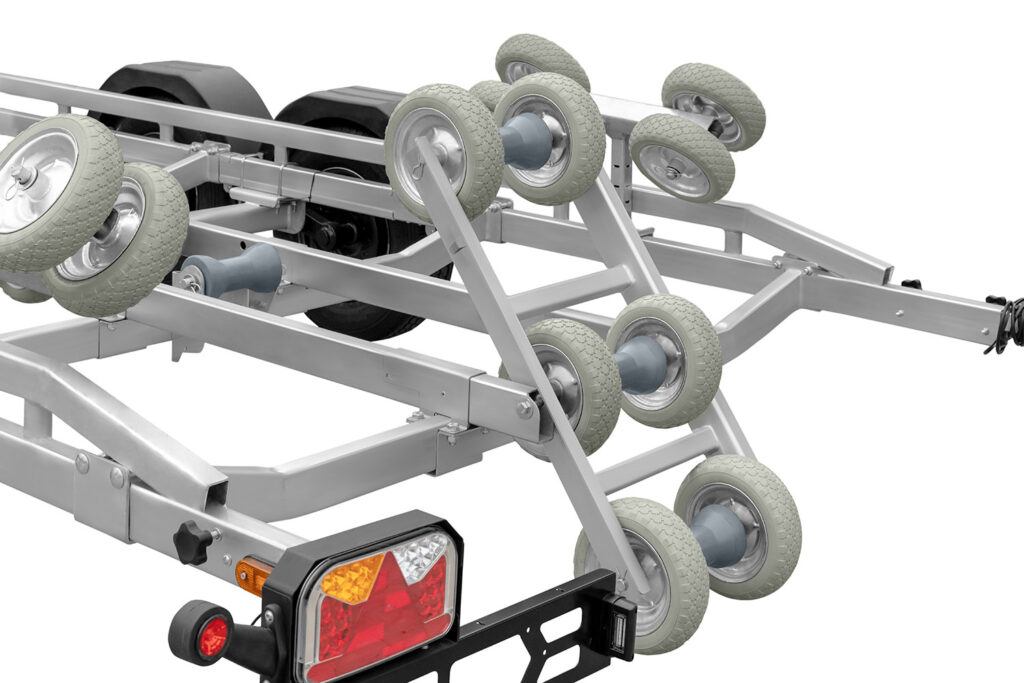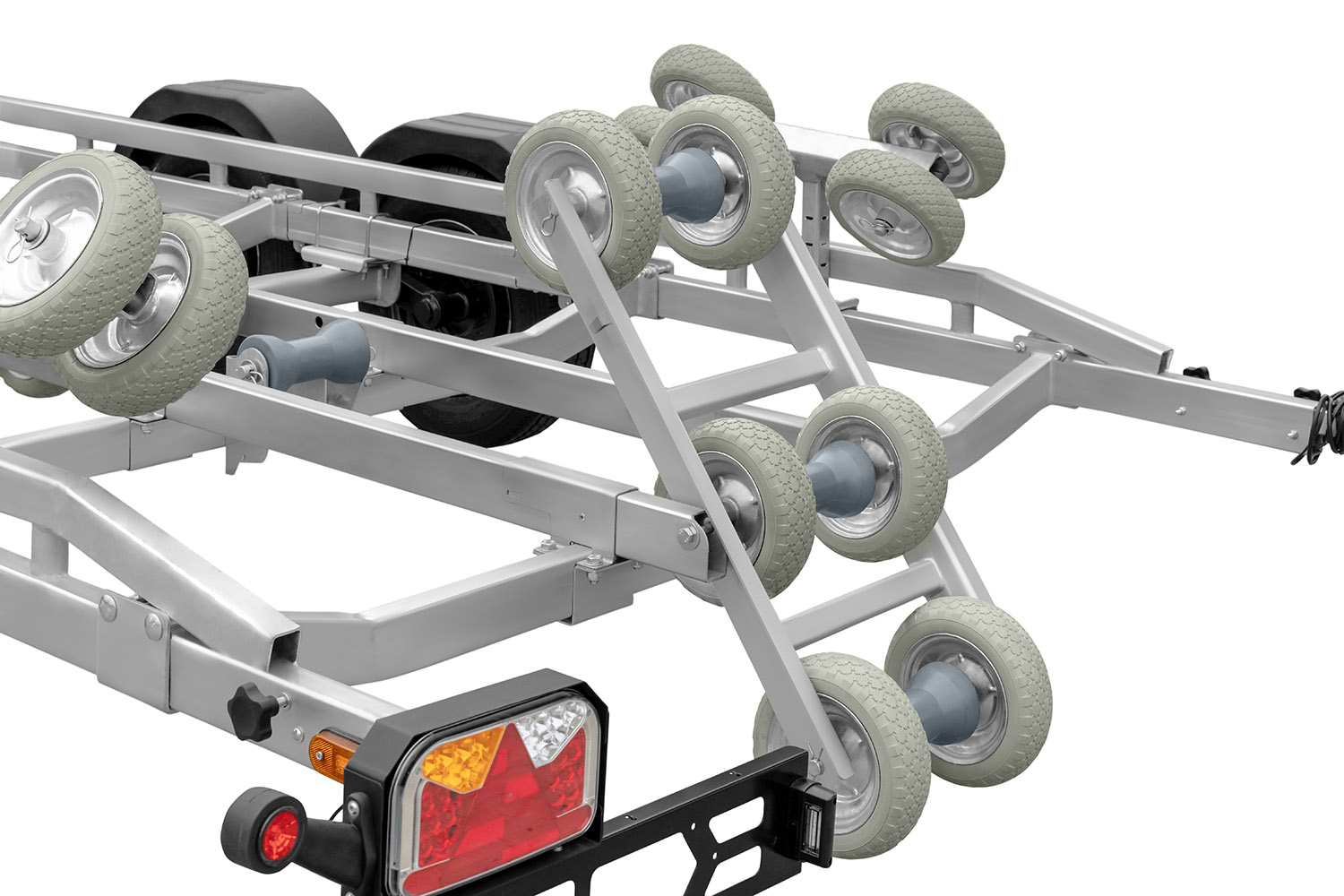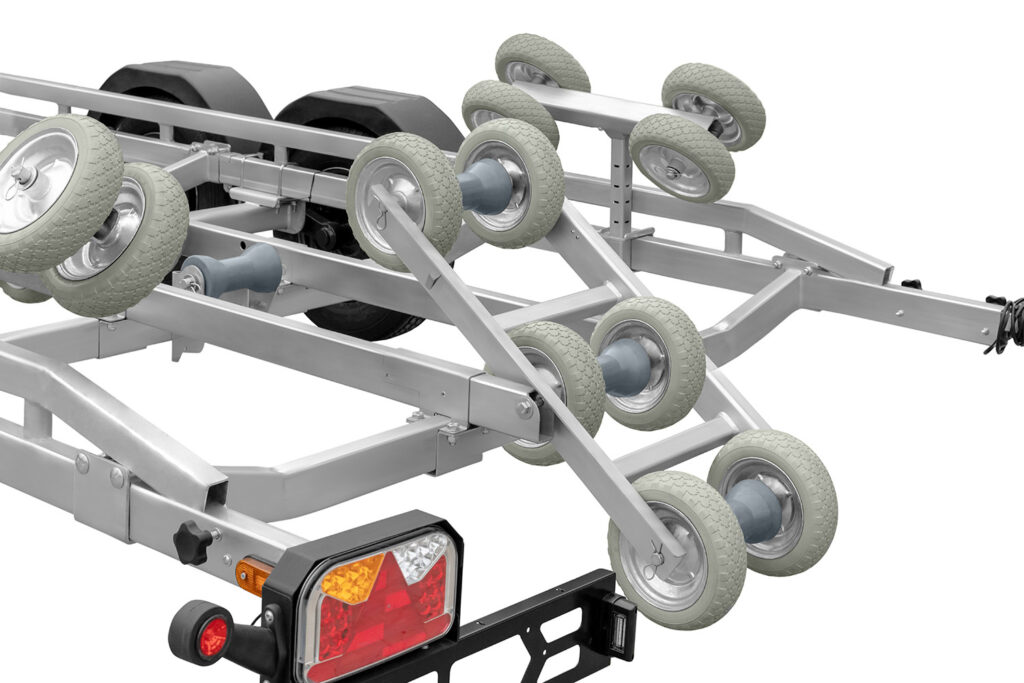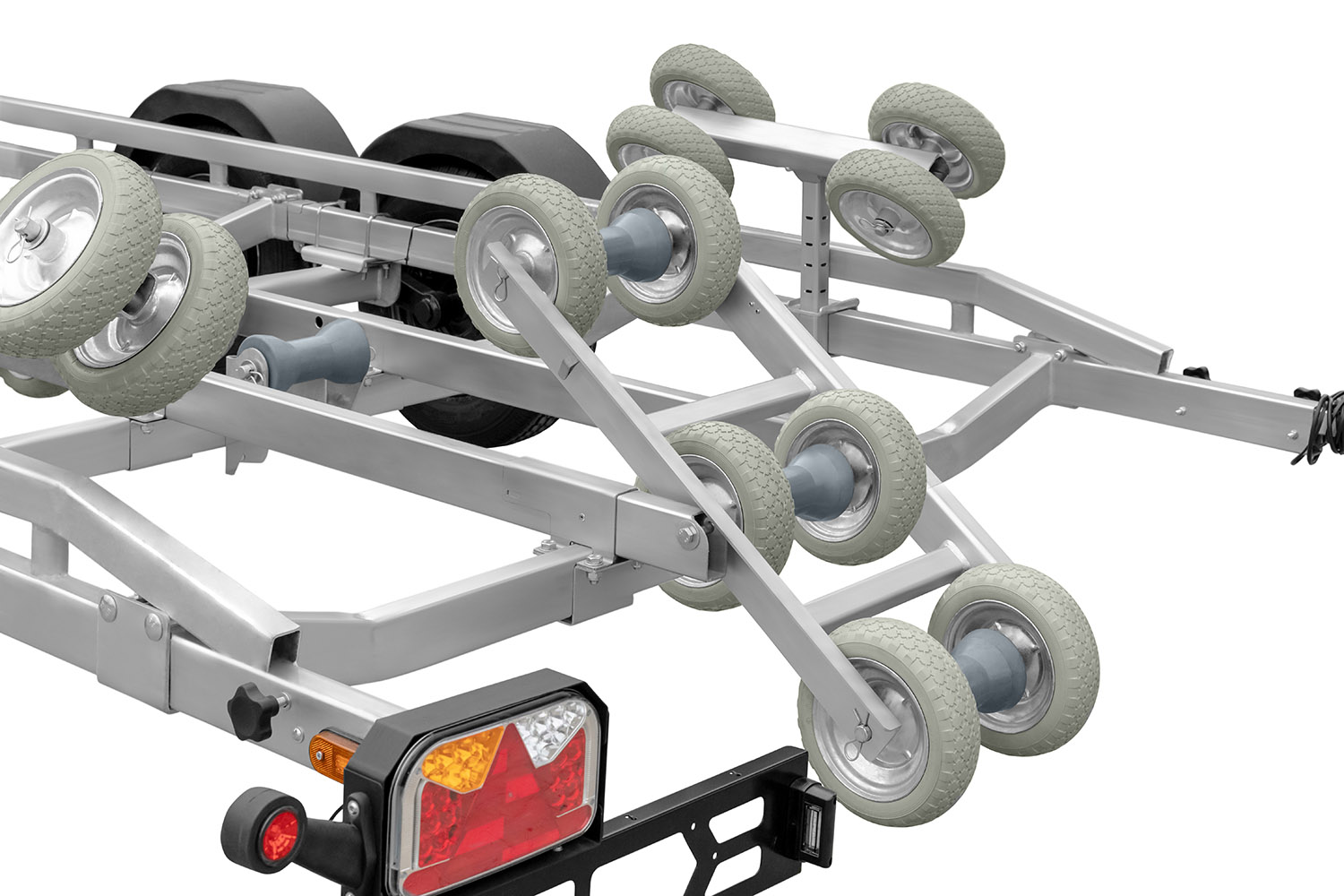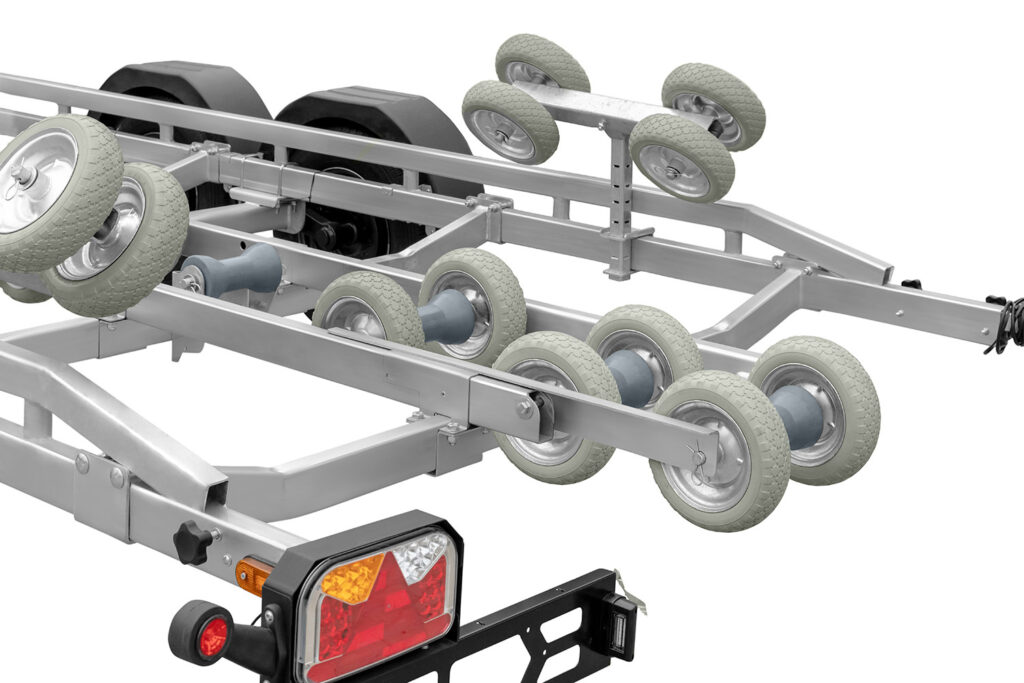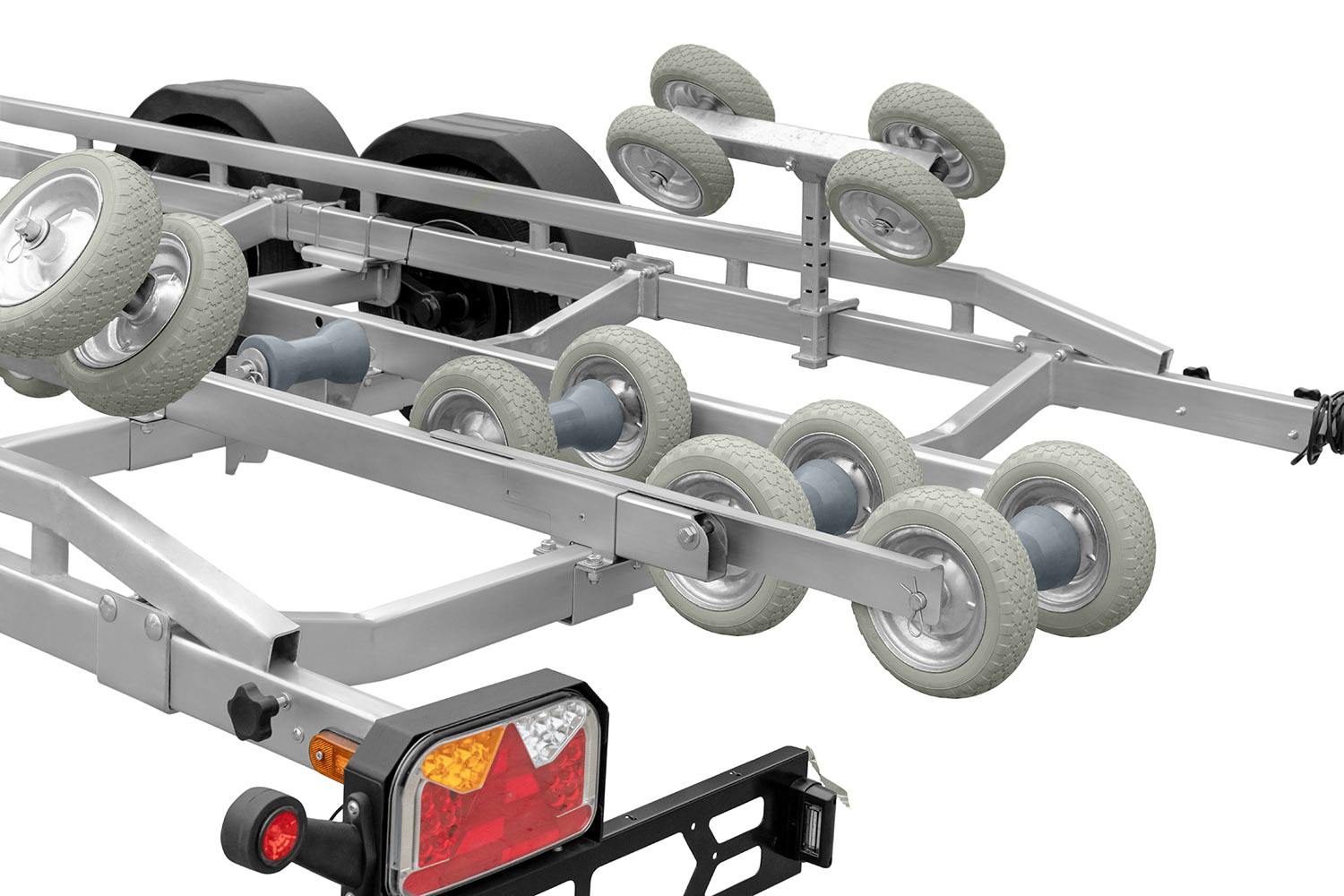 STABLE HOLDING OF THE BOAT
---
The trailer is equipped with four sets of quadruple side supports (two on each side). Each of them has polyurethane wheels with a diameter of 200 mm and steel rims. In the center of the frame, along its sides, there is an additional guide, which stiffens and stabilizes the whole structure. The guide has bottom supports in the form of three sets of polyurethane wheels and the so-called a cradle equipped with three bottom rollers and six polyurethane wheels. The supports can be adjusted in height, rotated by 90 degrees and also the method of attachment can be changed.
The polyurethane wheels used on the trailer are highly resistant to abrasion and mechanical damage. Their extraordinary advantage is also that they do not leave marks or scratches on the boat.
SOLUTION FOR PASSIONATES
---
The PP20-7225 is a large trailer designed for transporting boats and yachts of medium size and weight. Its dimensions and GVM up to 2,000 kg allow to carry a load weighing over 1,300 kg. Thanks to the lamp extension system used in the trailer, we can easily transport a load of up to 7 m in length.
In addition, the trailer has a failure-free lighting extension and opening system. It is based on LED lamps and a bayonet connector, which makes it fully sealed. Thanks to these properties, the rear of the trailer can be easily submerged in water for loading or unloading. In order to protect the surface of the trailer against corrosion, its steel elements are hot-dip galvanized. In addition, this process protects whole construction against mechanical damages. However, we should remember about regular cleaning and maintenance, especially when the trailer comes into contact with salt water.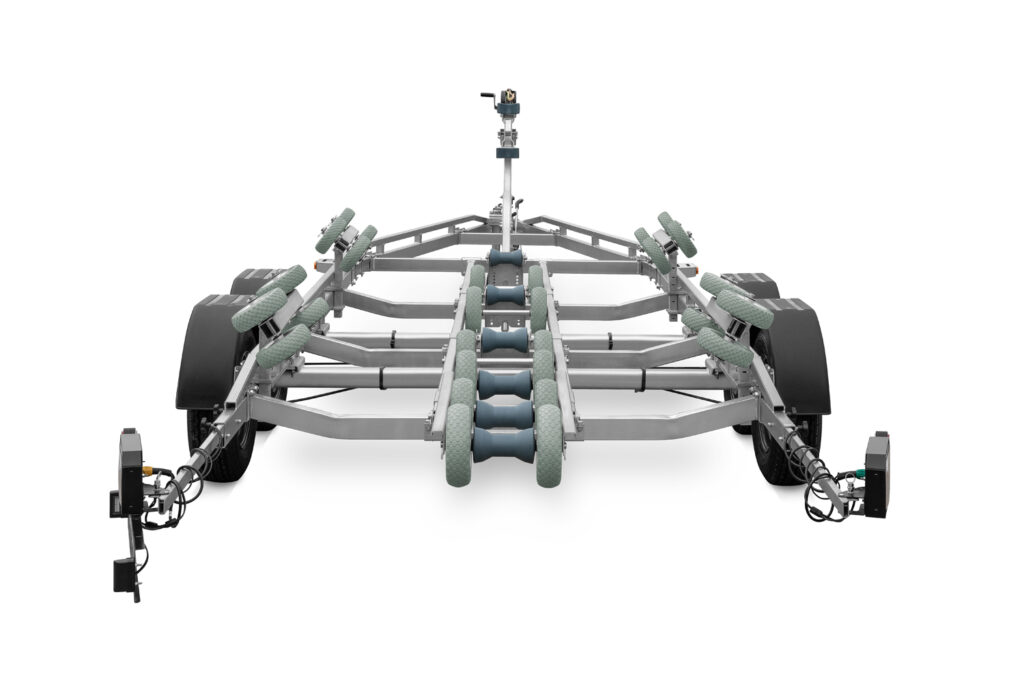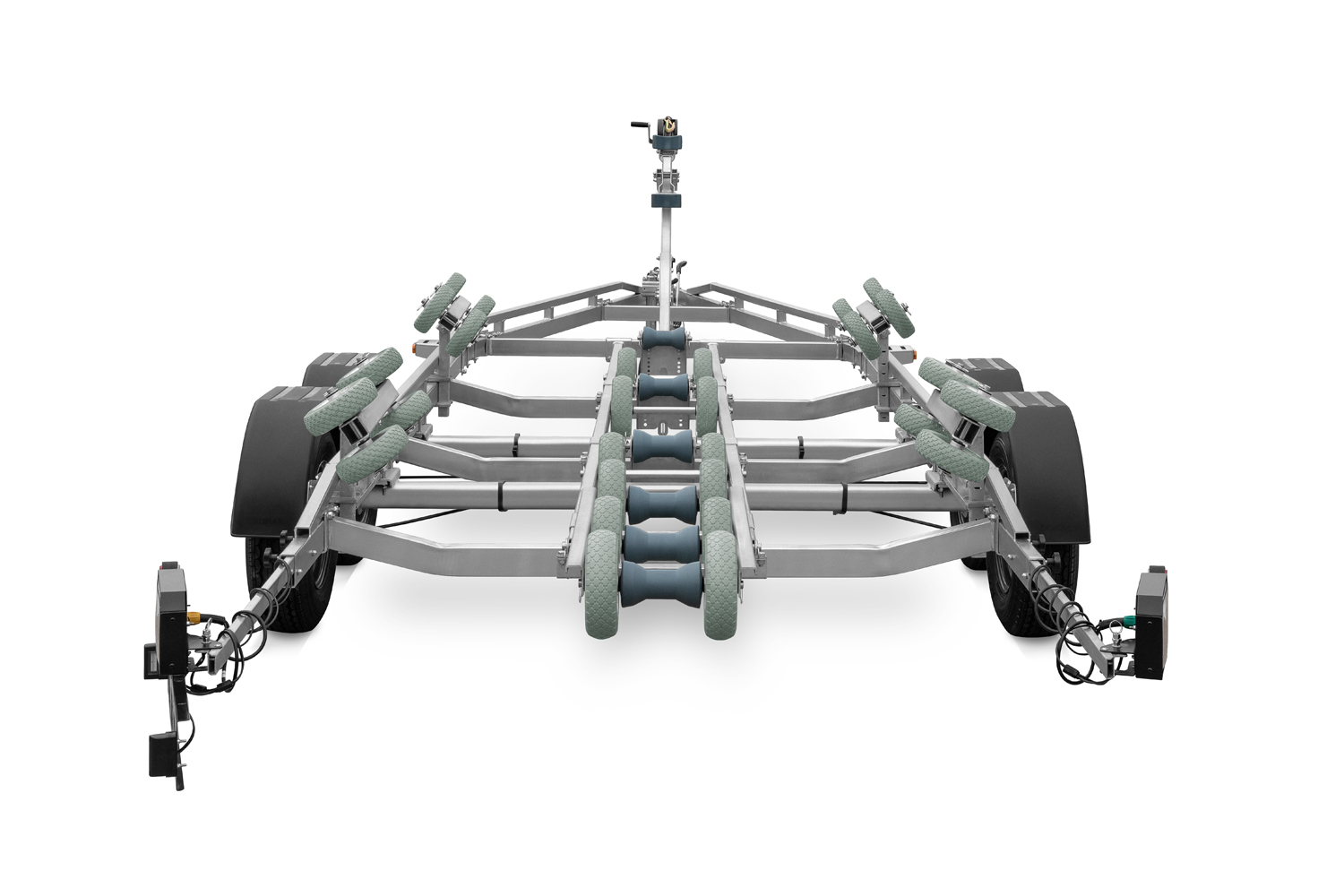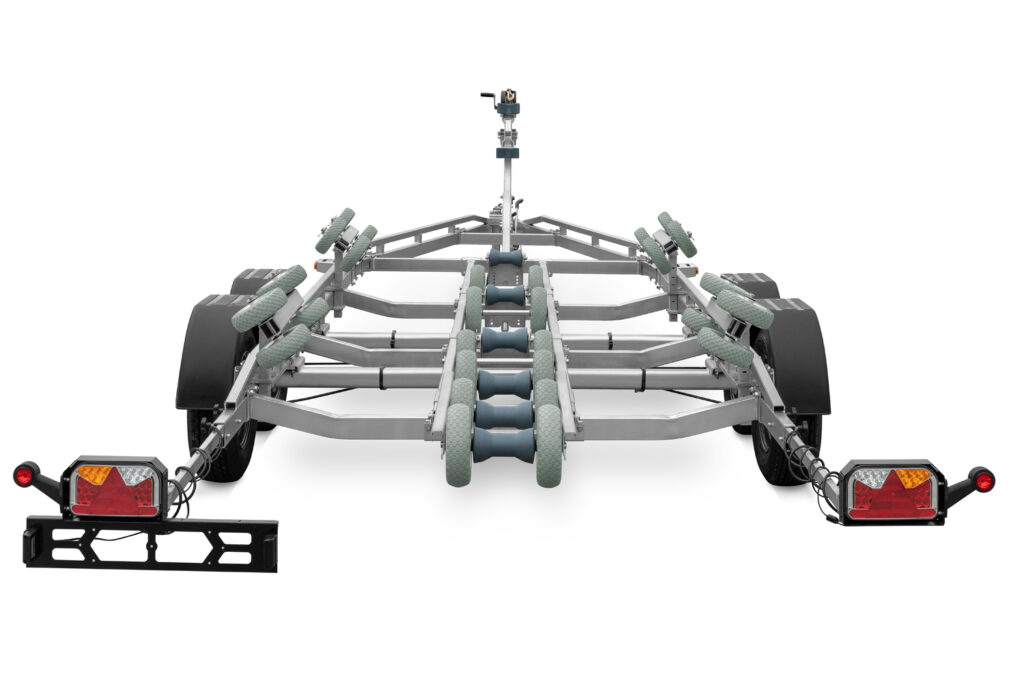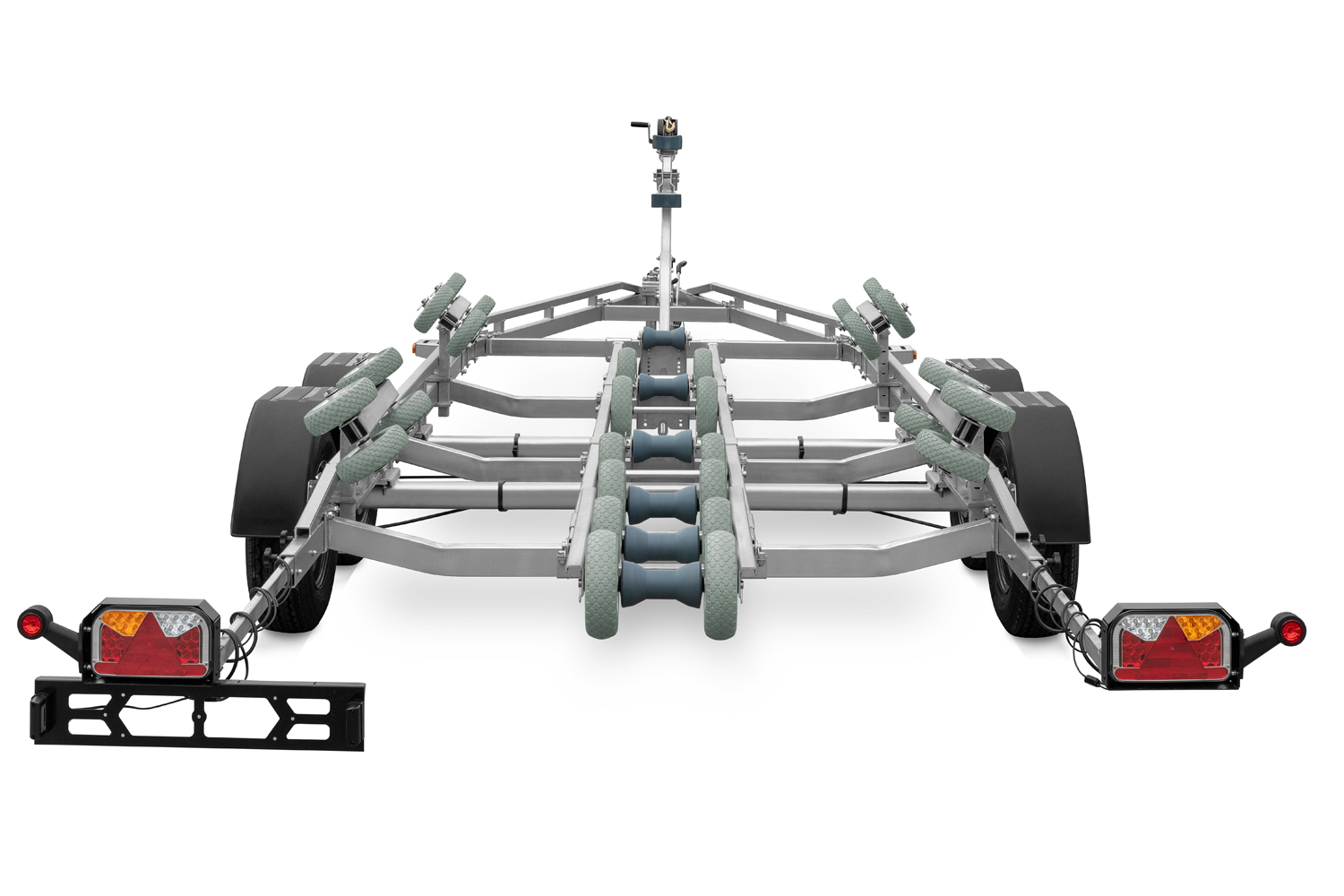 A two-axle boat trailer offers the ability to independently adjust the position of the axle depending on the center of gravity of the transported load. This model also has a WPS (Waterproof system), i.e. an additional sealing of the hubs. This prevents water from getting into the bearings. This provides longer life and slower wear of the hubs and the axles.
PRACTICAL ACCESSORIES AND EQUIPMENT OF A TRAILER FOR TRANSPORTING BOATS AND YACHTS
---
The trailer has been equipped with a number of accessories, including adjustable winch post with manual belt winch, soft bow, support wheel, cradle and side support system. Additionally, it can be equipped with shock absorbers and fasteners, polyurethane bow and polyurethane bottom rollers, spare wheel with fastening system, aluminum rims, rinsing drums, boat guidance system, anti-skid side step, additional set of belt fasteners, anti-theft protection or adjustable support for side wheels.
We also enable individual adjustment of the supports available on the trailer by adding adjustable side supports with four wheels (diameter 200 mm) with a steel rims.
Note: Boats and yachts with non-standard constructions or converted to individual orders require individual settings of brackets and wheels.
We also carry out our own customer requests, according to which we can make a trailer painted in white or black.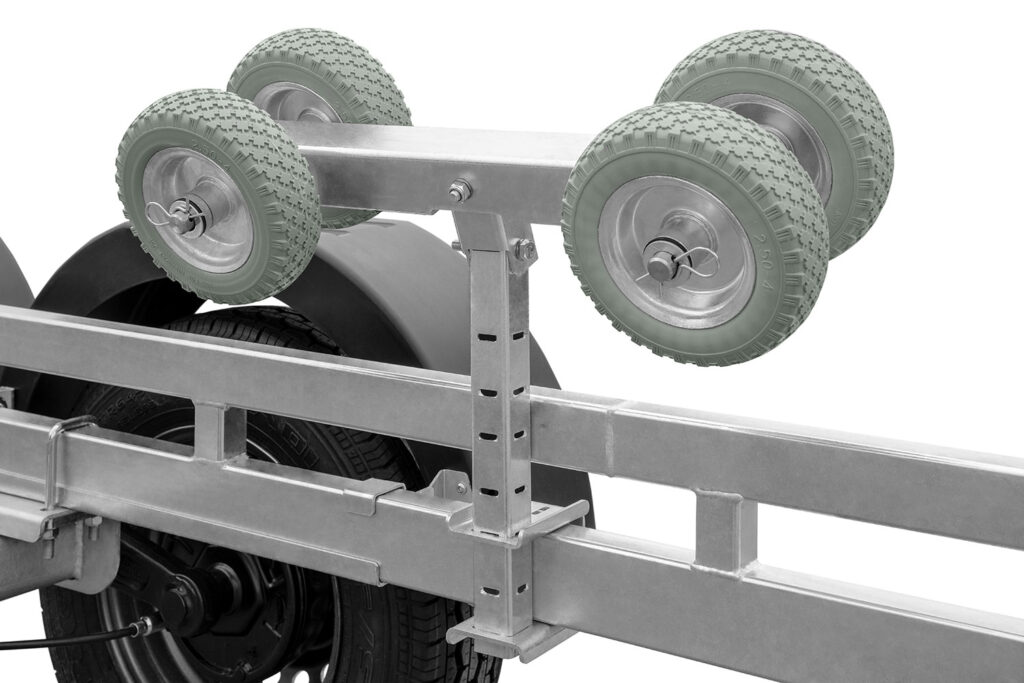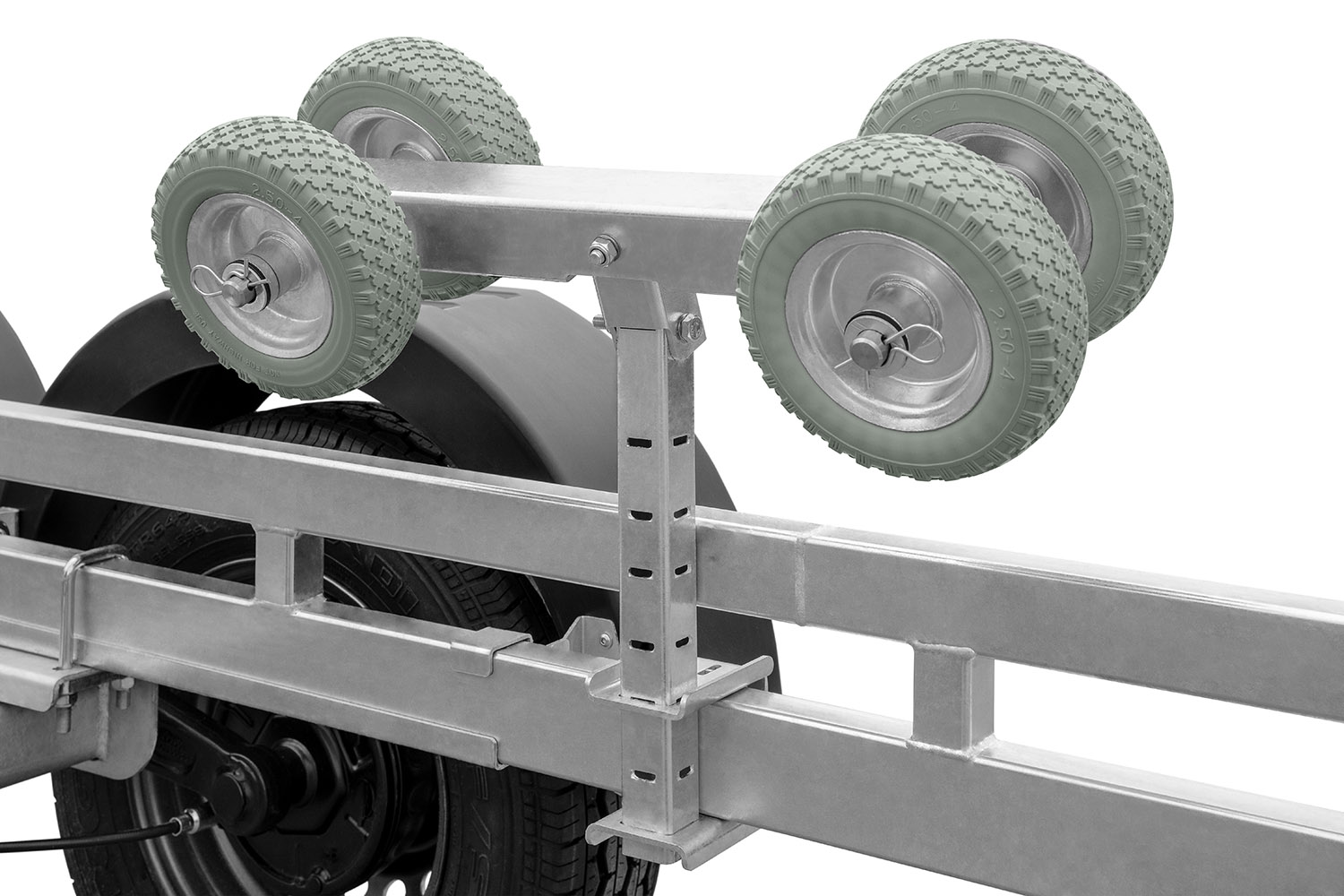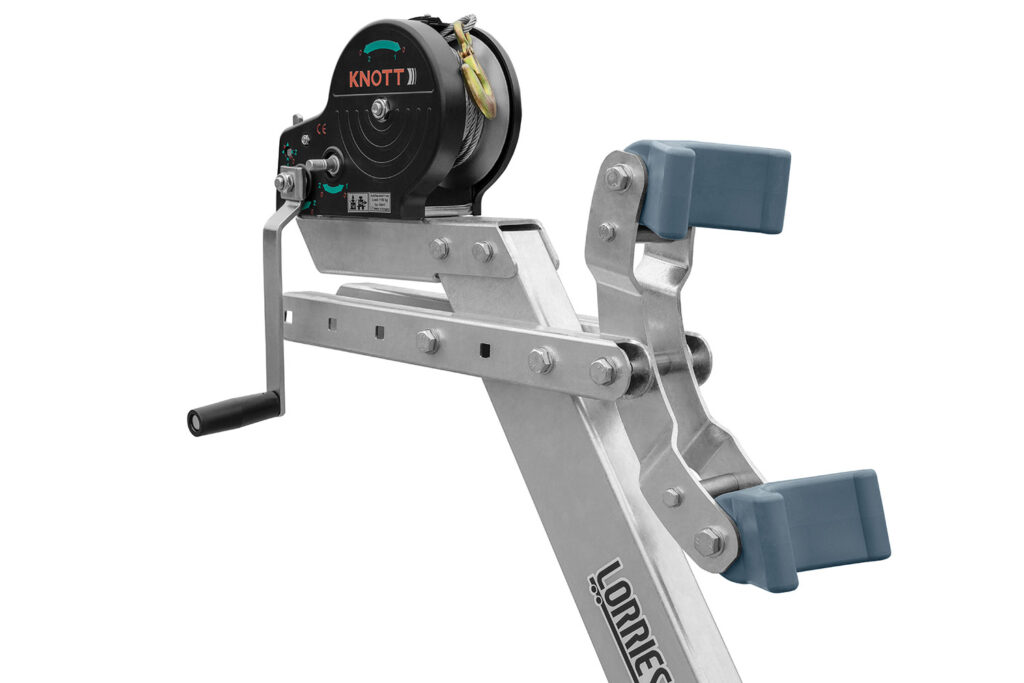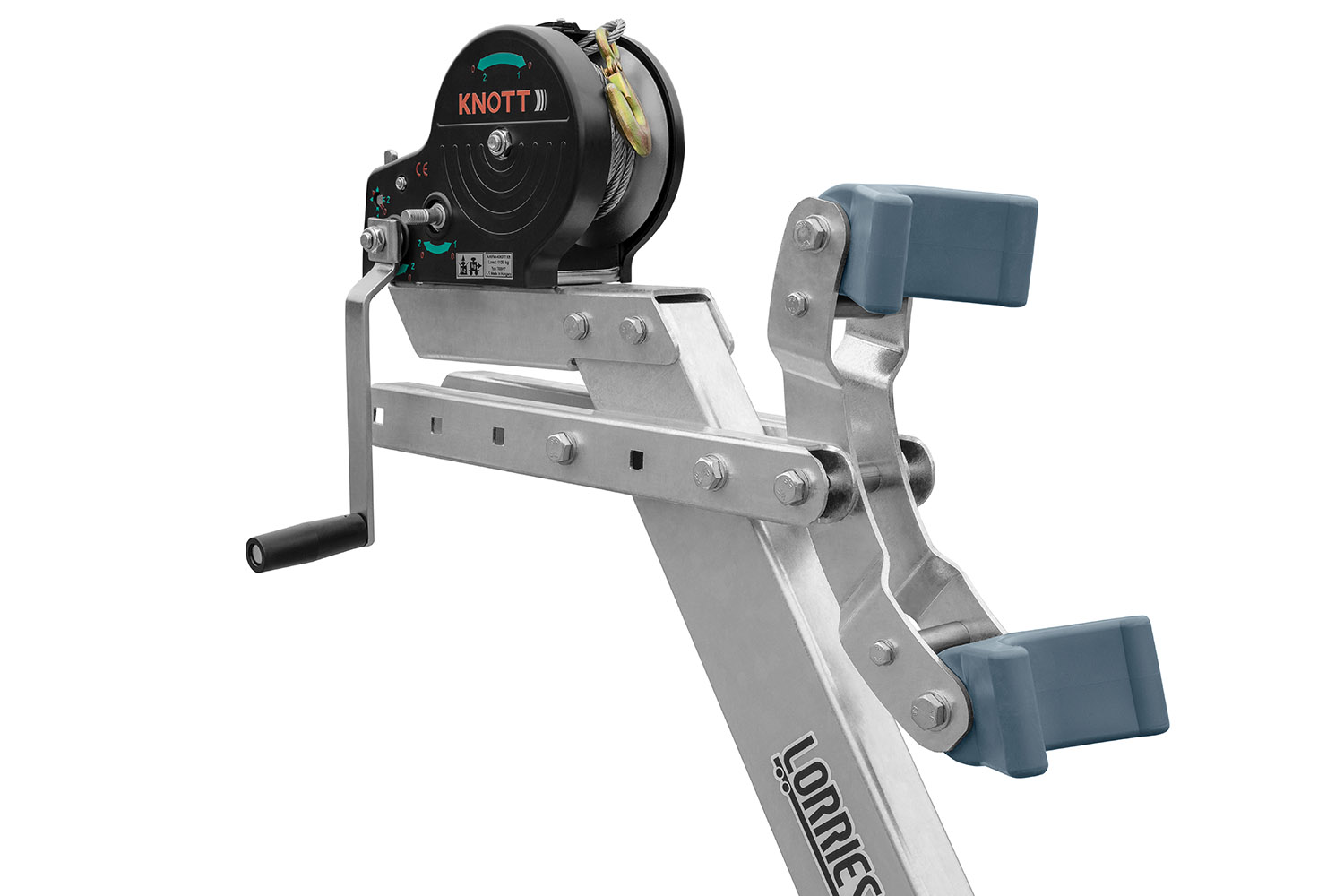 Technical data
Trailer PP20-7225
Gross vehicle weight [kg]
2000
Maximum length of the loading surface [mm]
7000
Maximum width of the loading surface [mm]
2038
Complete kerb weight [kg]
632
External dimensions width x length x height [mm]
7200x2482
Bottom support (Ø 260 wheels on a steel rim)
12
Podpora boczna poczwórna z poliuretanowymi kołami fi 200 [sztuk]
4
Standard equipment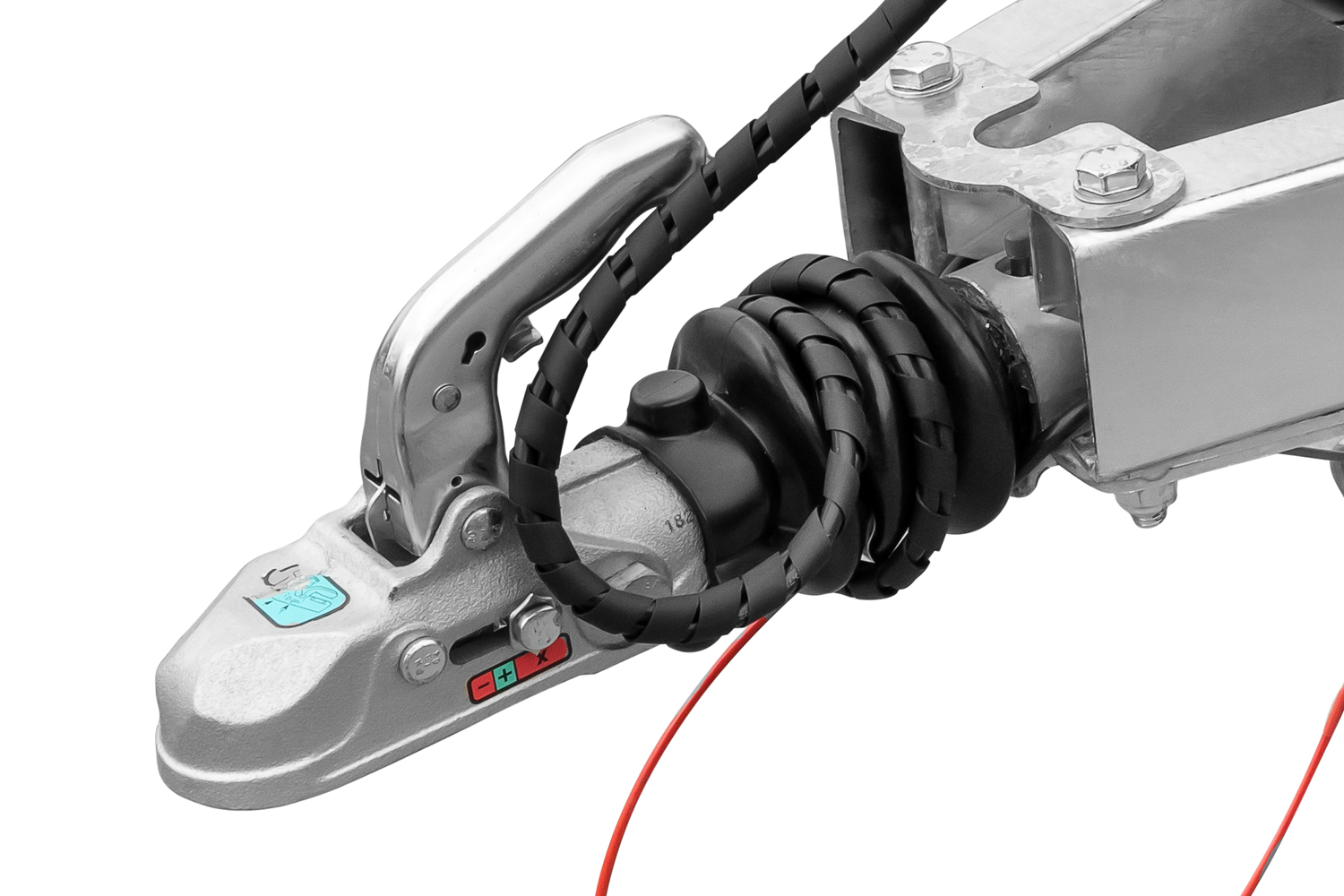 Overrun brake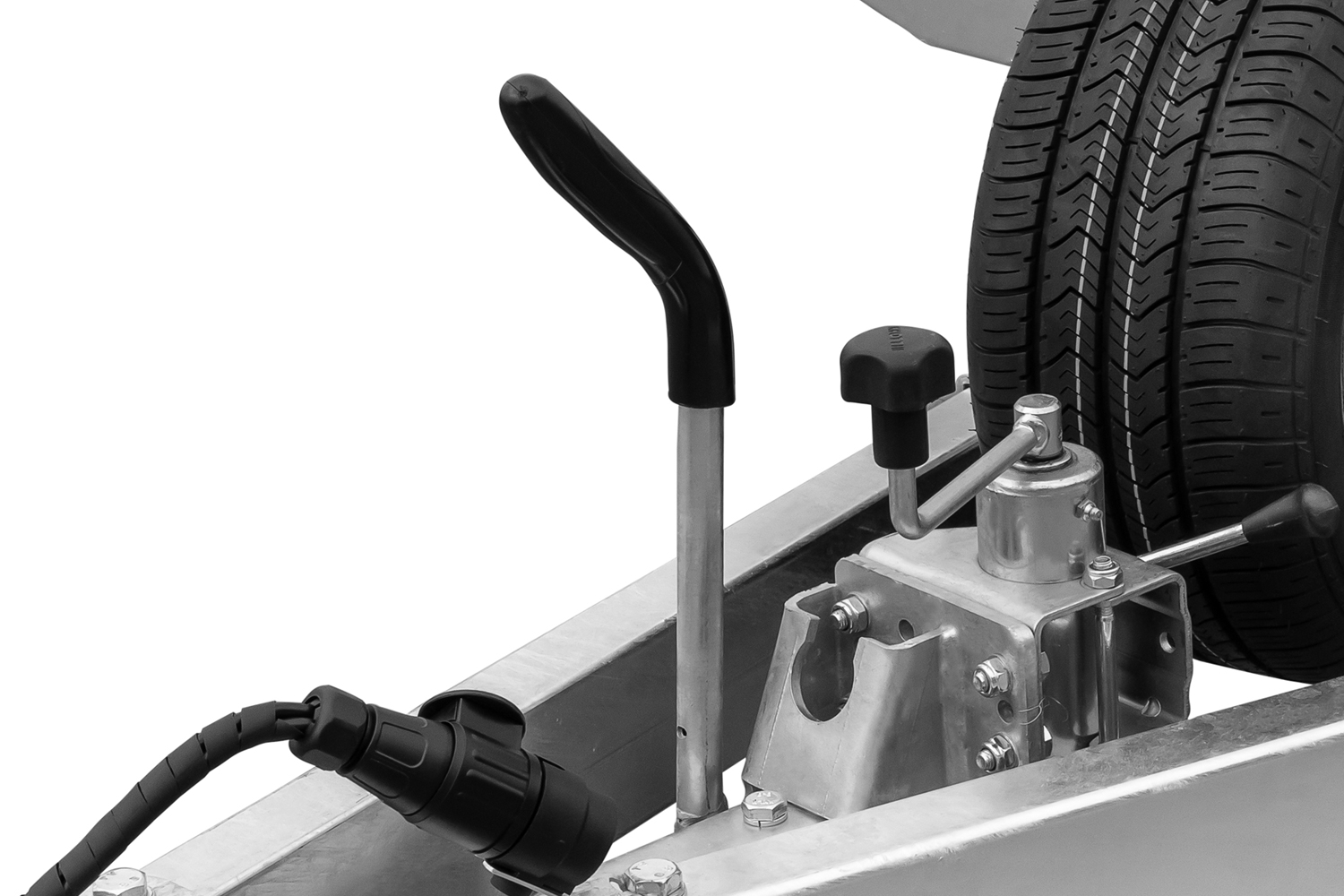 Parking brake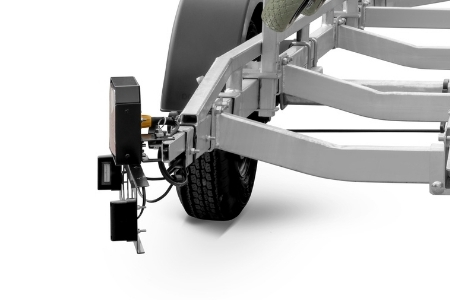 Tilting lamp system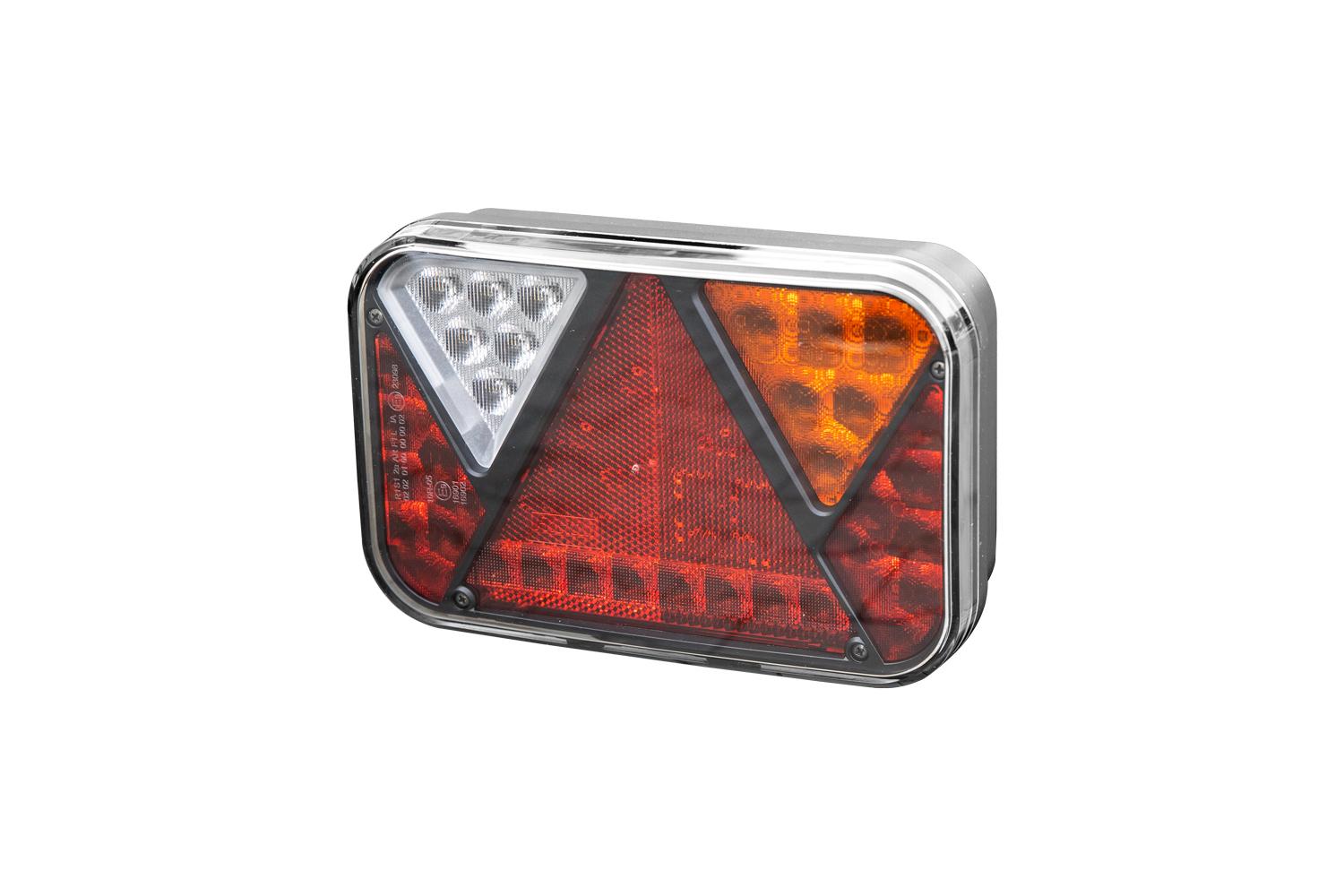 LED rear lamps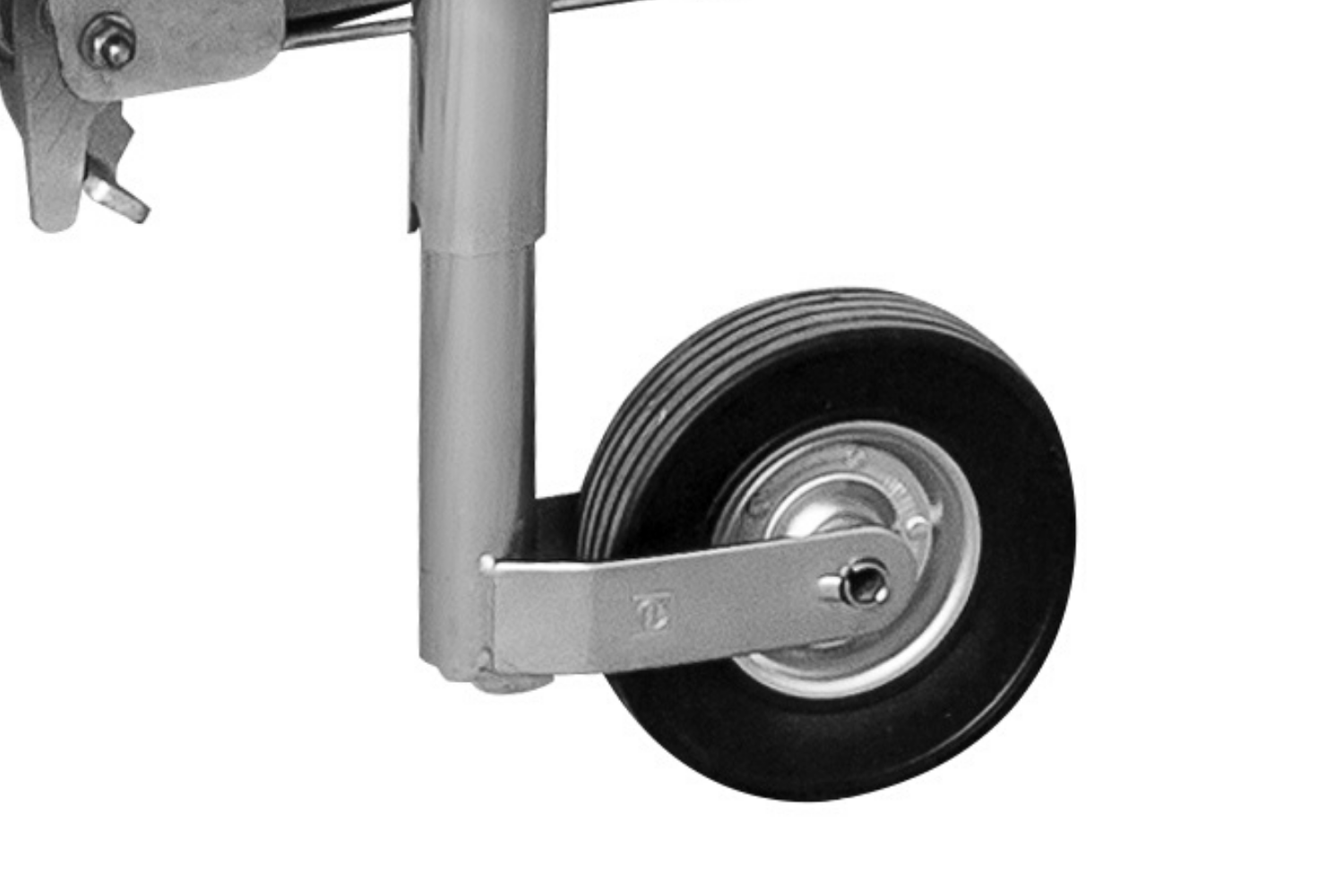 Support wheel/ Jockey wheel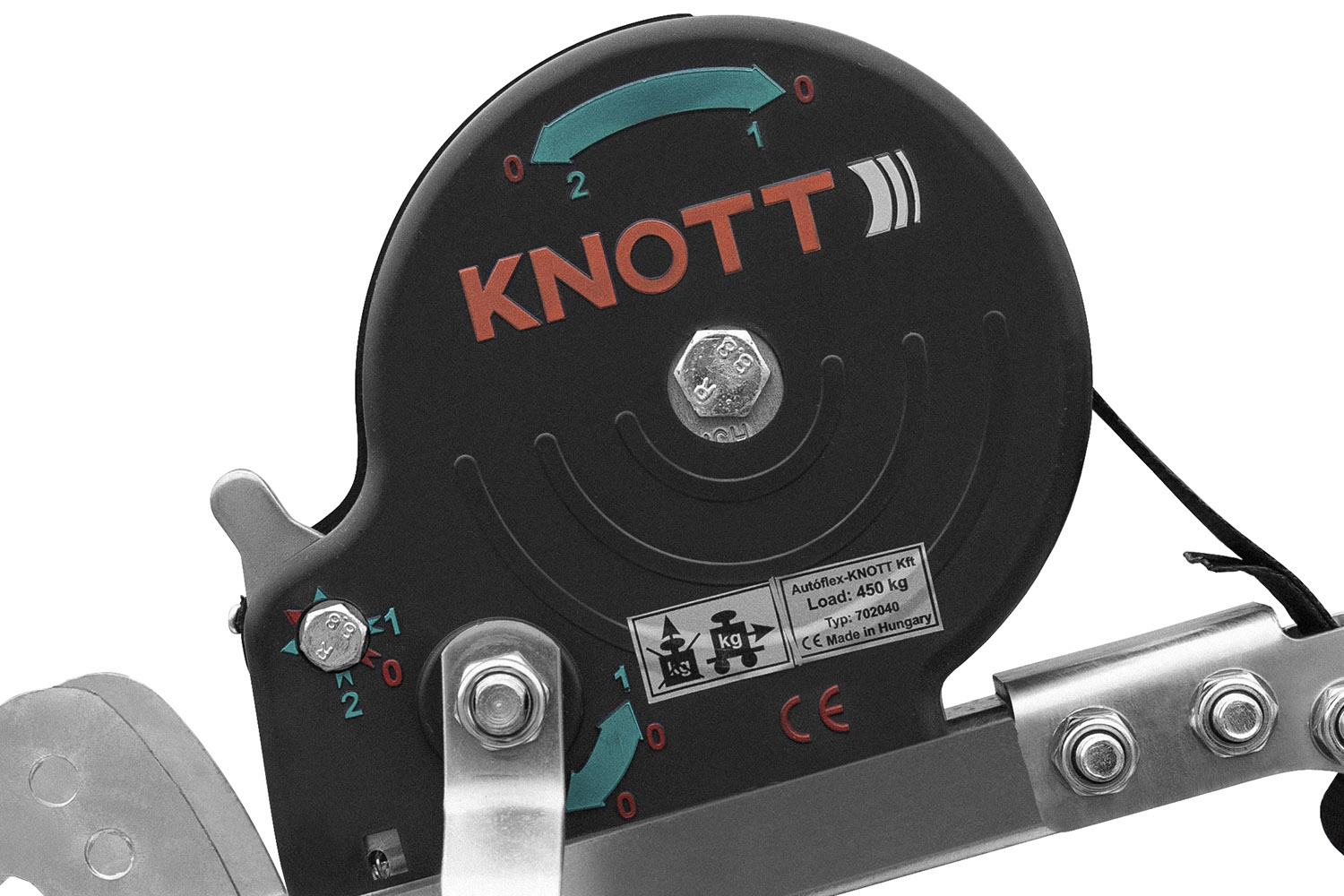 Manual winch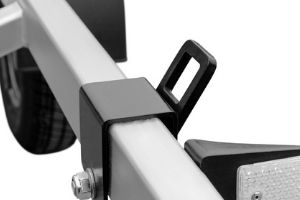 Set of belt fasteners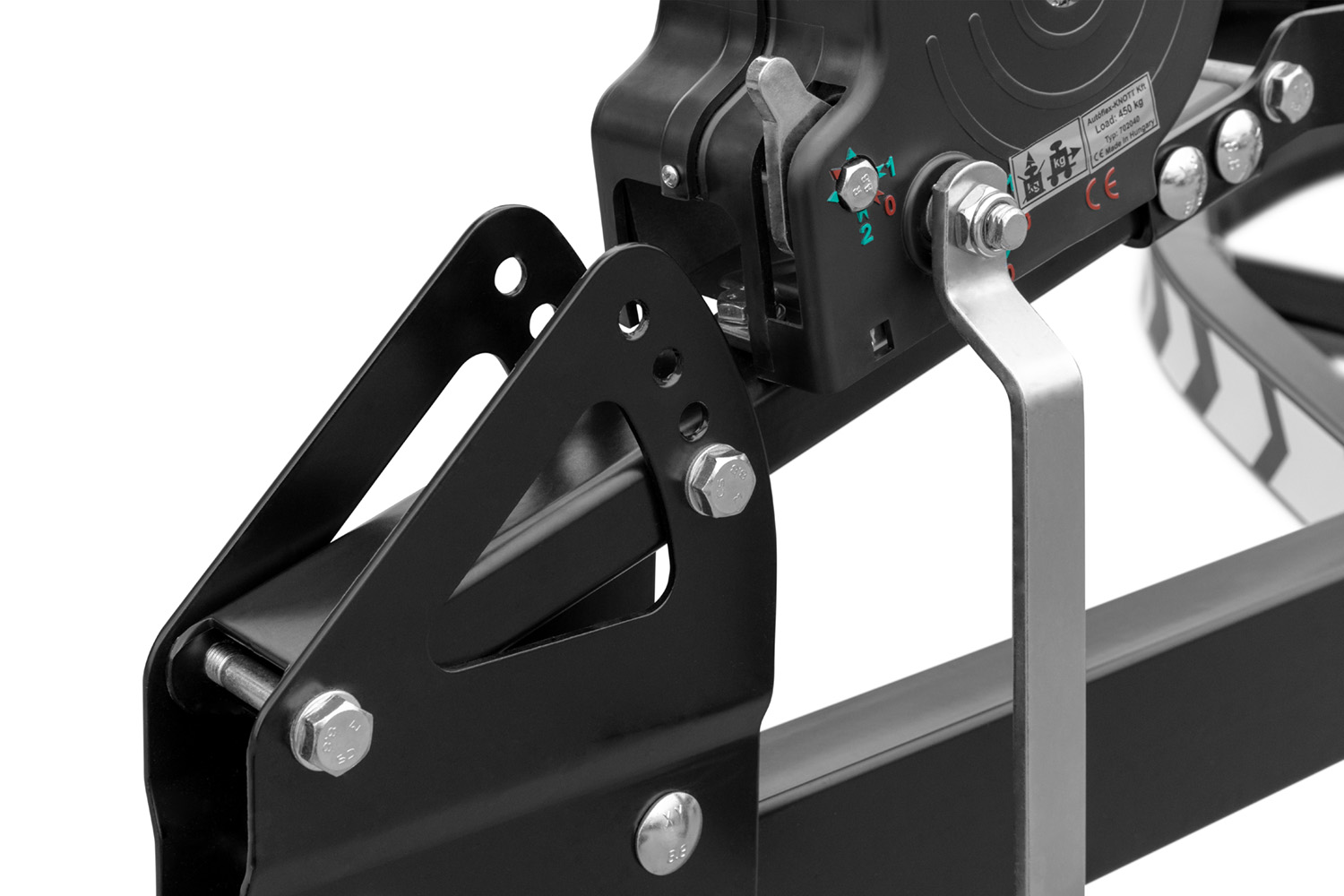 Adjustable winch post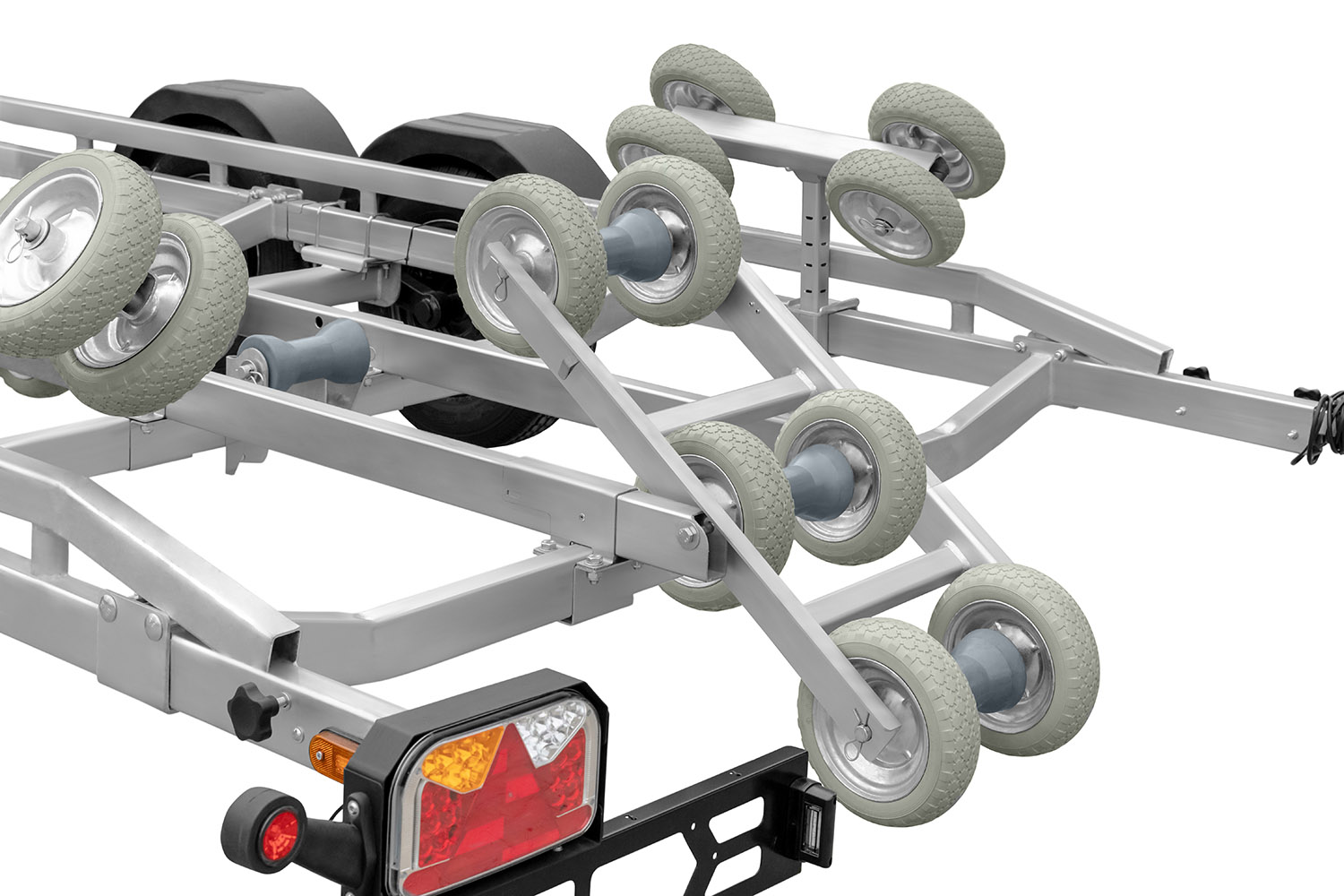 Cradle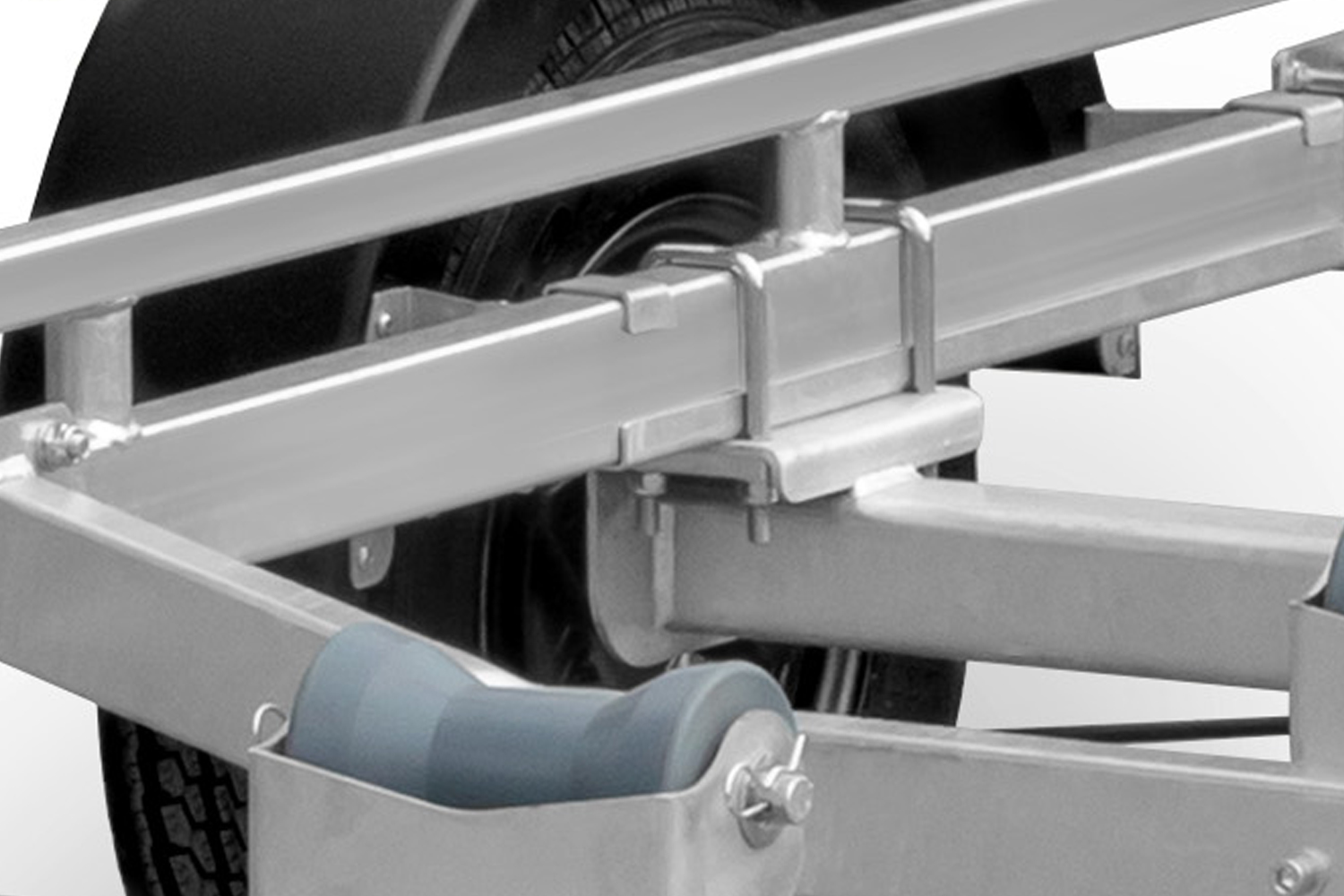 Movable axis system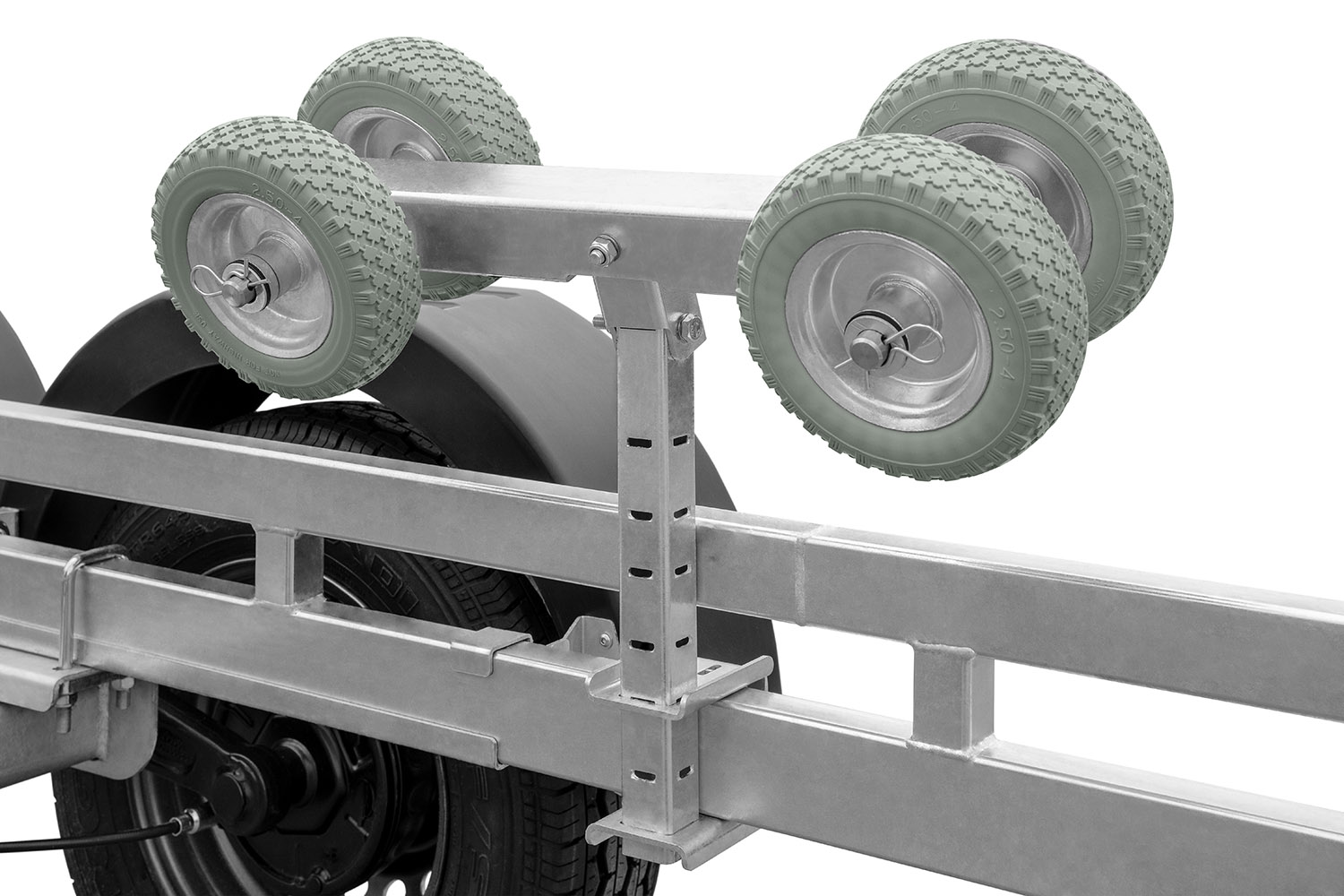 Side supports with four wheels
Additional equipment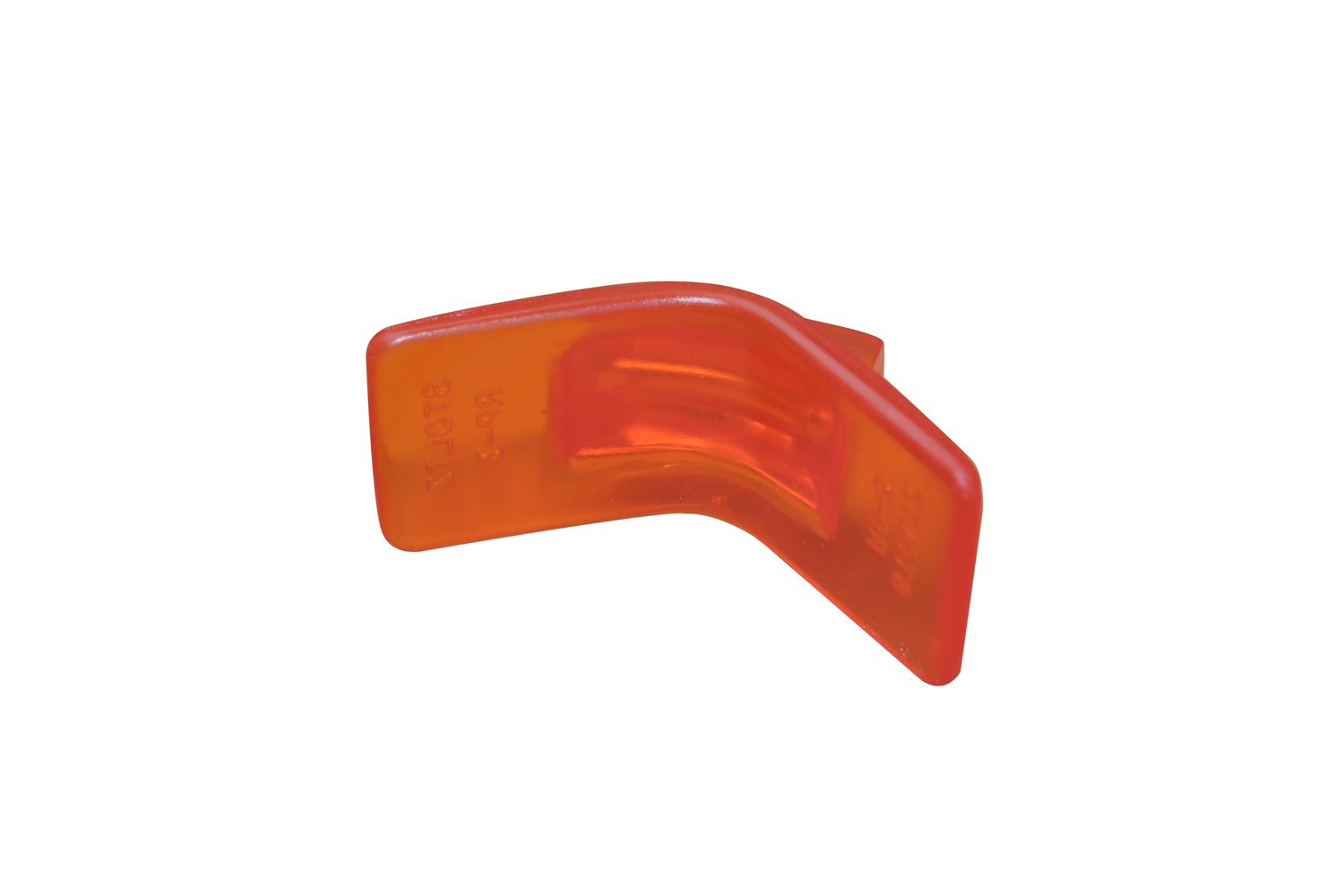 Polyurethane stem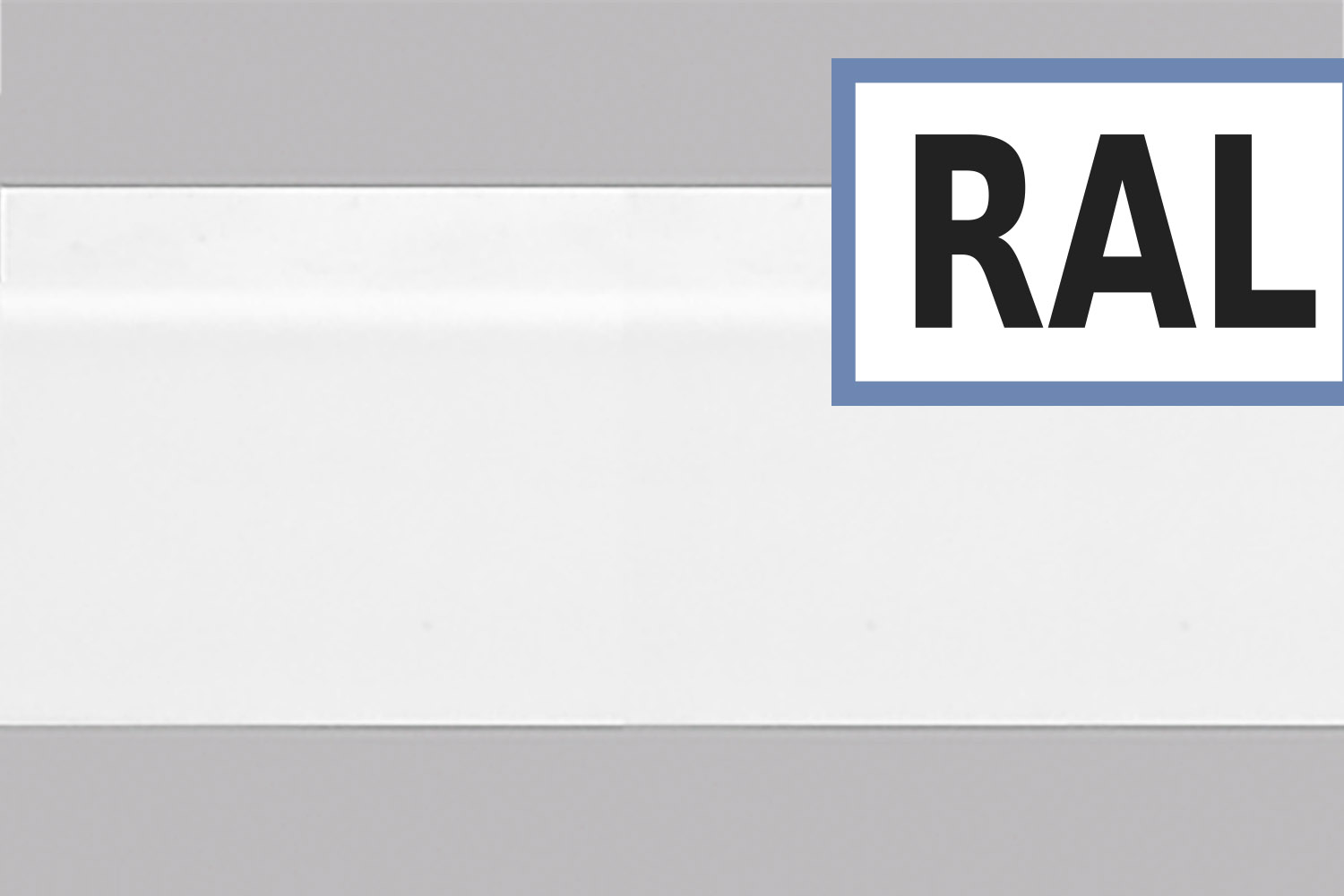 Powder painting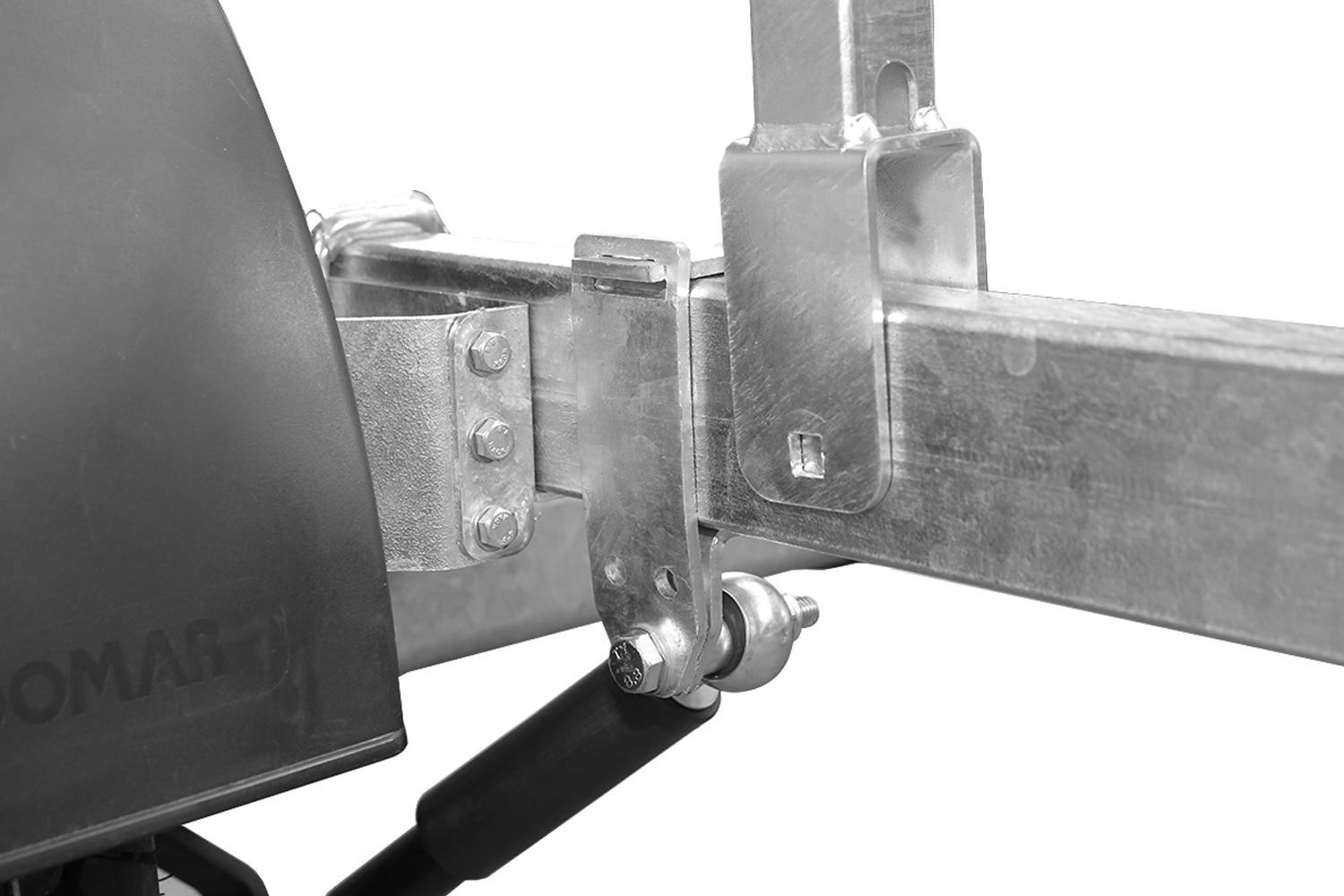 Axle shock mounts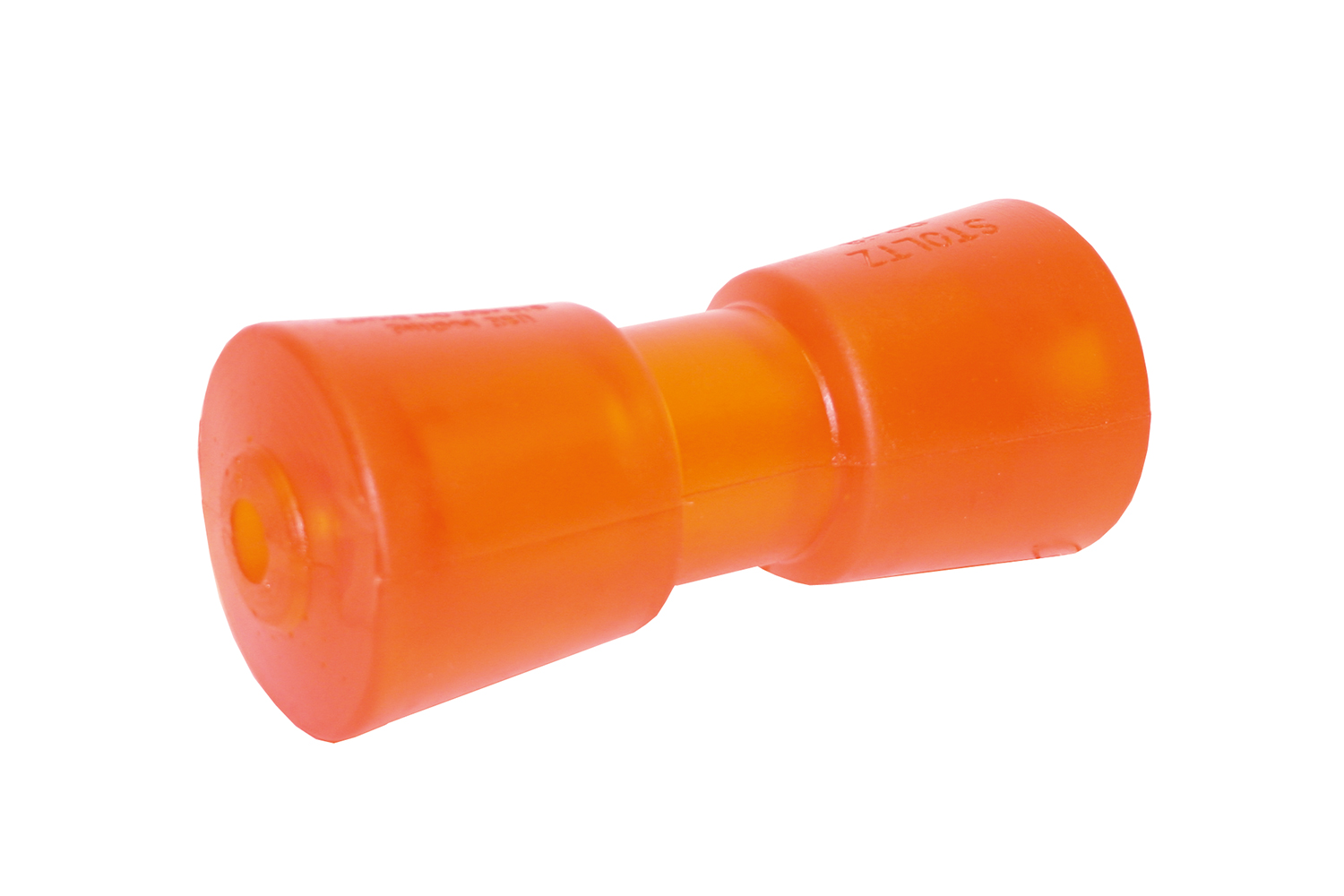 Polyurethane keel roller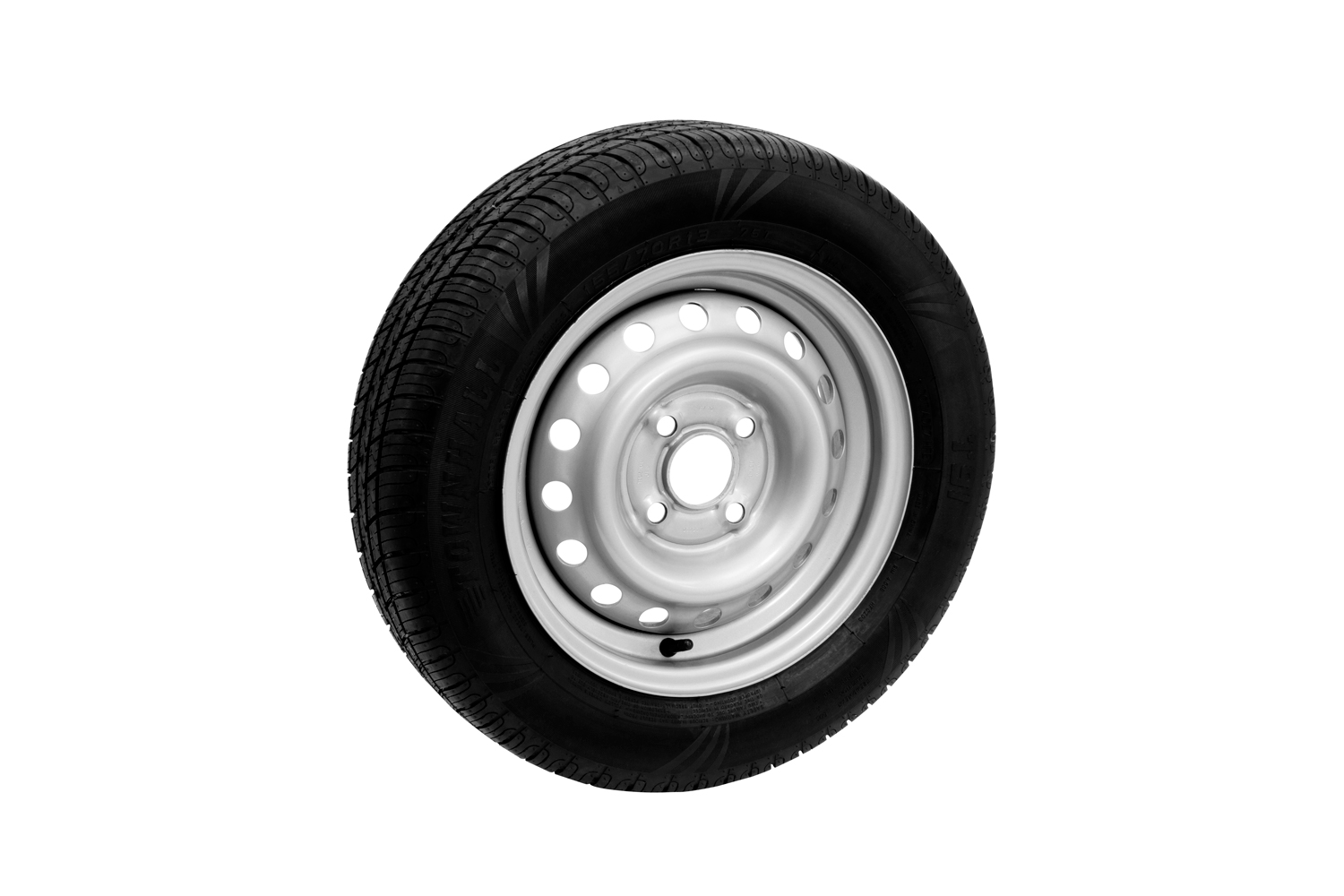 Spare wheel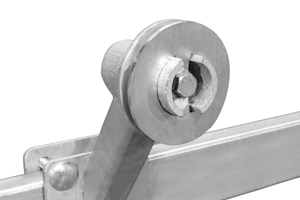 Spare wheel mounting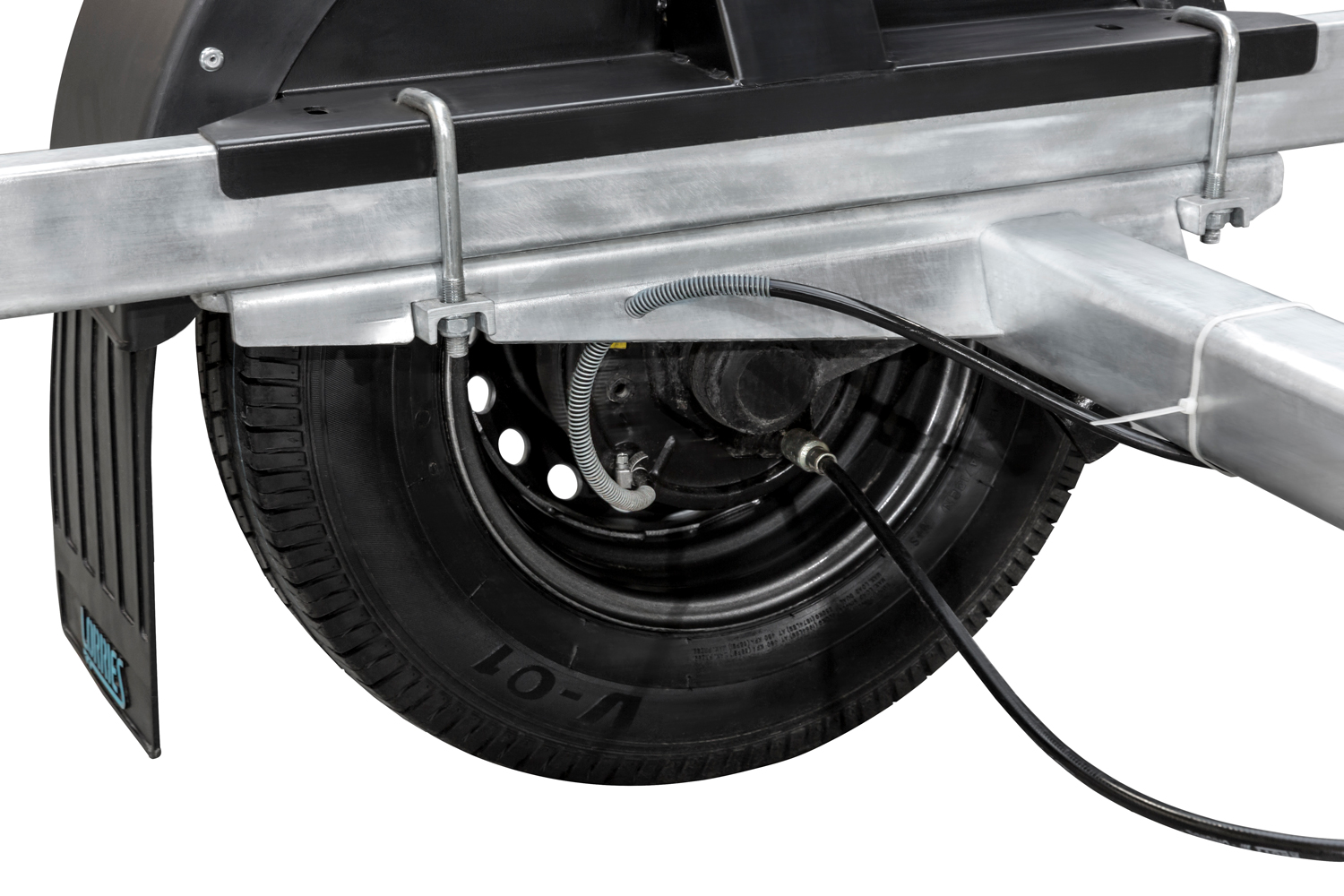 Rinsing the drums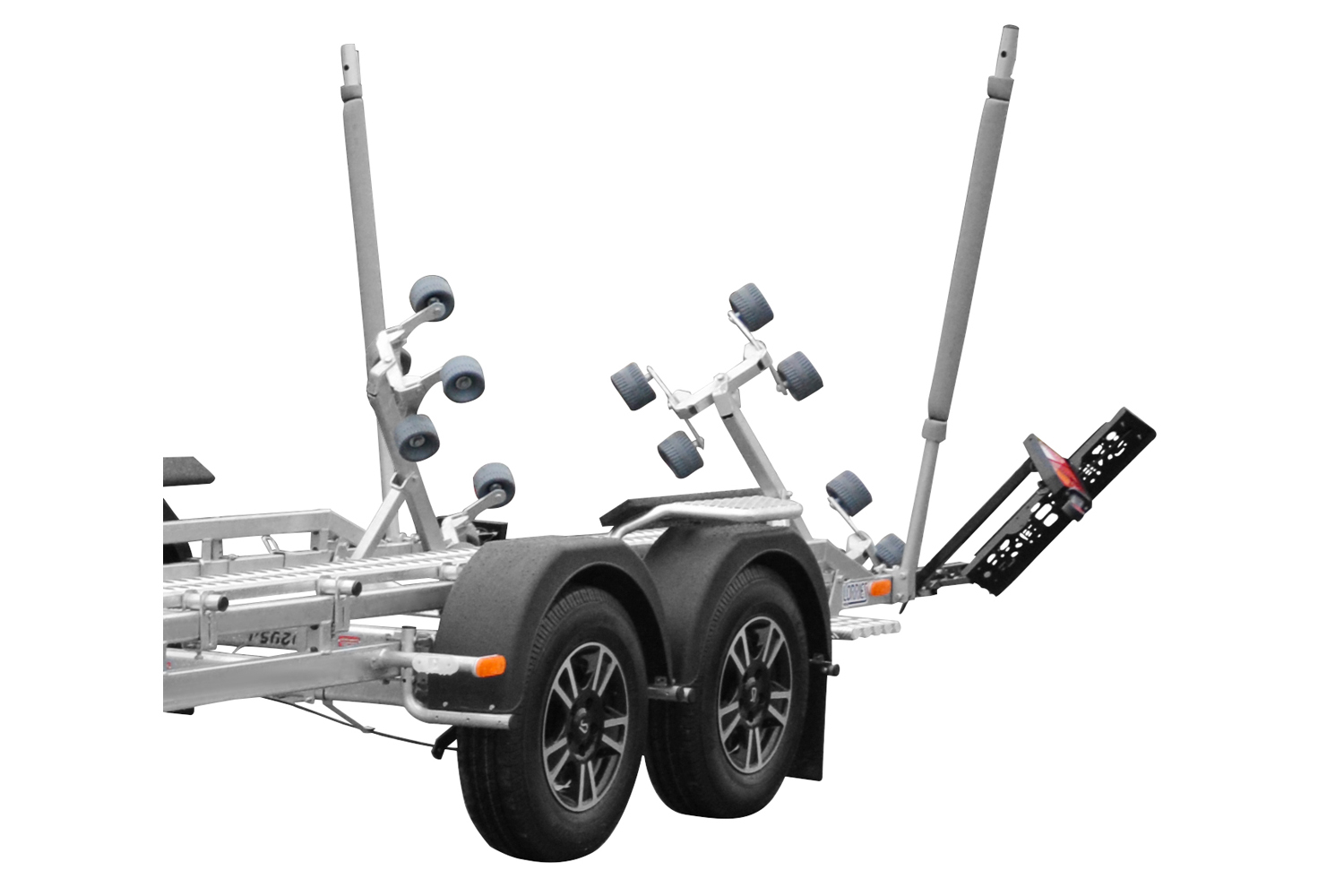 Boat guidance system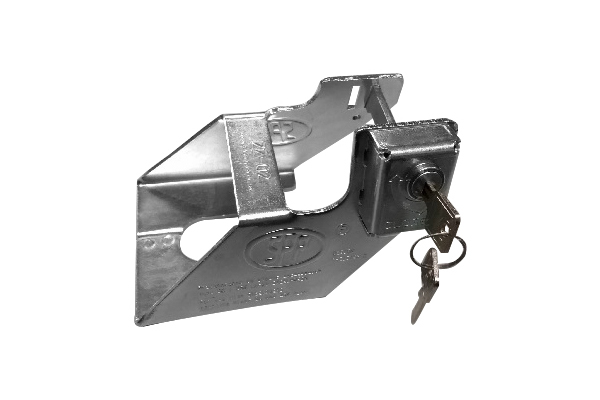 Anti-theft protection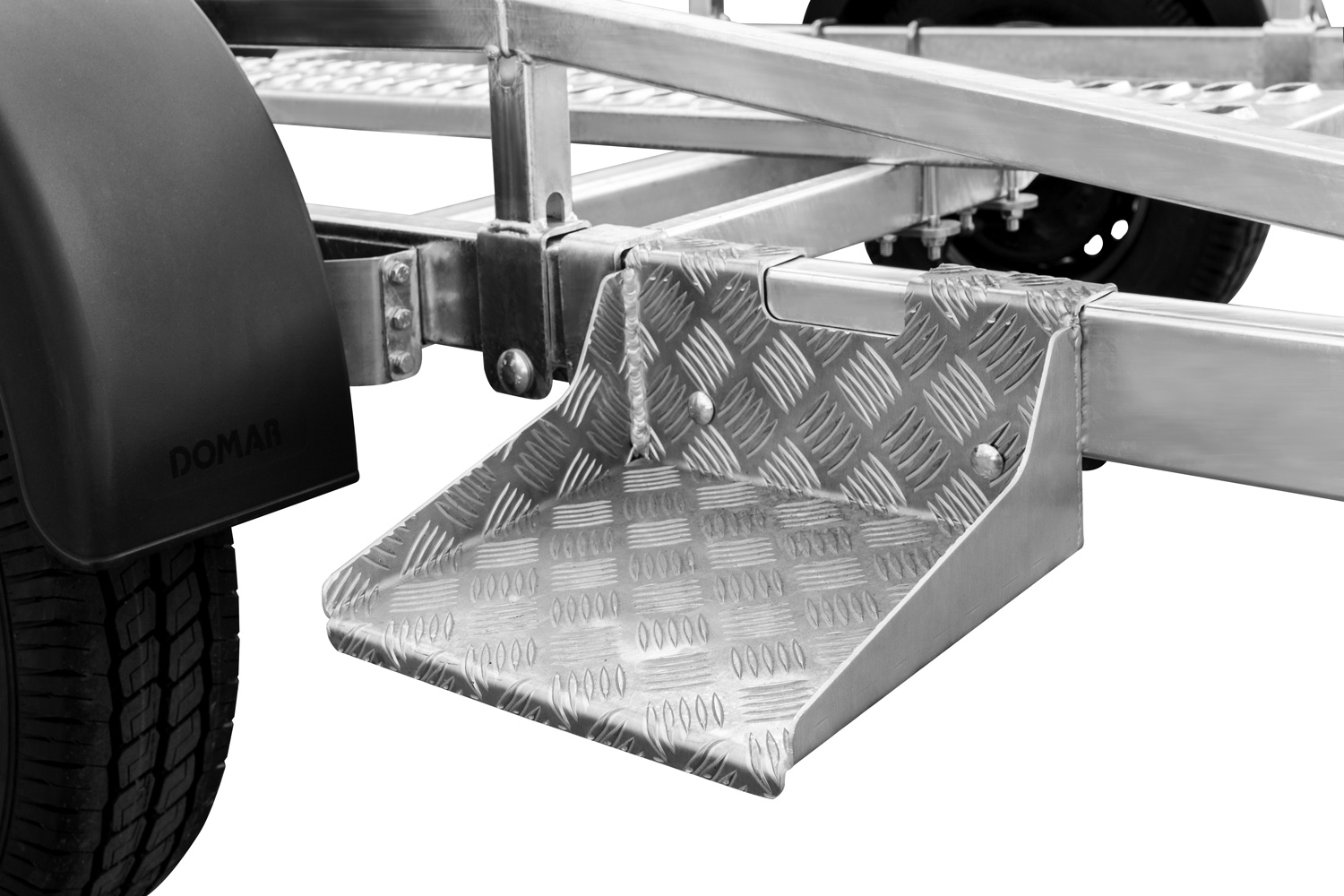 Non-slip side step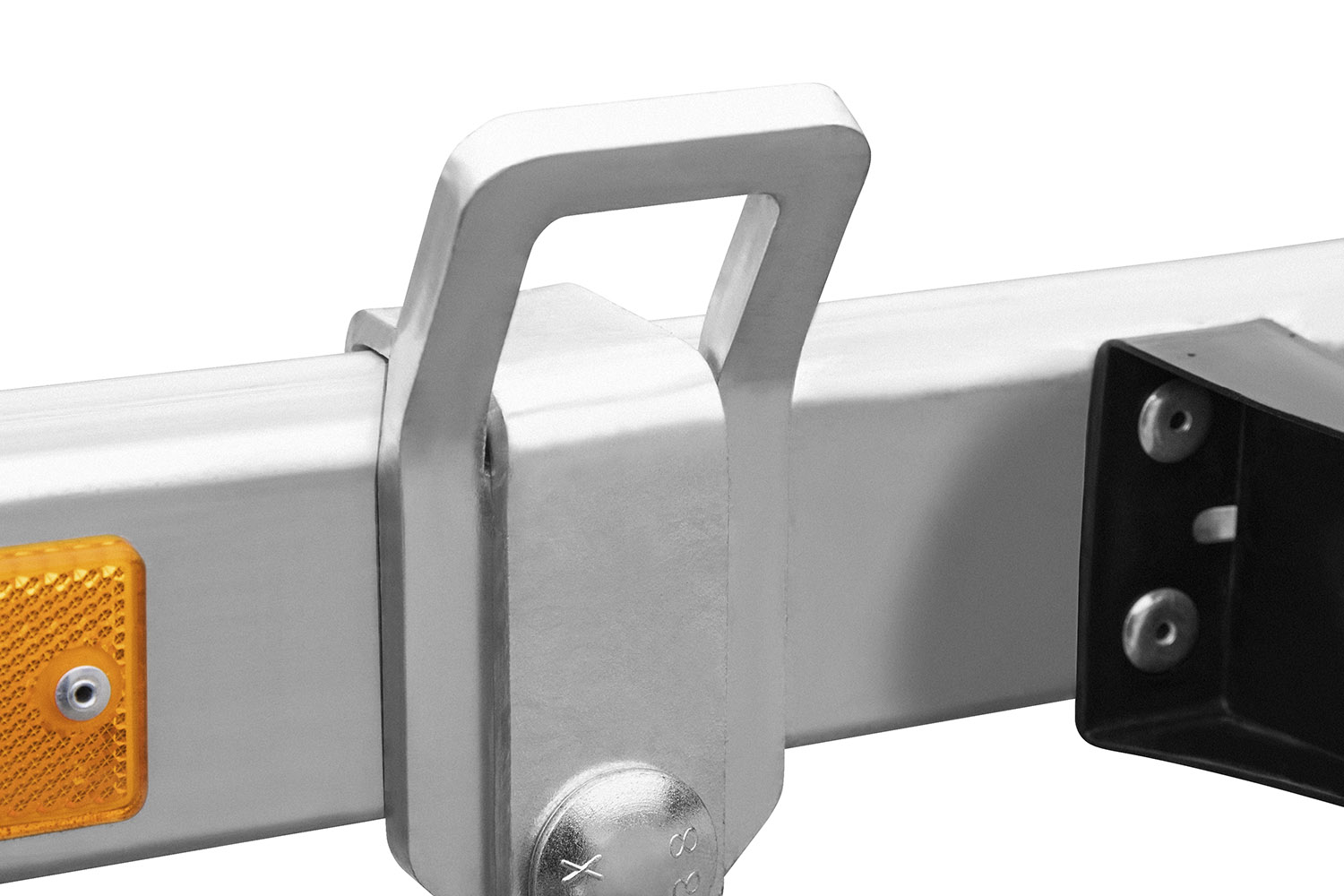 Additional set of belt fasteners (4 pcs.)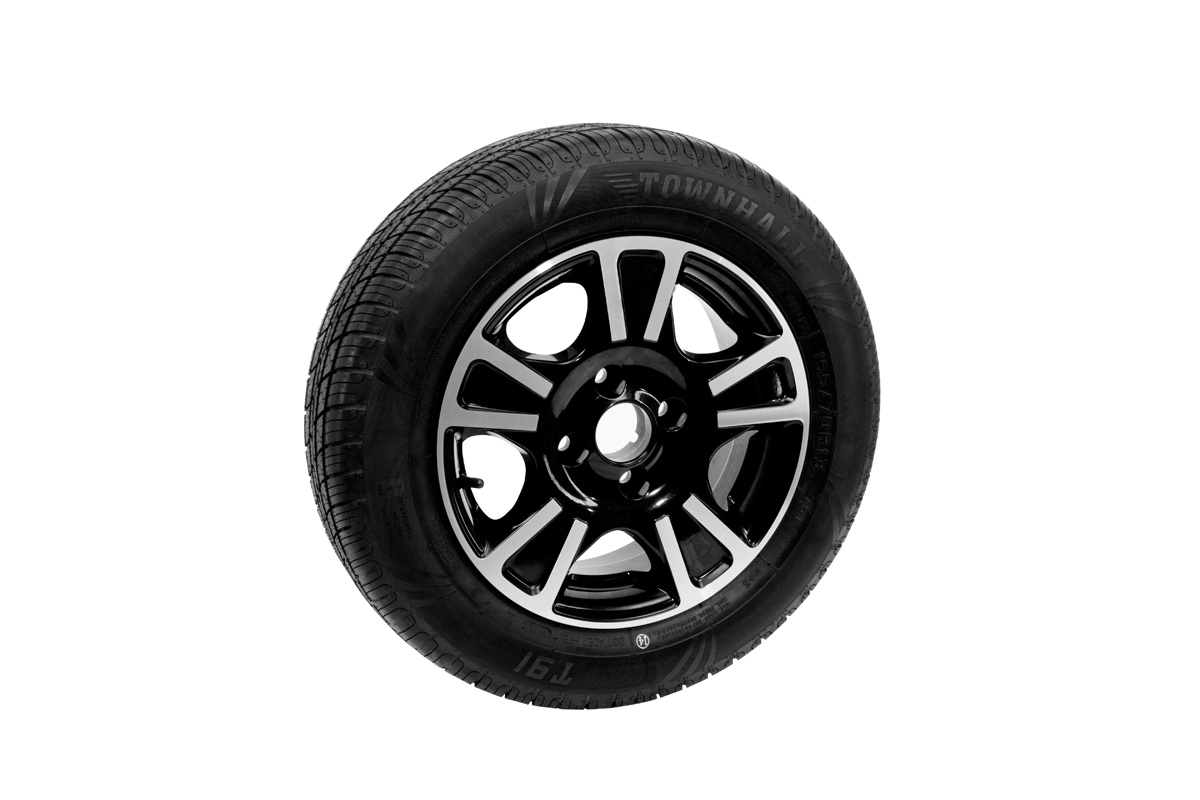 Aluminum rims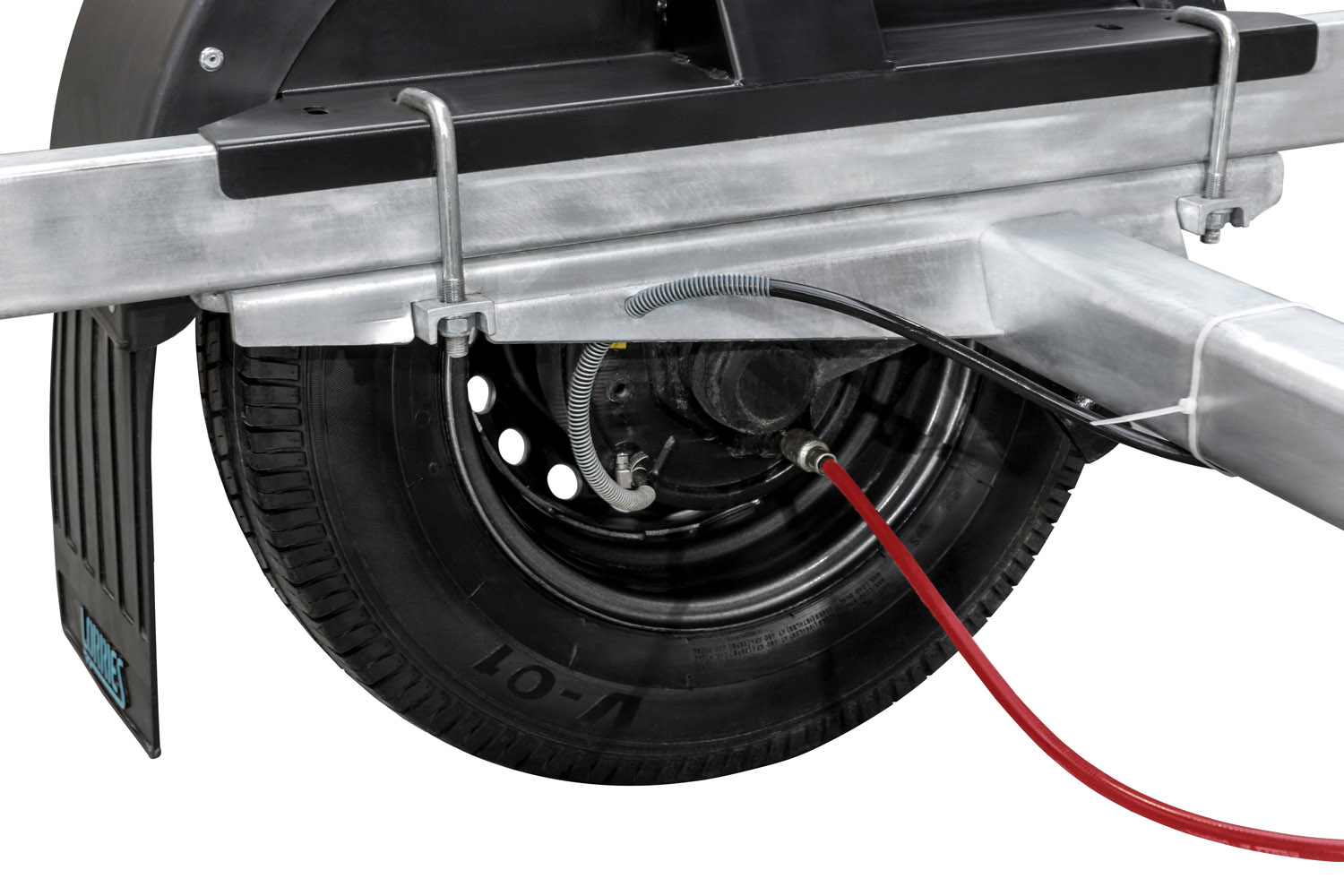 Rinsing the drums