Trailers
The PP30-8023 trailer is a braked model equipped with two axles designed for transporting heavy boats and yachts. It allows you to load boats weighing above 2400 kg and having a length until of 7.4 m.
DOUBLE-AXLE BOAT TRAILER PP30-8023 PP30-8023
---


The trailer structure is welded of steel profiles, with additional frame reinforcement, which guarantees stability and durability of the vehicle. With this, every boat or yacht will be safe during transporting. Steel elements of the trailer undergo a hot galvanizing process, with which the steel receives a protective coat that strengthens it against mechanical damage and corrosion. Therefore, it can easily stand in the rain or enter the water.

SOLID CONSTRUCTION AND THOUGHT SOLUTIONS
---
As a standard, the trailer is equipped with the light up system – tilting the rear lamps, preventing them from damage by flooding with water, thereby extending their life. The trailer axles have a WPS system (Waterproof system), i.e. an additional hub seal which protects their bearings against water ingress. This significantly extends the life of the bearings, hubs and axles themselves.
In addition, this model has the ability to adjust the length of the trailer through a system of extending rear lamps by an additional 0.9 meters. With this, we can adjust the length of the transported boat from 6,5 to 7,4 meters. To secure vehicle stability, the trailer is equipped with an axle move system - sliding axle, which allows selection of a better center of gravity for the load being transported.
In the trailer, the rear bumper beam is eliminated, making it more functional in everyday use. Its absence allows for quick and trouble-free loading and unloading of the yacht or boat. To secure transported goods you can use a system of rollers and belt fasteners, with which the yacht or boat will reach its destination safely.
In addition, it was equipped with a support wheel, manual winch with a swinging end beam.

RICH EQUIPMENT, PRACTICAL ADDITIONAL SOLUTIONS
---

Rich standard equipment of the trailer: PP30-8023:
6 pieces of keel bottom rolls,
2 sets of double adjustable side rollers,
4 sets of quadruple side rollers in a 4+4 system, adjustable - rear,
the system for opening rear lamps (light up system),
the belt winch, manually operated,
4 pieces of belt fastening,
the support wheel,
the soft stem.
We also allow you to customize the functionality of additional rollers. Permitted modifications are:
the single side roller with a bracket (adjustable, swinging, fi 120),
double side rollers with a bracket (adjustable, swinging, fi 120),
quadruple side rollers with a bracket (adjustable, swinging, fi 120),
side rollers of the 4+4 system with a bracket (adjustable, swinging, fi 120),
the keel roller,
the bracket for the keel roller.
Changes to the settings of the auxiliary rollers are sometimes extremely important, because if the boat or yacht has a non-standard design, it may be that additional protections (individually adjusted) are necessary.


The trailer for transporting boats of the PP30-8023 model has numerous additional equipment that can be retrofitted. These are: additional belt fittings (set of 4 pieces), spare wheel with steel or light alloy wheel rims, spare wheel mounting, drum rinsing, boat guidance system, longitudinal gangway, non-slip side step, set of LED rear lamps, anti-theft protection, side slide of 300 or 600 mm, adjustable supports, polyurethane bottom rollers, side rollers or and stem as well as shock absorber mountings.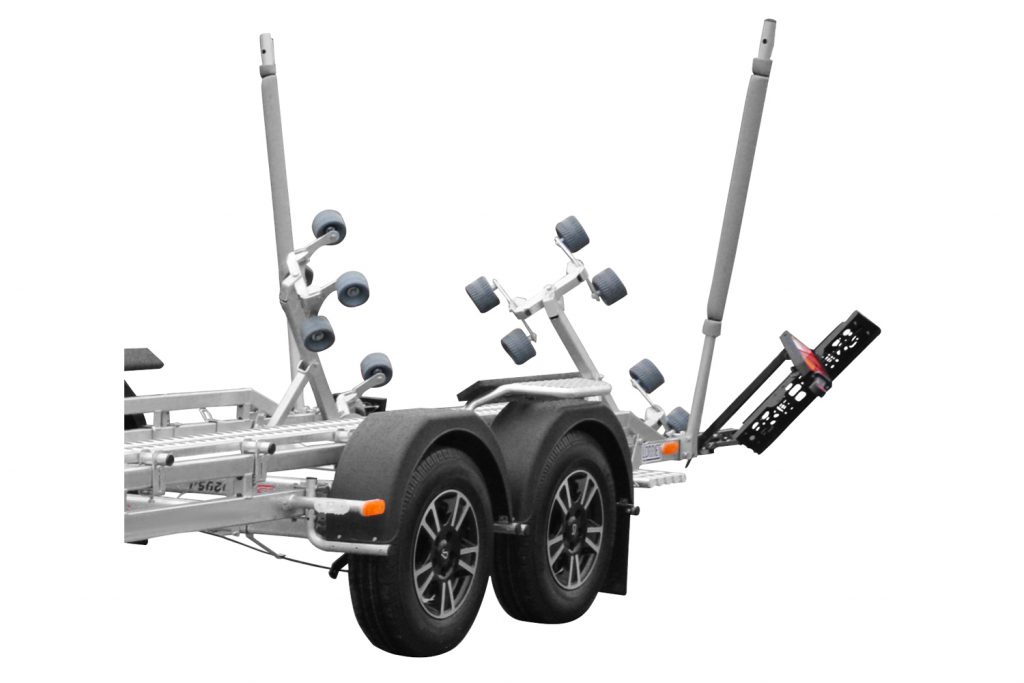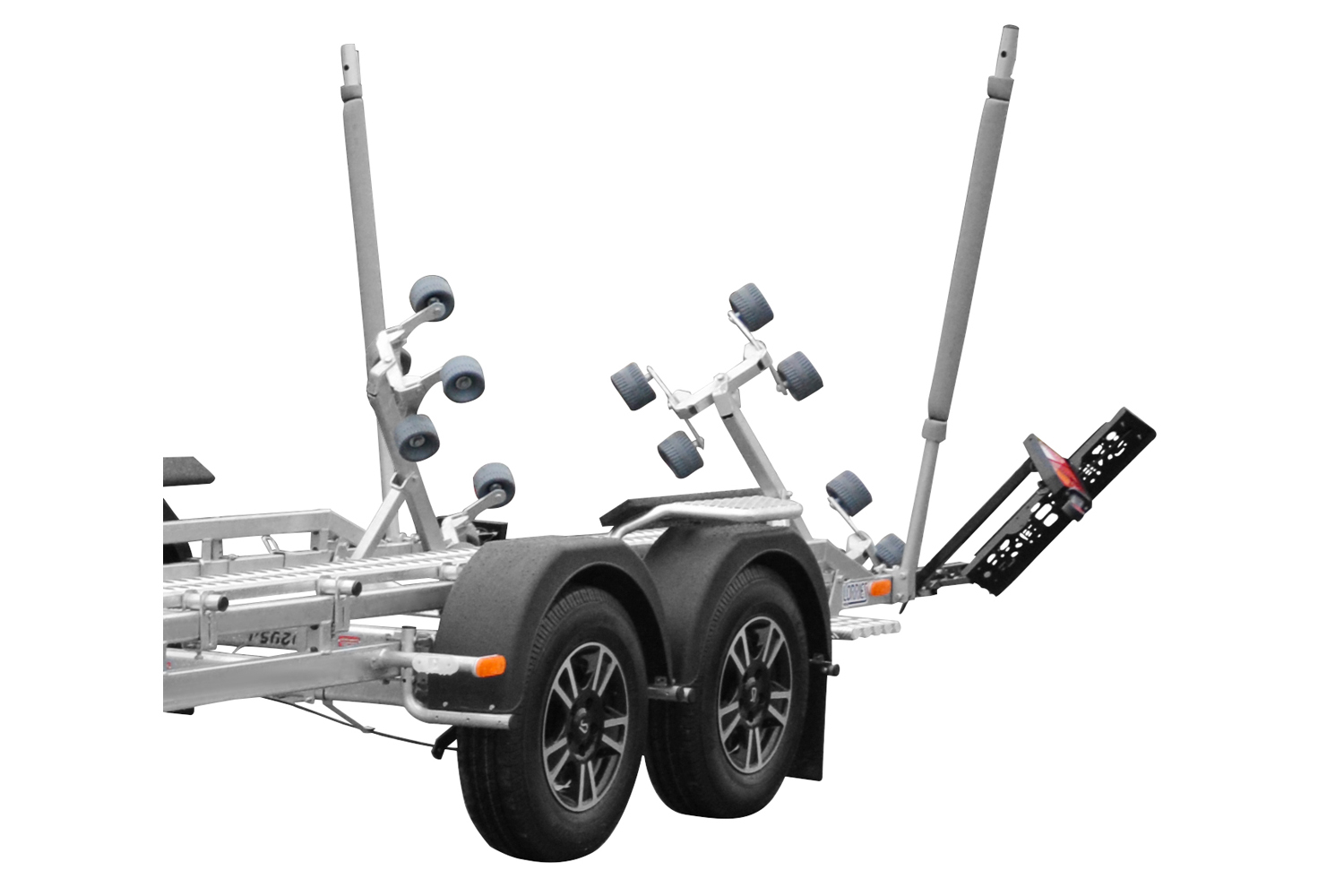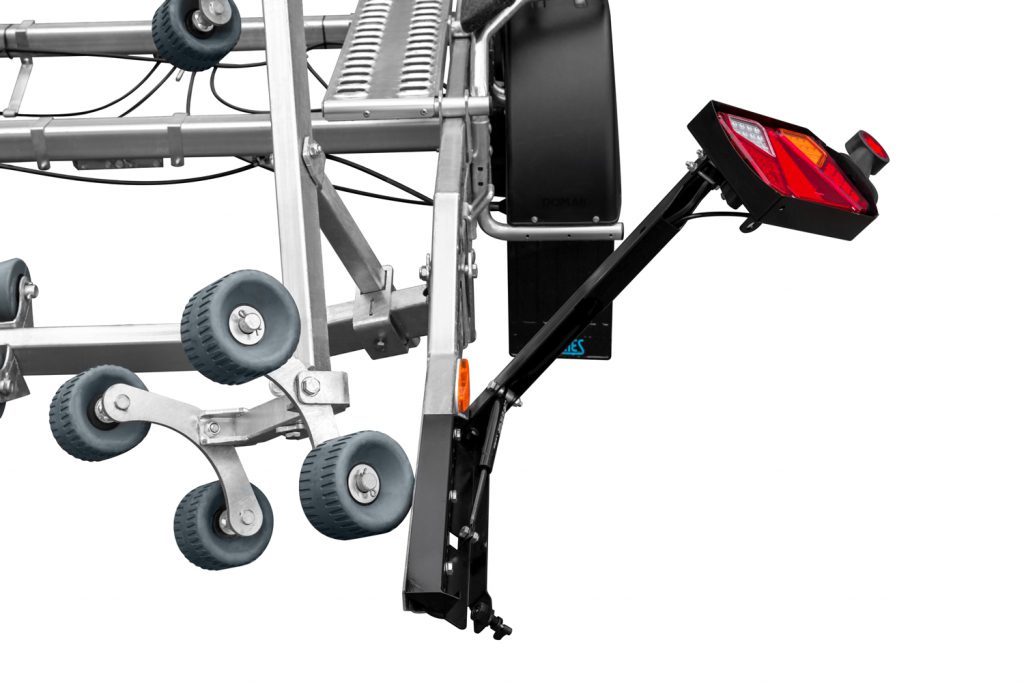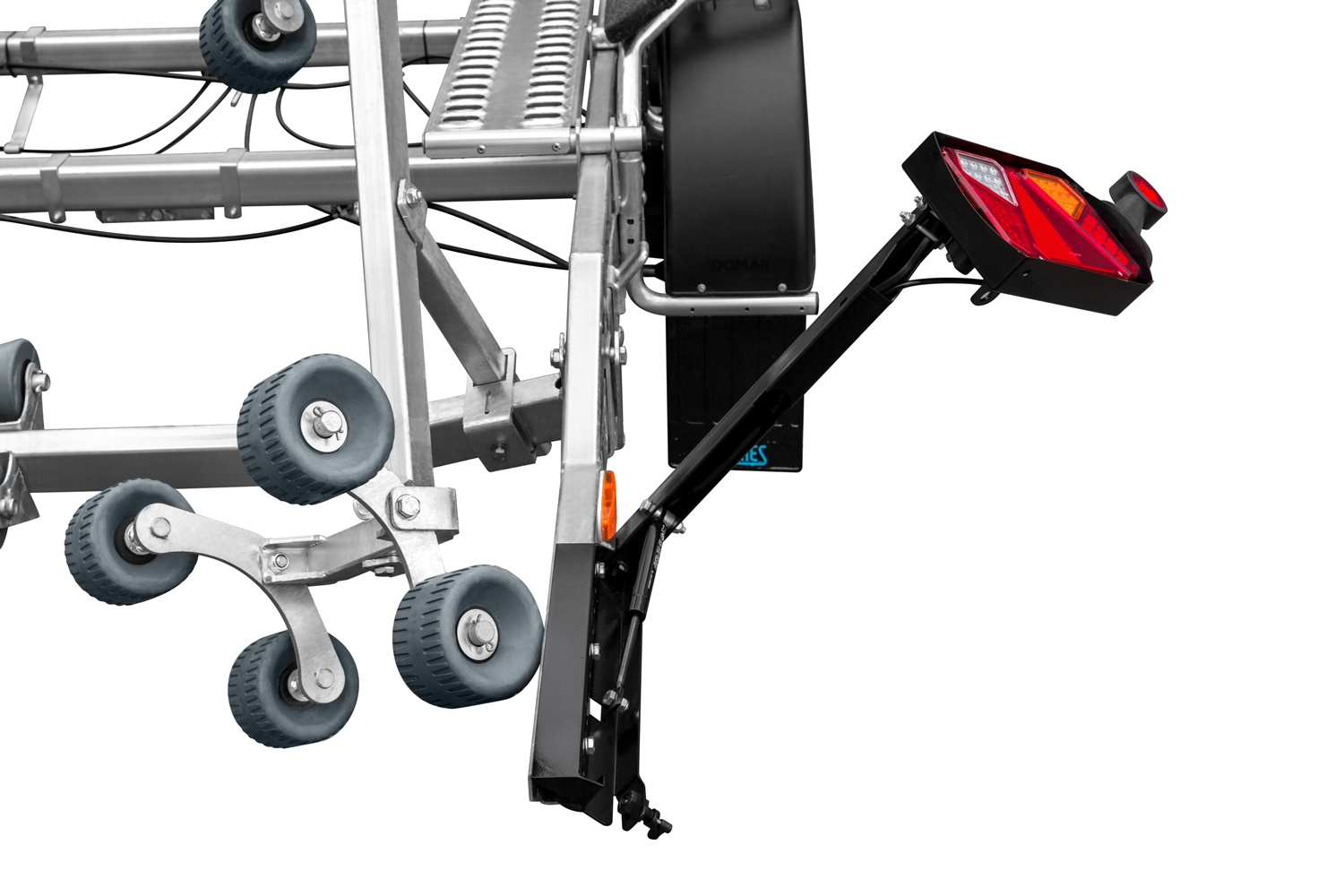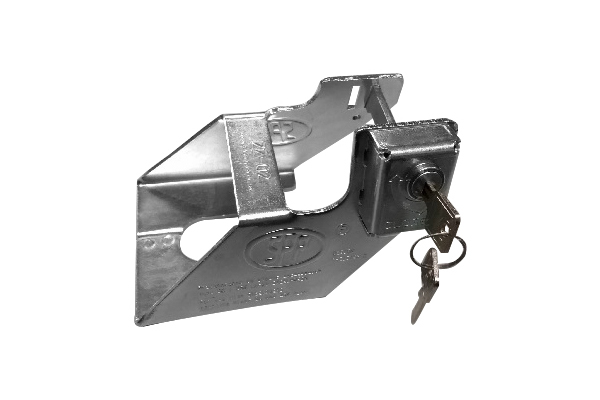 People who prefer the trailer in a color other than steel can order it painted black or white.
EXAMPLE TRAILER CONFIGURATION
---
Overrun brake
Manual winch
Soft stem
Double side roller
Quadruple adjustable side roller
Lamps, LED as an option
Rear lamp opening system
Aluminum rims (optional)
Bottom roller, polyurethane as an option
Support wheel
Gross vehicle weight [kg]
3000
Maximum length of the loading surface [mm]
7400
Complete kerb weight [kg]
562
External dimensions width x length x height [mm]
2285 x 8045 x 1478
Double adjustable side roller [pieces]
2
Quadruple adjustable side roller [pieces]
4
Standard equipment
Rear lamp opening system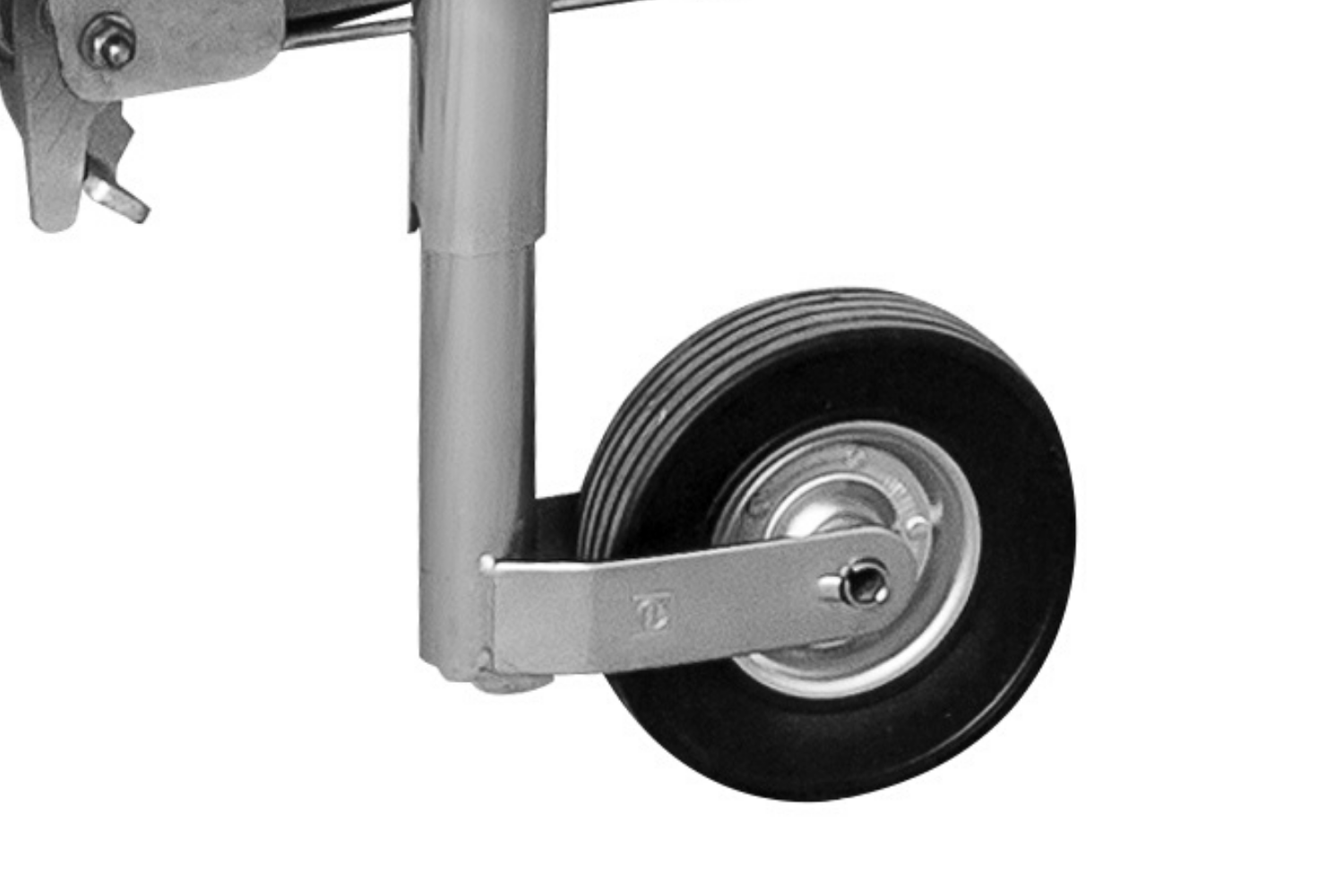 Support wheel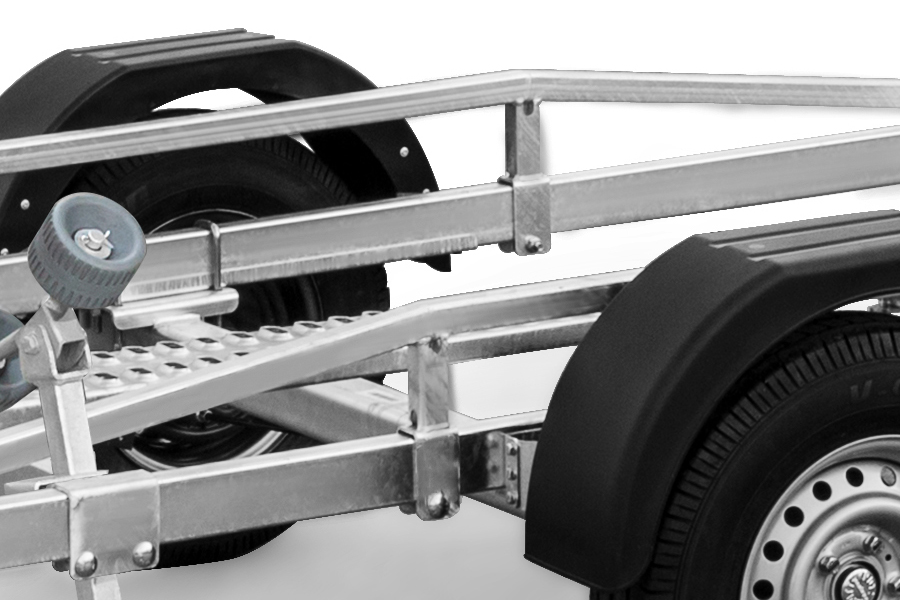 Frame reinforcement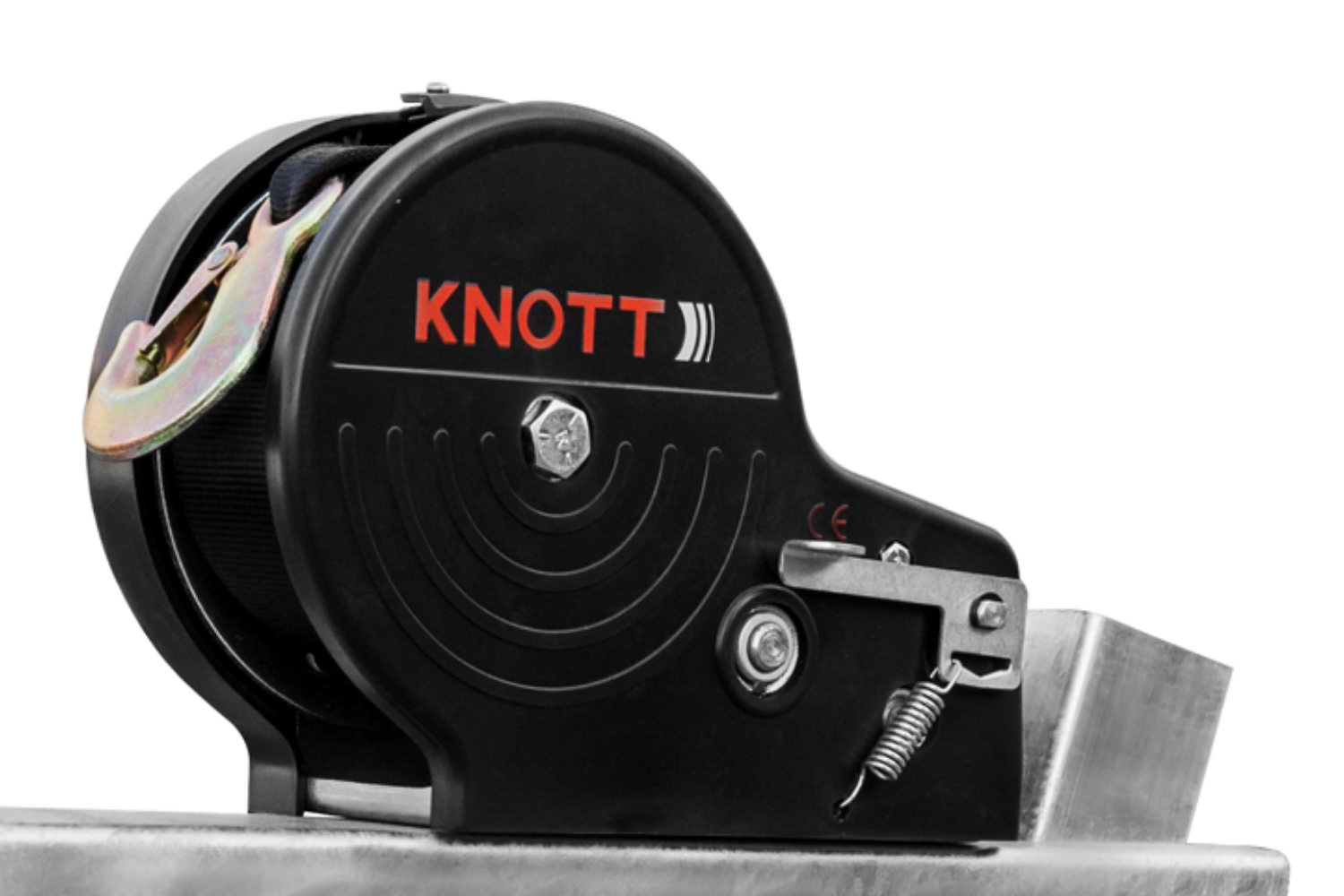 Manual winch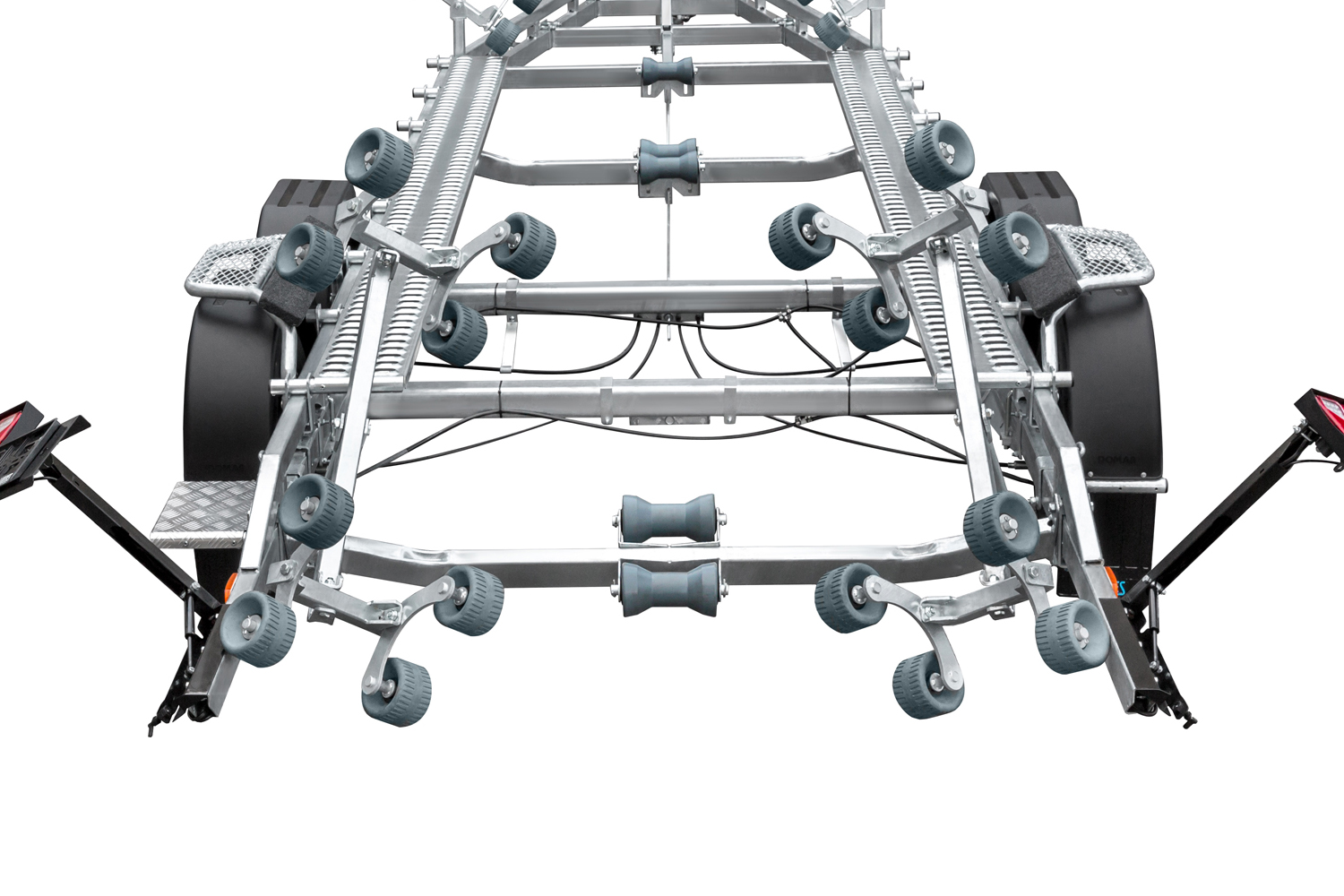 Wobble end beam
Additional equipment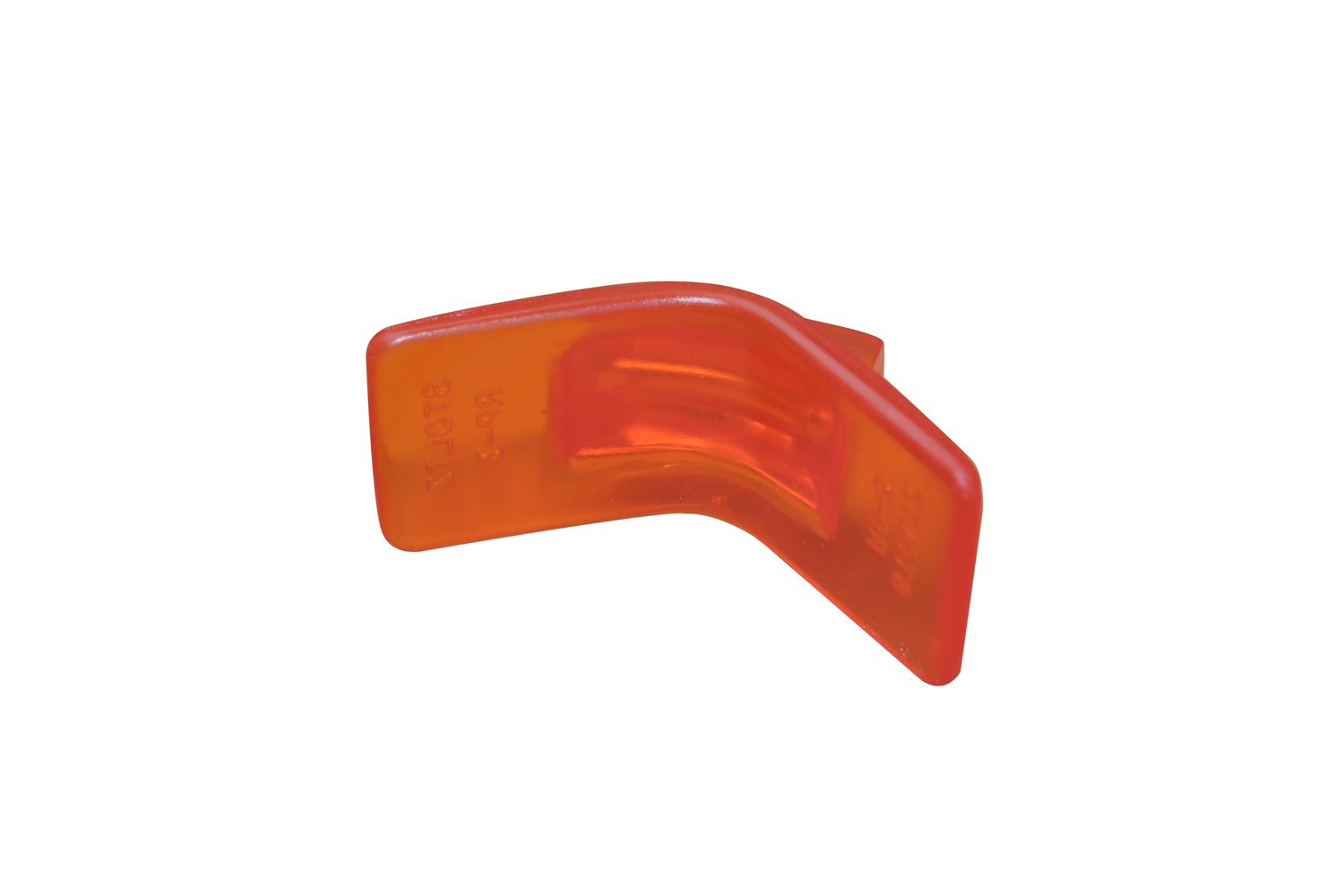 Polyurethane stem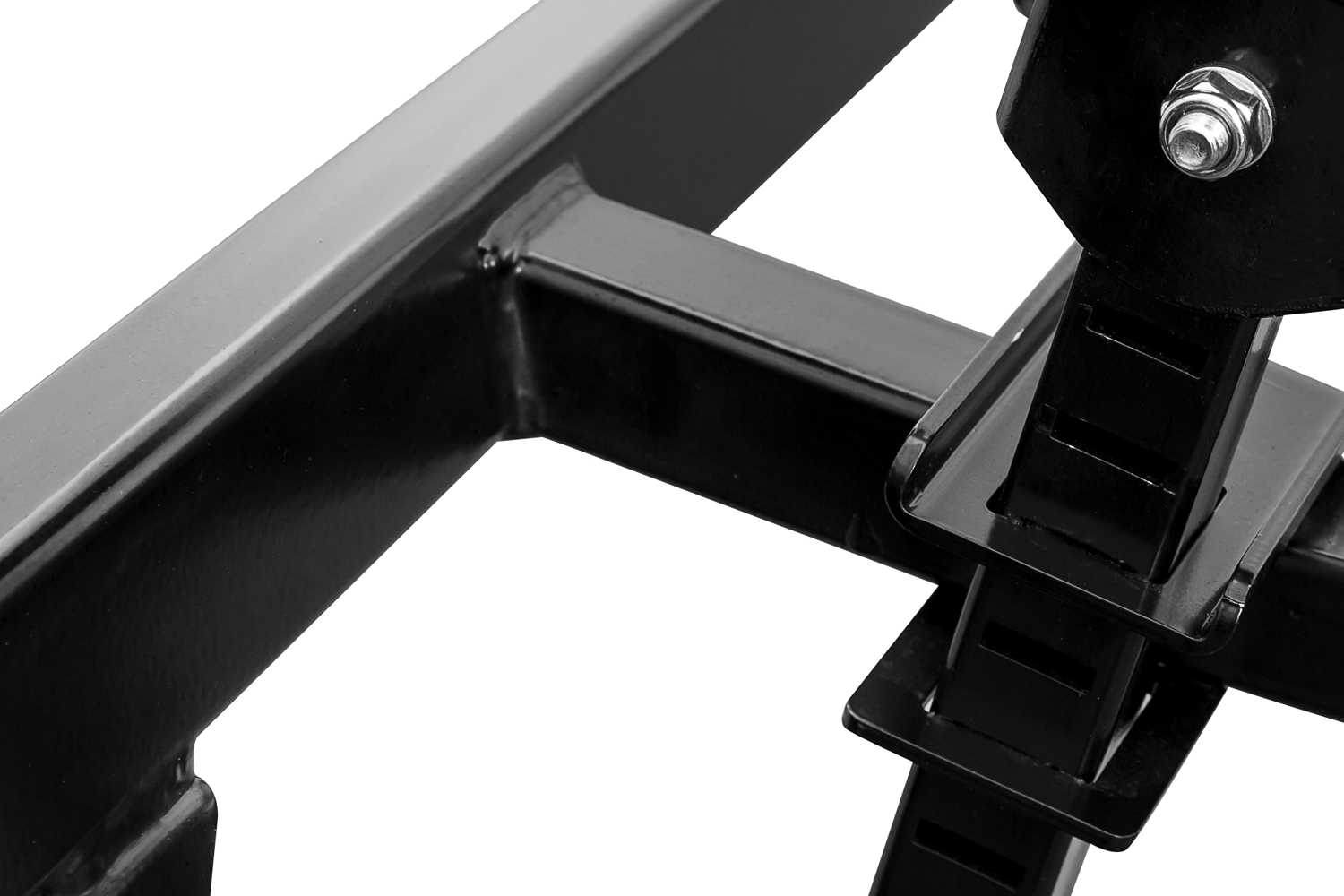 Powder painting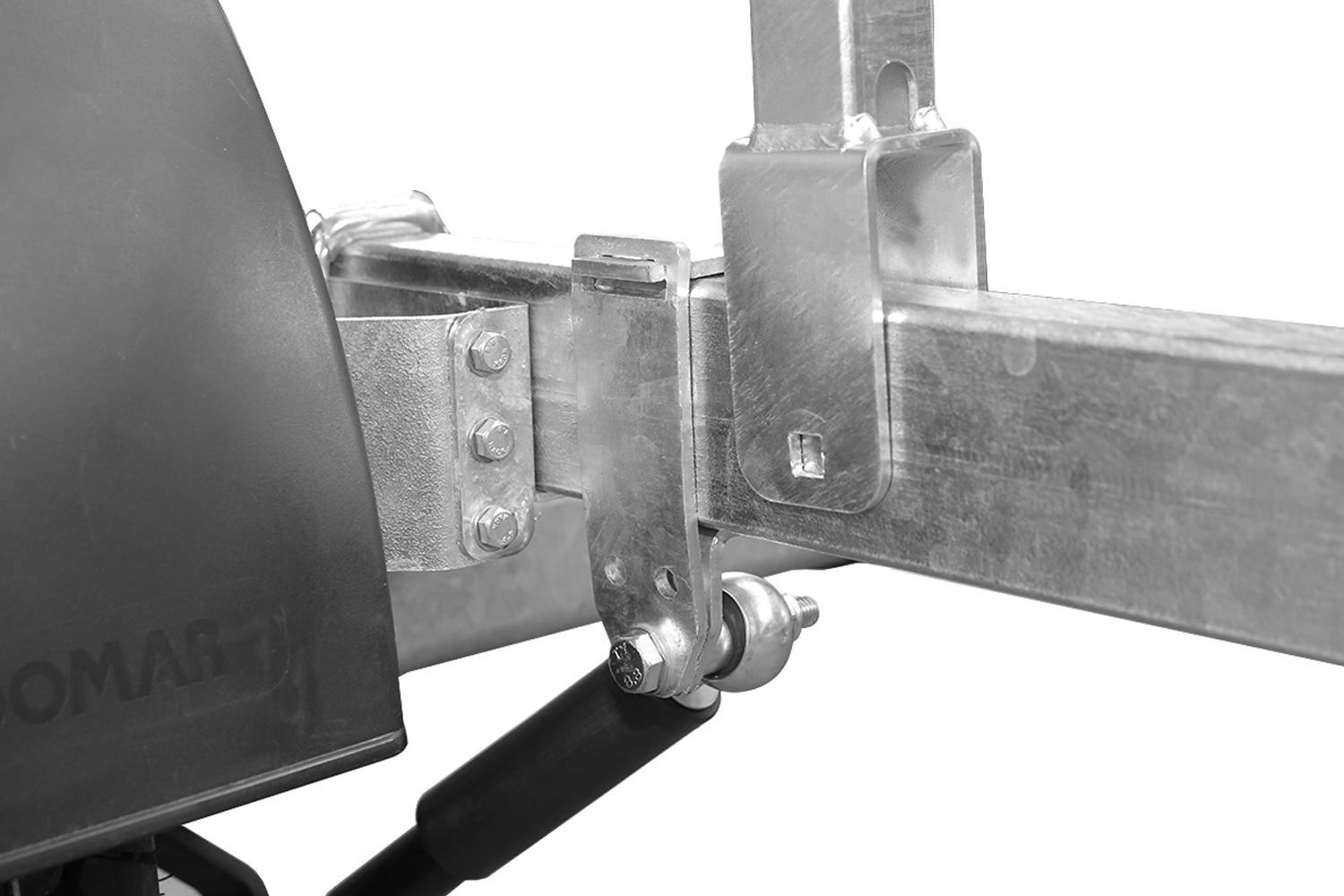 Mocowania amortyzatorów osi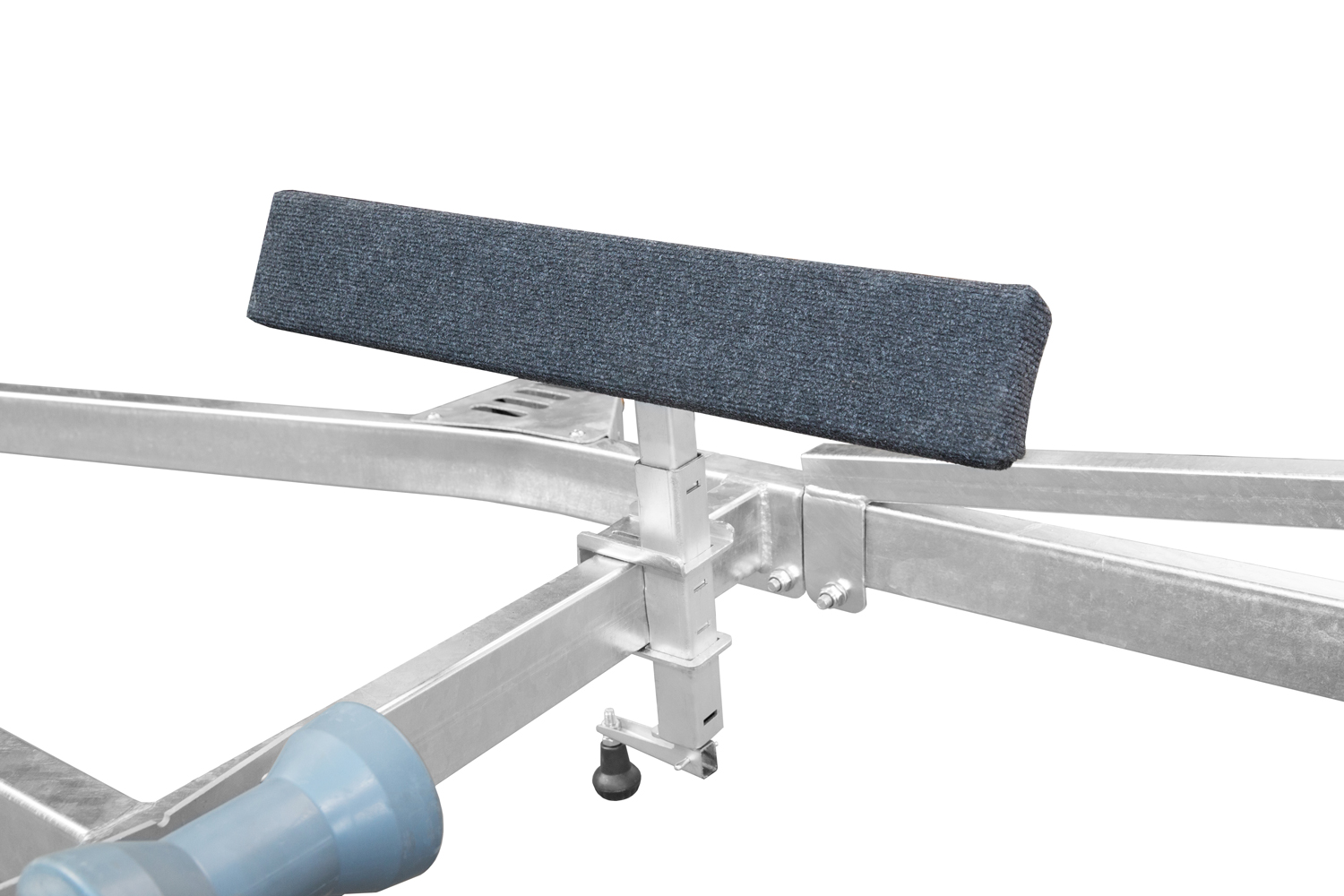 Adjustable support 1 L-300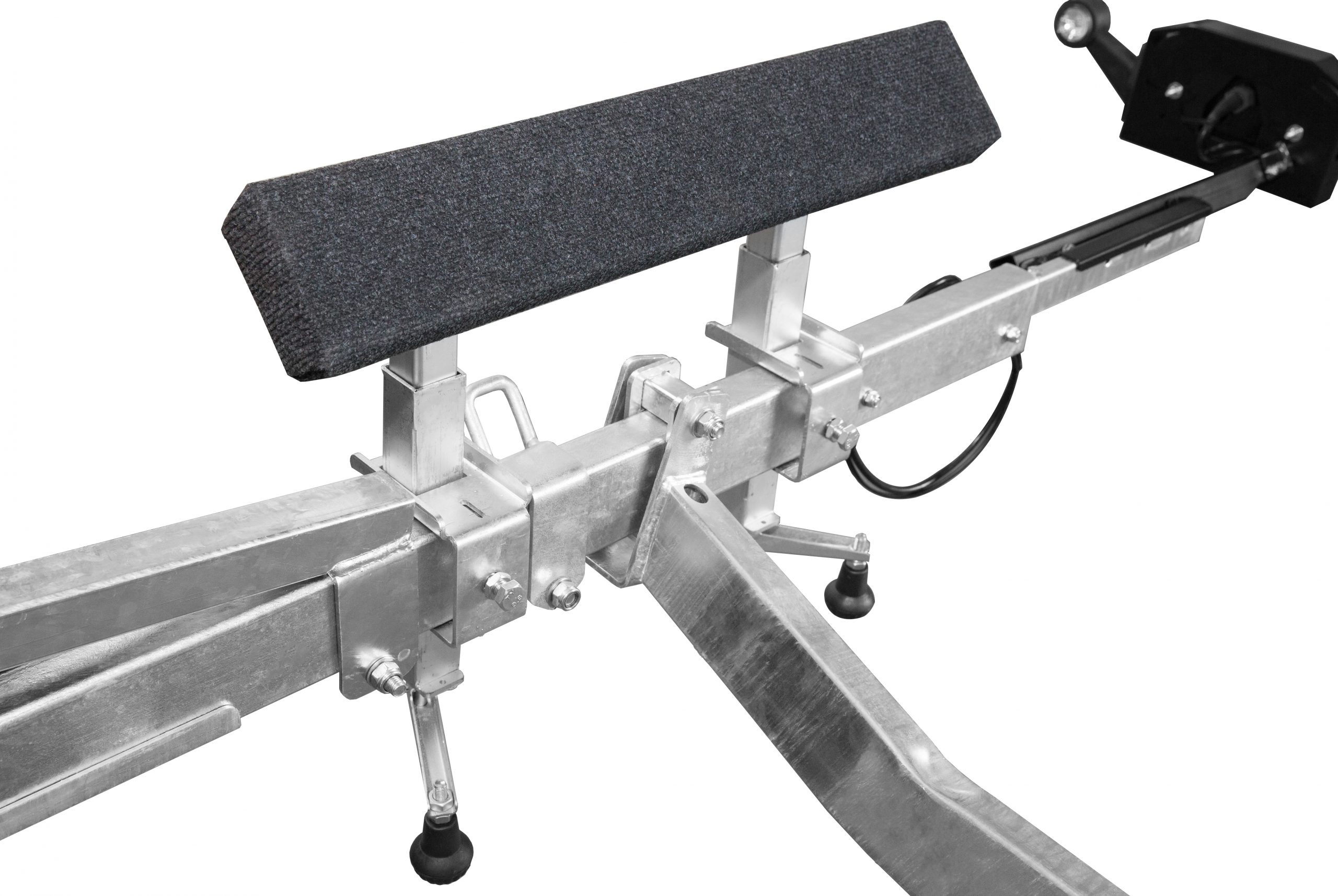 Adjustable support 2 L-600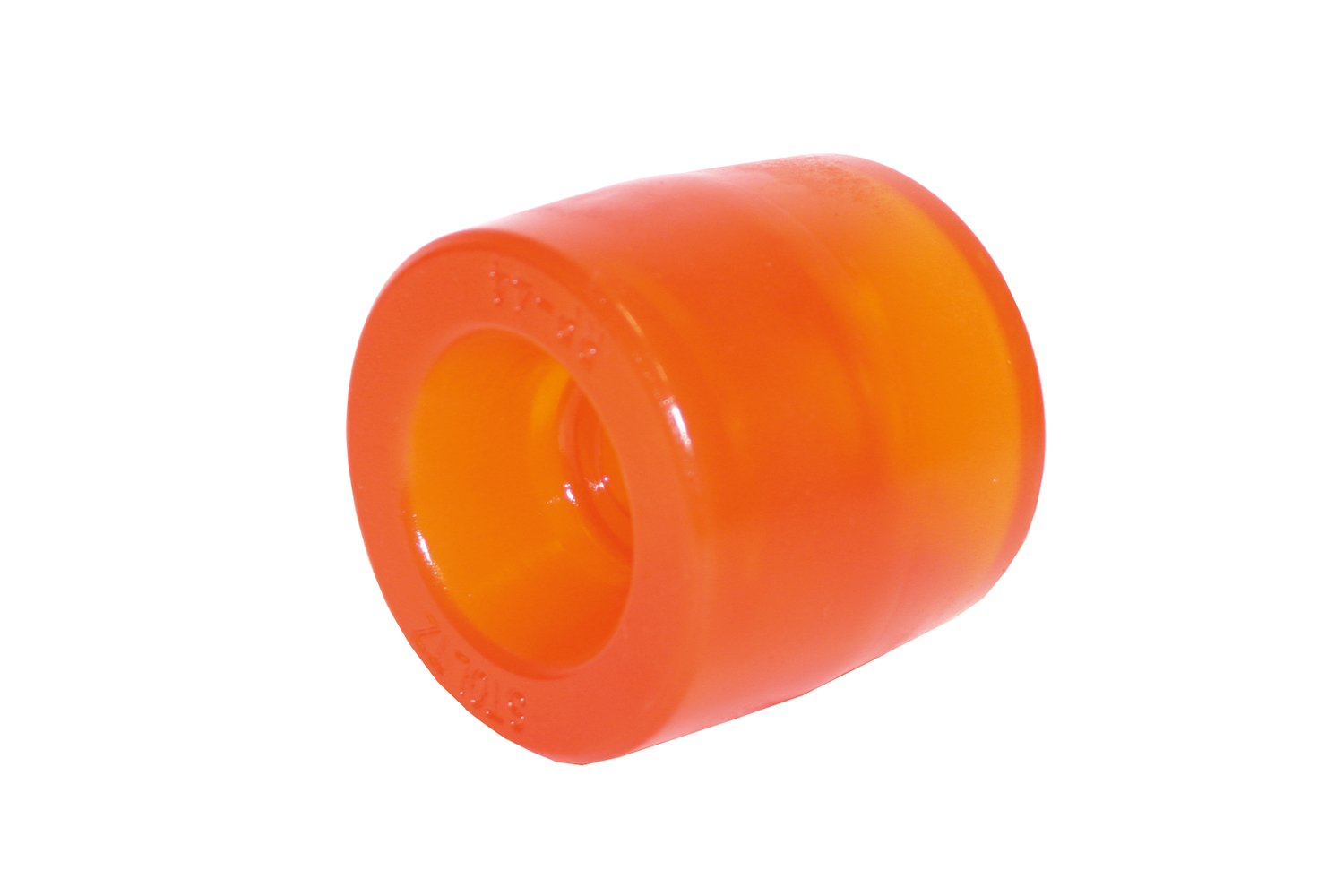 Polyurethane side roller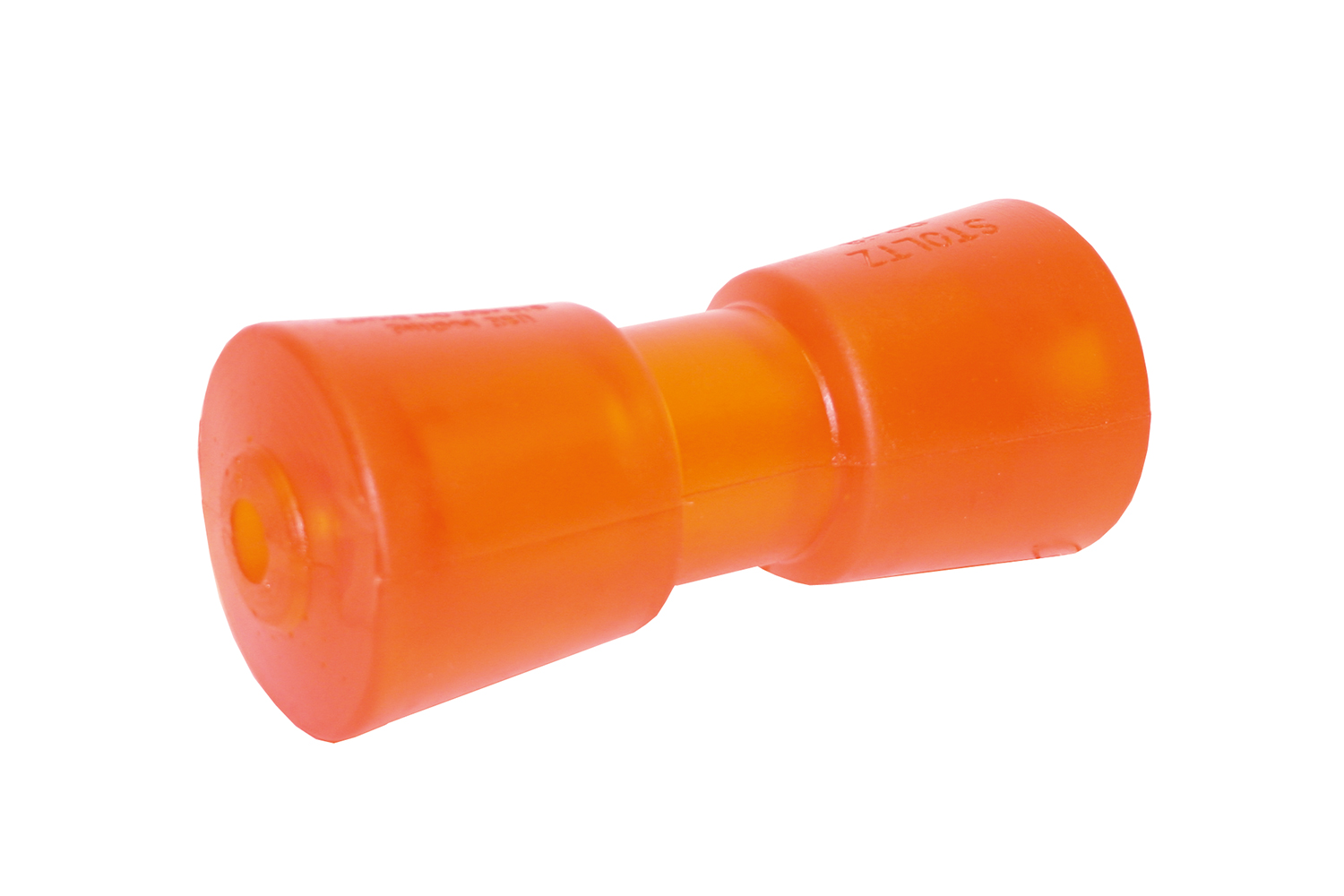 Polyurethane keel roller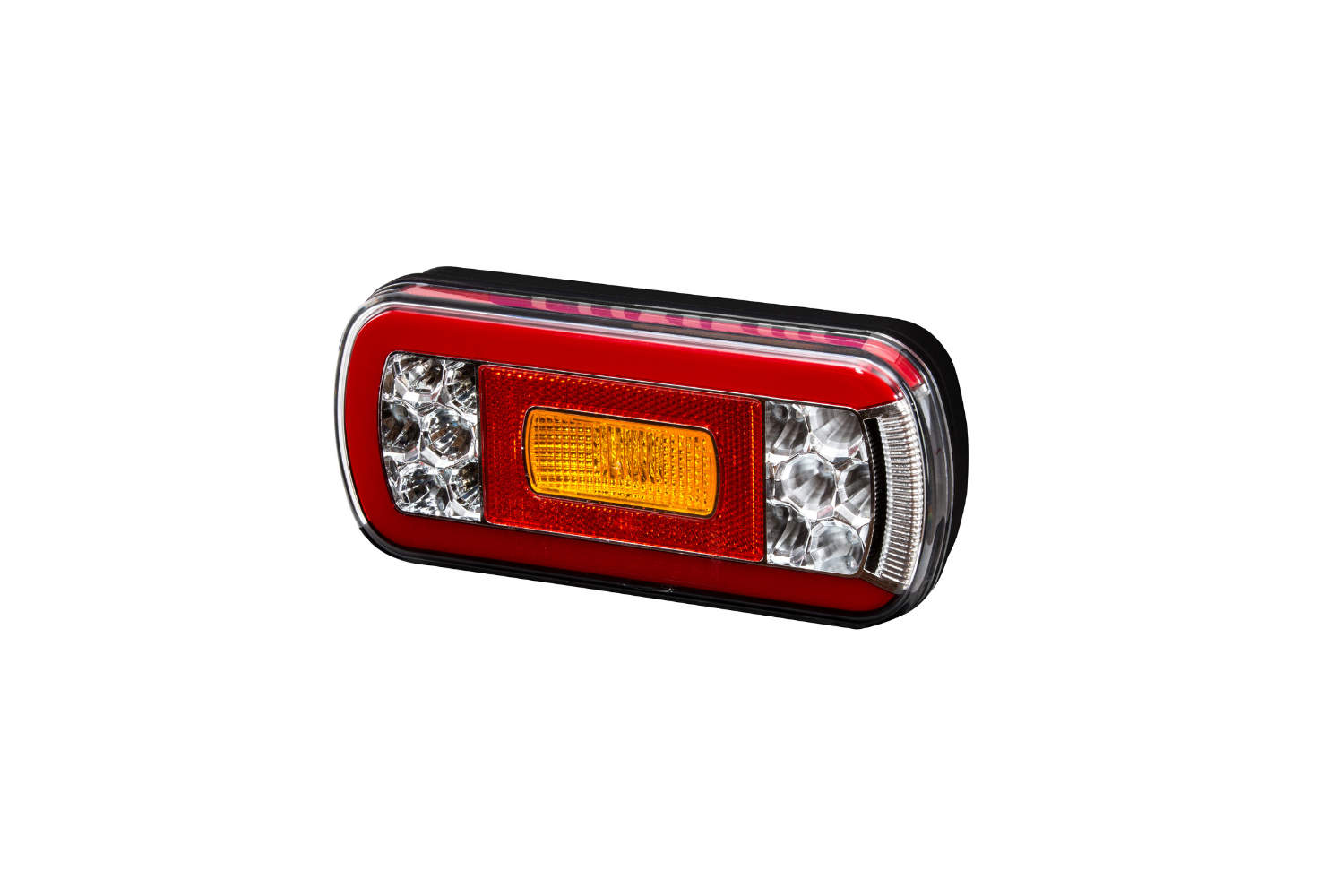 LED rear lamps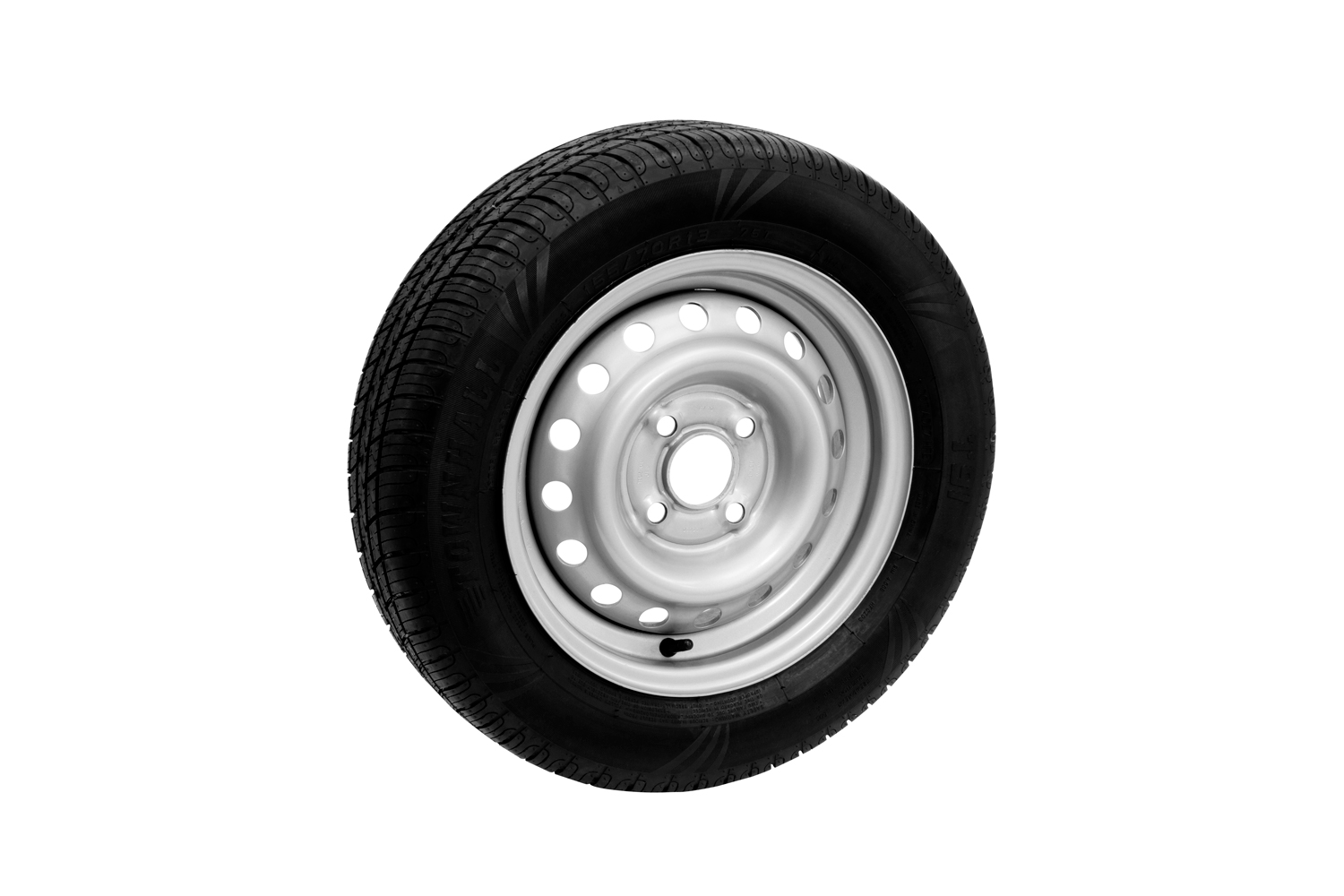 Spare wheel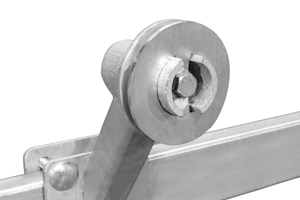 Spare wheel mounting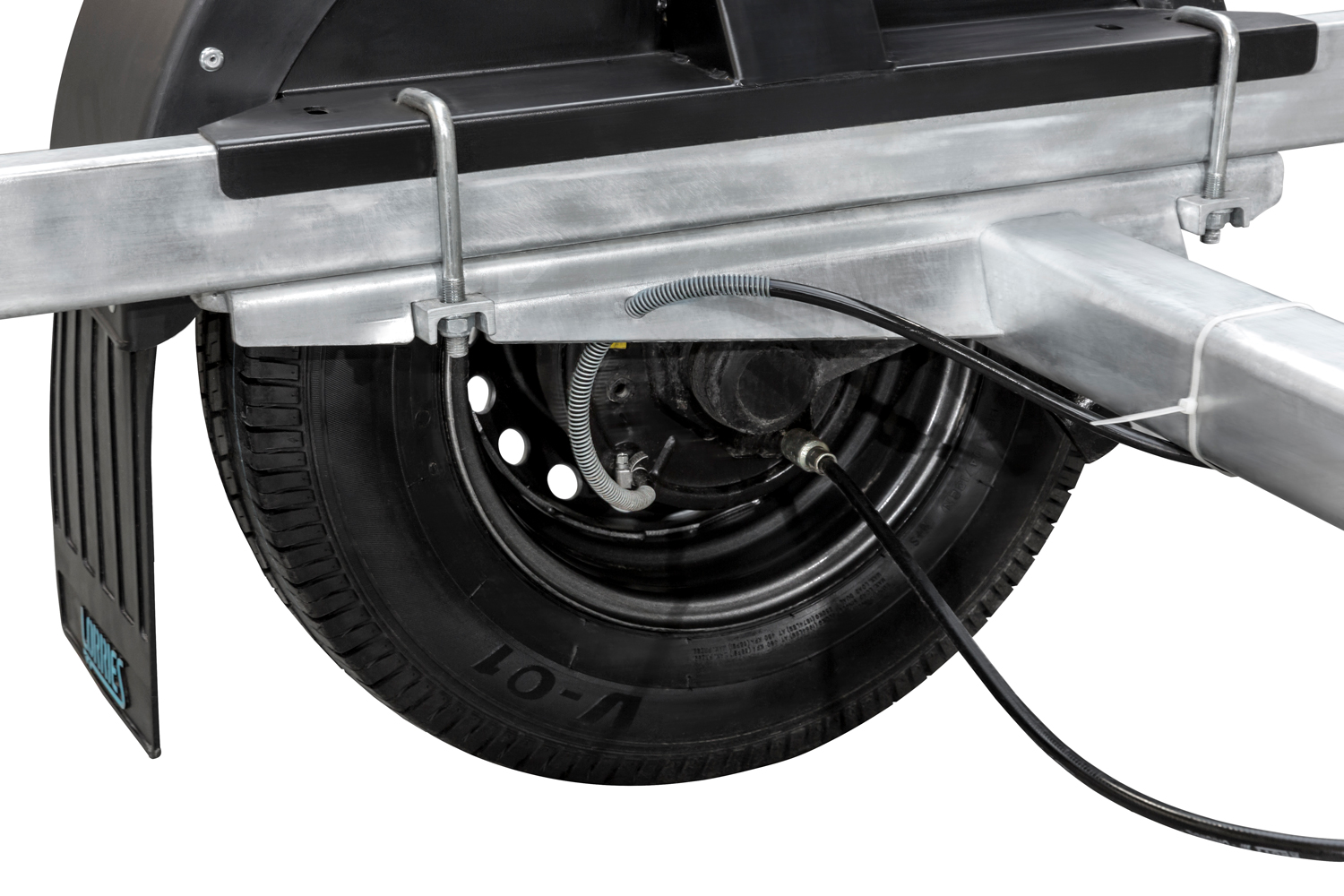 Rinsing the drums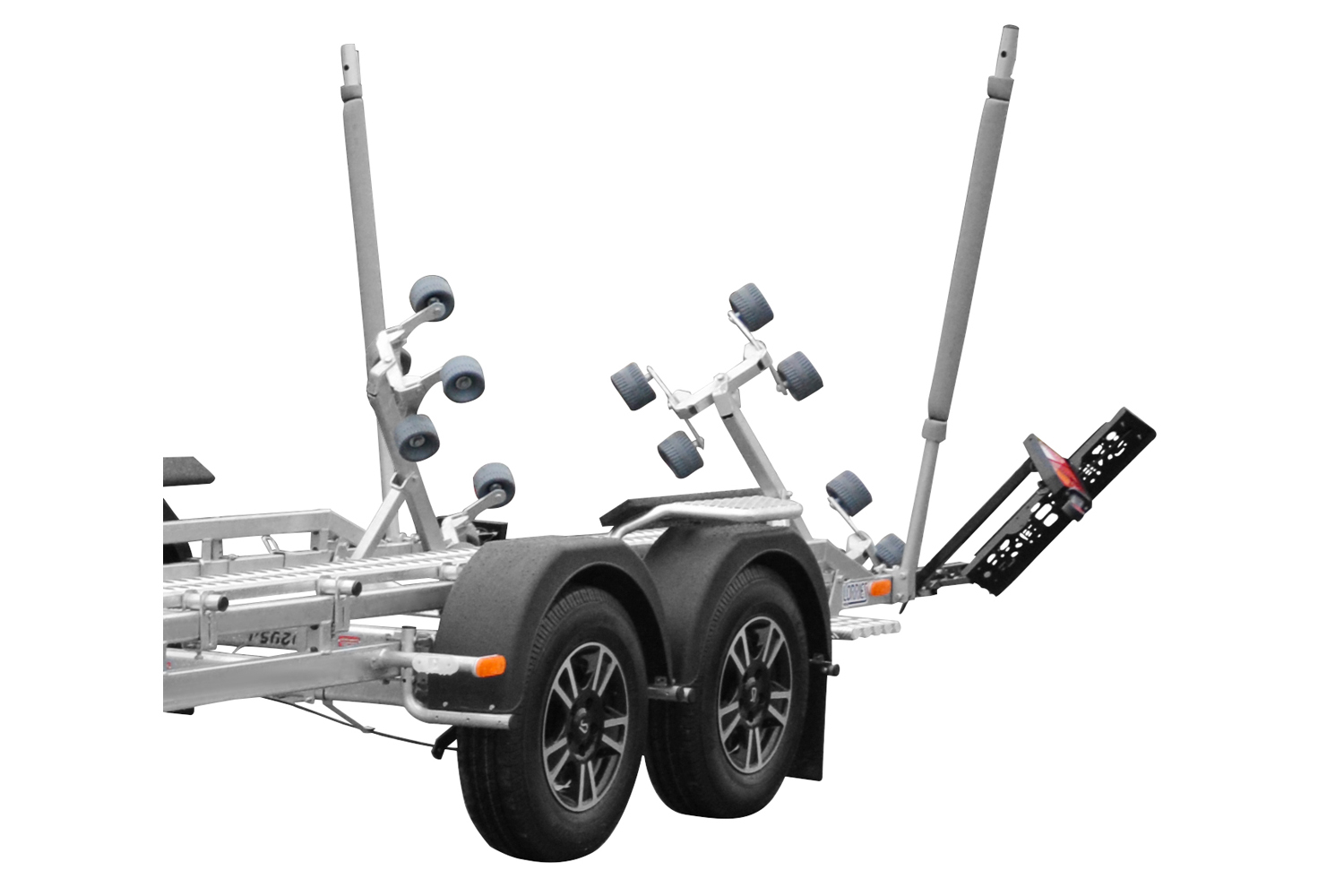 Boat guidance system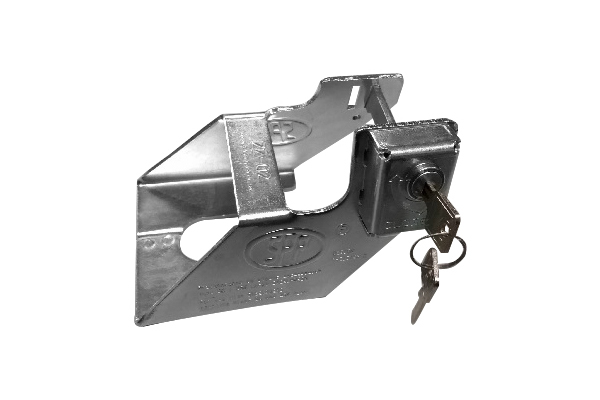 Anti-theft protection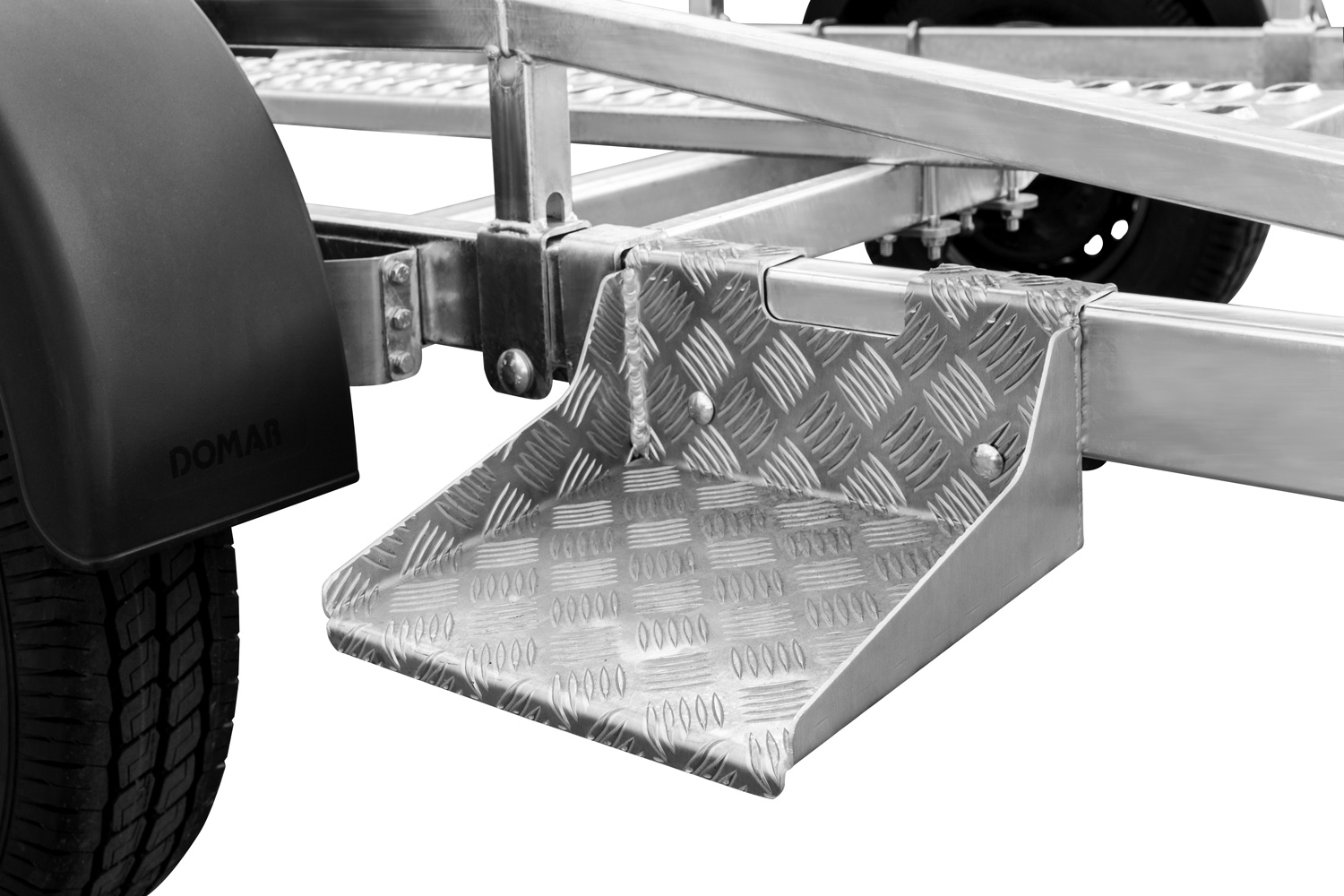 Non-slip side step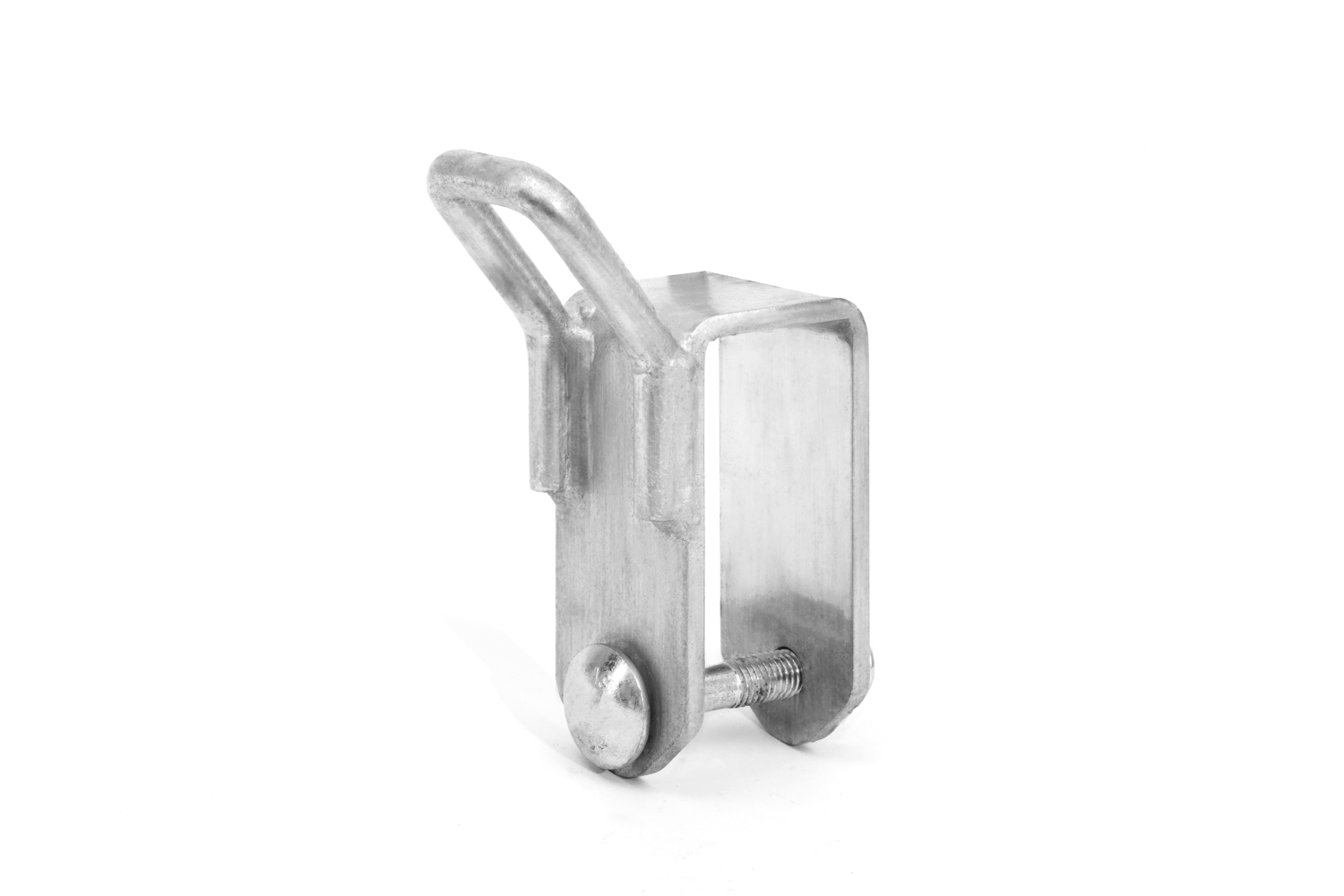 Additional set of belt fasteners (4 pcs.)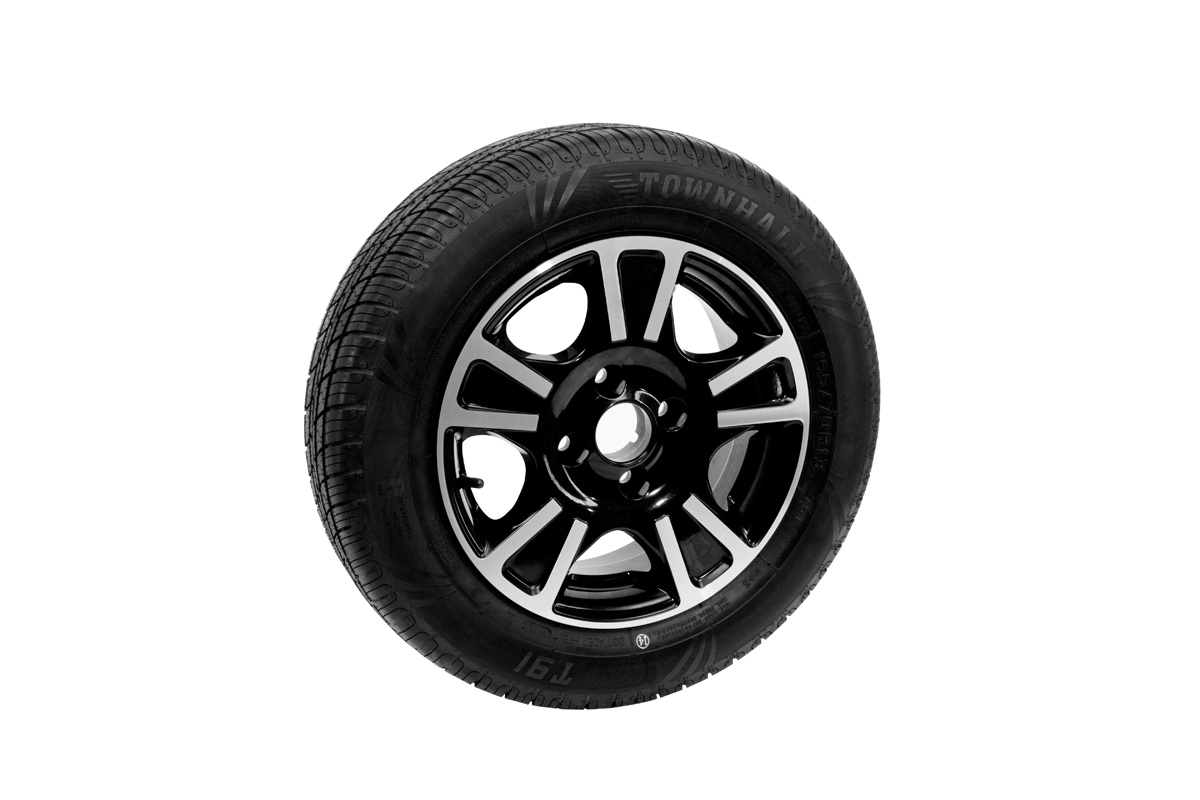 Aluminum rims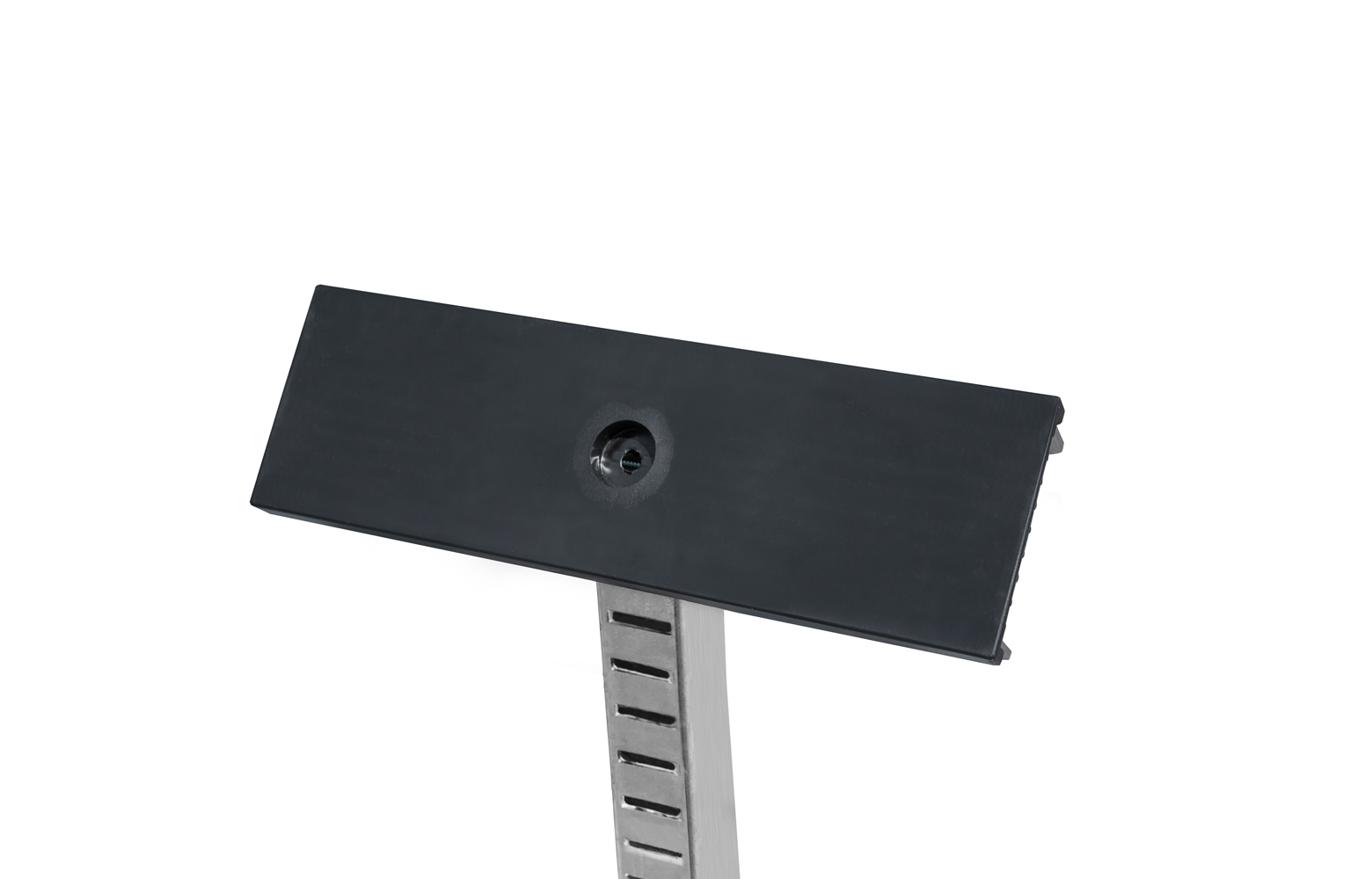 Side slide 300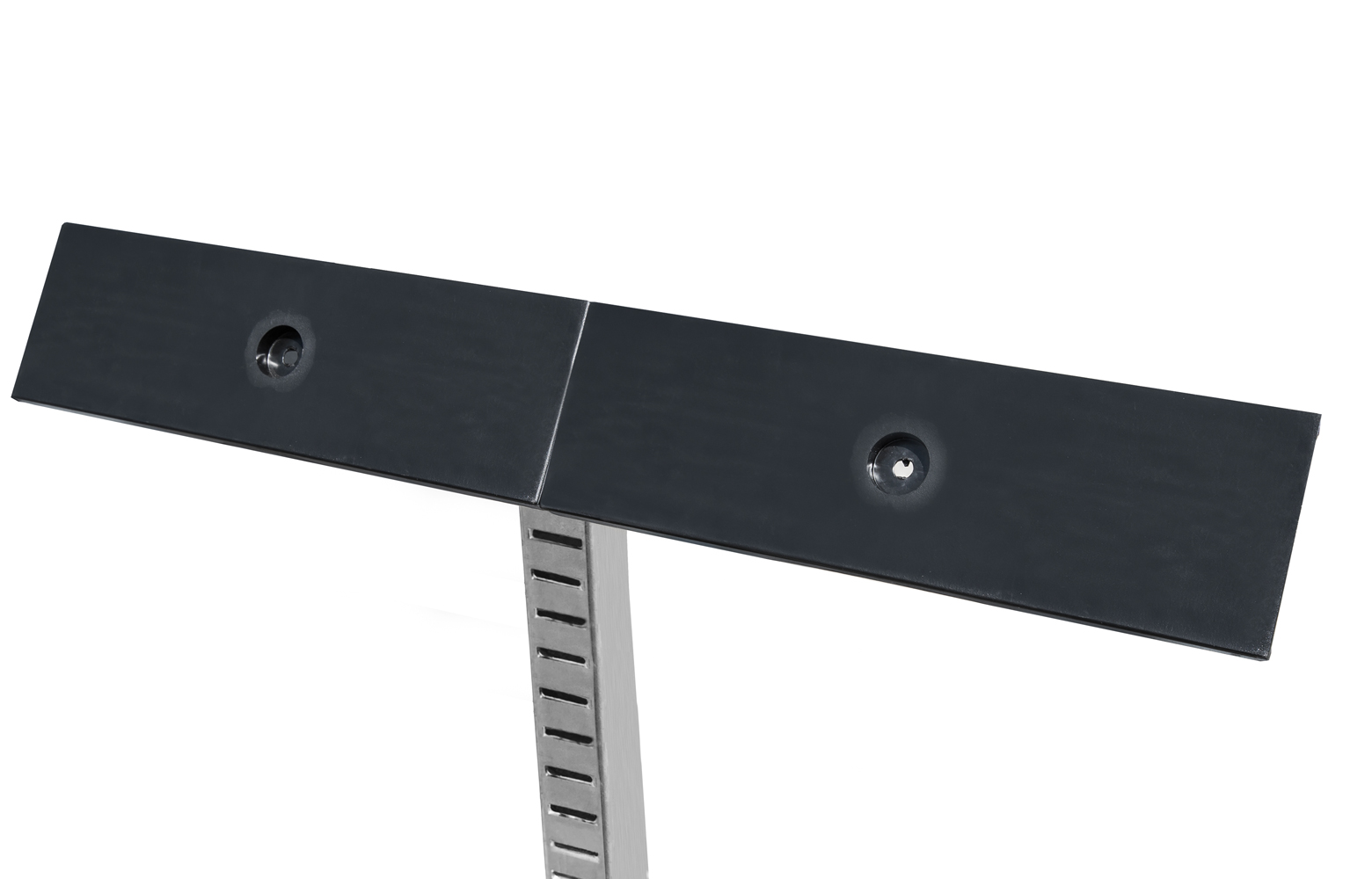 Side slide 600